News
Far right extremist groups target second protest over refugee housing in Llantwit Major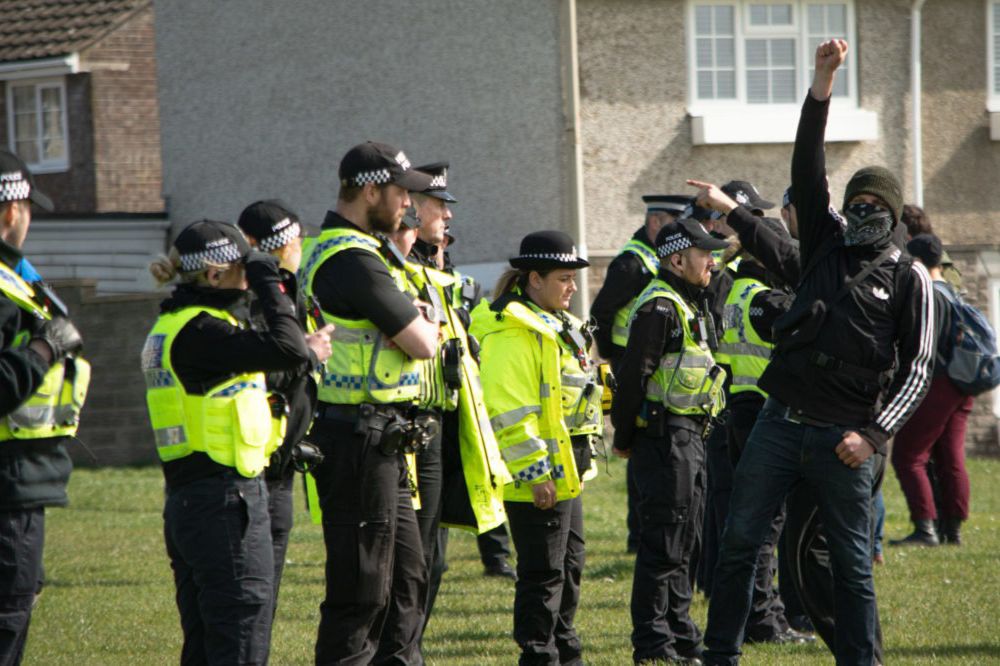 Far right extremist groups are targeting a second protest in Llantwit Major over plans to house asylum seekers there, Nation.Cymru can reveal.
Leaked messages from an anonymous source show that extreme far right groups are sharing an online flyer regarding a meeting involving members of the public at Seaview Park – the same location where police clashed with right-wing protesters and rival protesters over refugee housing in March.
The online flyer states the public gathering is being held by "concerned locals" and not "far right groups" but it has been shared in an encrypted messaging service used by extremists to plan protests.
The flyer reads: "Llantwit Major says no to the migrant camp. Public meeting Saturday 29th April, Seasview Park 12pm. Not far right groups, just concerned locals. Join us."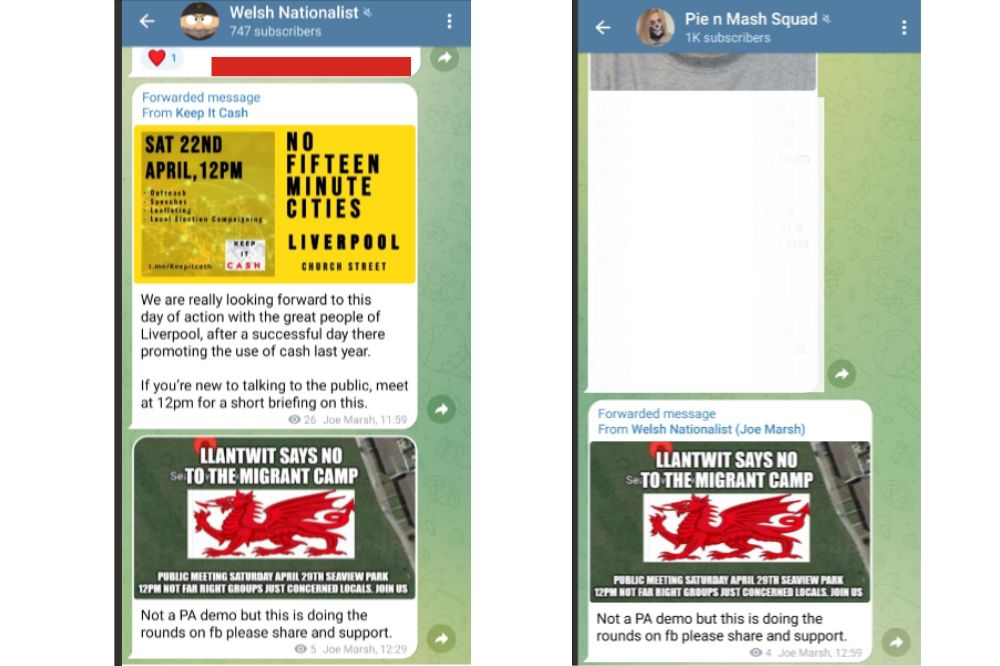 Violent
The messages have been shared in both the Pie and Mash Squad and Welsh Nationalists group chat under the name of, 'Welsh Nationalist, Joe Marsh' who writes: "Not a PA (Patriotic Alternative) demo, but this is doing the rounds on FB (Facebook) please share and support."
Patriotic Alternative has been described at the UK's most active fascist organisation, infiltrating Facebook community groups, staging anti-migrant protests and leafleting communities that provide asylum seeker accommodation.
Much of Patriotic Alternative's campaigning in Wales is carried out by far-right extremist group Pie and Mash Squad.
Formally known as Casuals United, Pie and Mash Squad is closely tied to football fandom and hooliganism, identifying itself as "uniting the UK's football tribes against the Jihadists".
The group's leader, Joe Marsh, also goes by the names of Joe Turner, Jeff Marsh and Joe Butler and is the founder of the Welsh Defence League.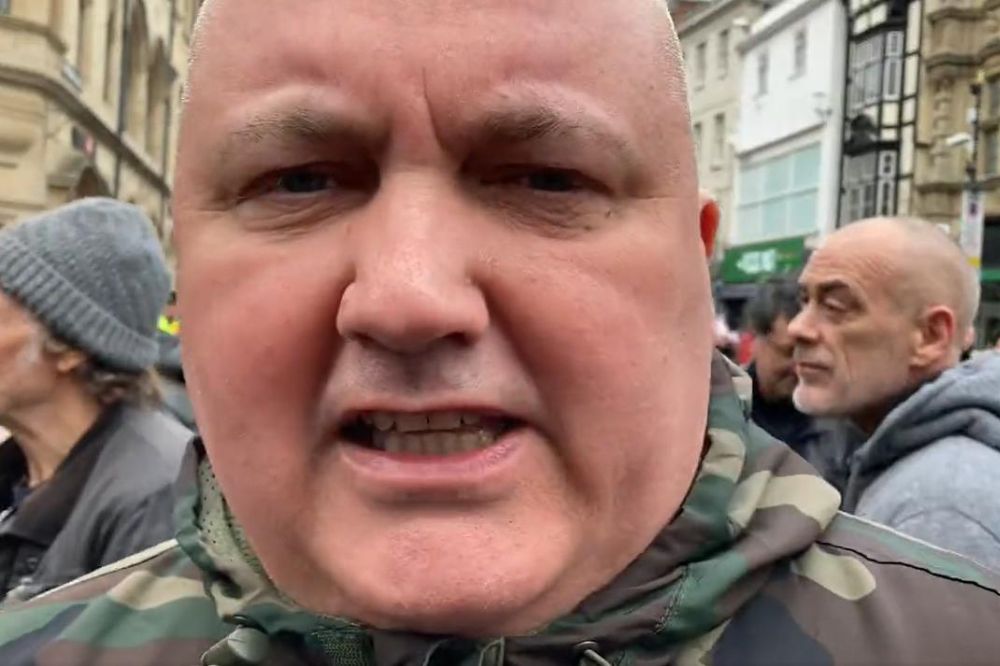 Exploits
Joe Marsh, who appears to have shared the messages, has been involved in decades of violent hooliganism and has at least three convictions for violence under his belt, initially as part of the Cardiff City Soul Crew firm and later as part of the Welsh Defence League and Casuals United.
More recently, the Barry born leader was jailed for assault after throwing a female protester down a flight of stairs – a crime for which the group created celebratory stickers.
In February, 2020, the far right group was condemned by politicians after group members attempted to spread hateful messages, placing the stickers on streets signs and lampposts nearby Liverpool and Everton football grounds in order to recruit members.
Marsh has written two books celebrating his exploits as a football hooligan, with gleeful descriptions of the violence to which he has devoted his life.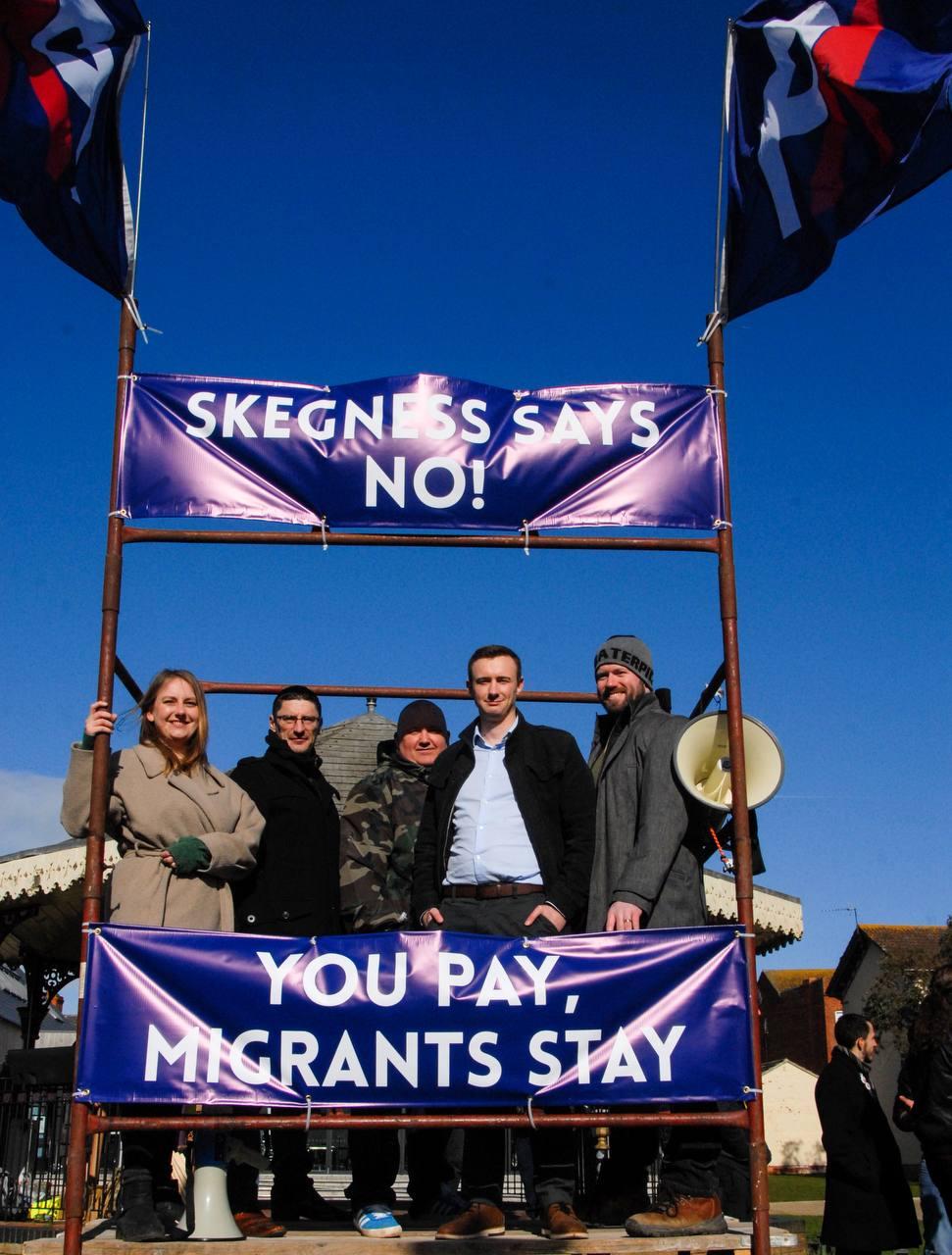 "Gutter racism"
Detailing one drunken brawl outside a chip shop in which he stabbed two men, Marsh states that the wounds he had inflicted were lighter than he'd imagined and that he "wished he had his money's worth".
The incident saw him sentenced to two years in prison for wounding with intent to cause GBH.
David Lawrence, Senior Researcher at HOPE not hate said: "Patriotic Alternative is a small but very extreme fascist group, with crank conspiracy theories and gutter racism at its heart.
"They are attempting to fool communities across the country by downplaying their extremism and co-opting local issues for their own gain.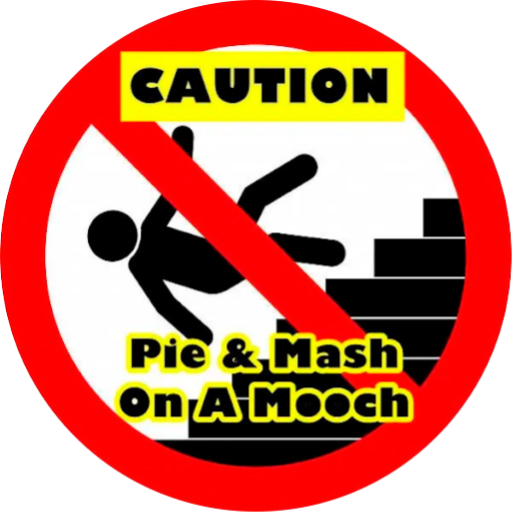 "Thug"
"Jeffrey Marsh is a violent thug who has been imprisoned for stabbing two men. He has also thrown a woman down a flight of stairs, among other offences.
"His attempts to hide under various pseudonyms suggests that he knows himself that the British public find both his politics, and his actions, completely reprehensible."
The protests in Llantwit Major on March 28 became the focal point of debate on where asylum seekers should be housed.
Members of Patriotic Alternative arrived at the pretty seaside town and clashed with pro-refugee protesters and police formed a line between the two groups.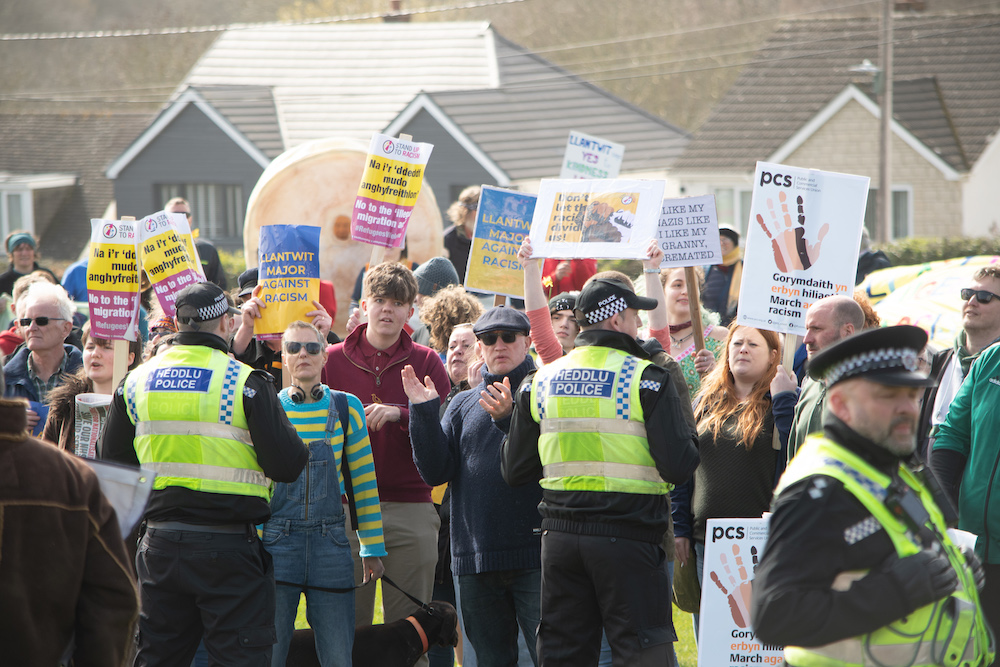 Concerning
Wales Green Party Leader, Anthony Slaughter was at protest in March and said plans for another gathering were concerning.
He said: "The rumours of a planned gathering in Llantwit Major later this month drawing in far right groups pushing their anti migrant agenda are deeply concerning.
"These blatant attempts to disrupt communities and spread their hateful and divisive rhetoric have no place in our towns and villages and are rightly opposed by communities and their supporters across Wales.
"The people of Llantwit Major could not have been clearer in their overwhelming rejection of these groups last month when the community came together in a series of 'Day of Kindness' events in response to the Patriotic Alternative's anti migrant demo in the town culminating in a considerably larger counter rally demonstrating a clear rejection by local people of these far right groups."
Aware
Inspector Mark Henderson from South Wales Police said: "We are aware of a protest planned to take place in Llantwit Major on Saturday April 29th.
"Officers will be on duty to facilitate peaceful protest and prevent disruption to the wider community."
Included in the messages leaked to Nation.Cymru were plans for a 'No fifteen minute cities protest' set to take place in Liverpool on April 22.
Joe Marsh writes: We're really looking forward to this day of action with the great people of Liverpool, after a successful day there promoting the use of cash last year."
"If you're new to talking to the public, meet at 12pm for a short briefing on this."
The '15-minute cities' concept has gathered pace in recent years as local governments try to find ways to cut down on carbon emissions and traffic with some far right groups believing it is a plot to remove rights and stop people from leaving their neighbourhood.
Nation.Cymru approached Merseyside Police regarding the plans for a ring-wing group protest in Liverpool.
---
Support our Nation today
For the price of a cup of coffee a month you can help us create an independent, not-for-profit, national news service for the people of Wales, by the people of Wales.