News
'Farce' claims as it emerges new 'standalone' cancer hospital can't stand alone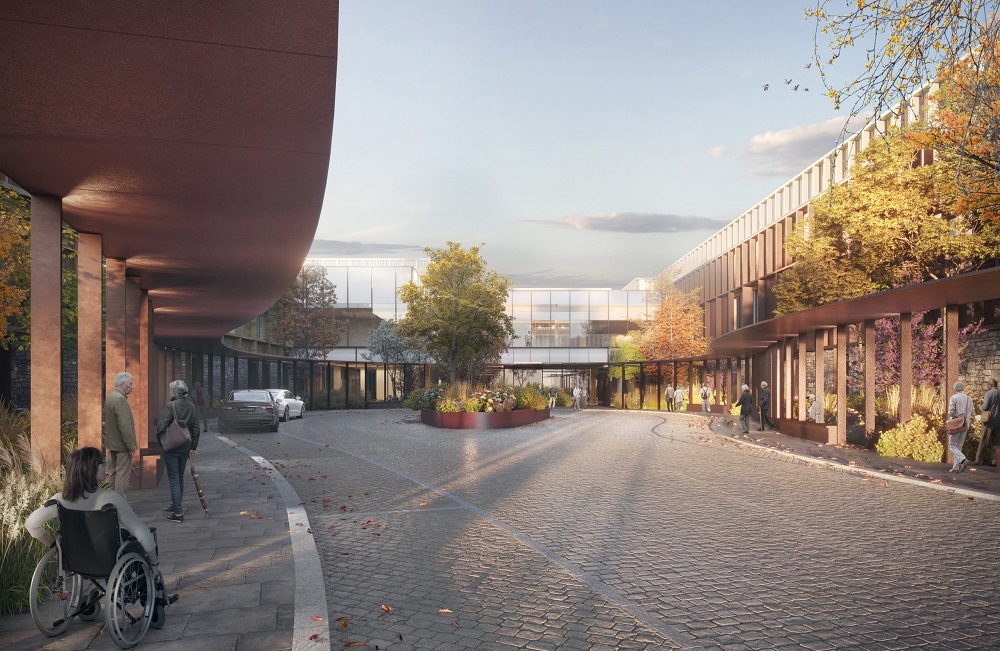 Martin Shipton
The row over a new cancer centre for south east Wales has turned into a farce, say campaigners, after a freshly drafted business case emerged showing that crucial services will be provided at Cardiff's main hospital rather than at a standalone "New Velindre".
Opponents of NHS plans to build a new hospital in the Whitchurch district of the capital say it will be clinically inferior to a centre colocated with the University Hospital of Wales (UHW) as well as destroying a well-loved green space known as the Northern Meadows.
They argue that by building New Velindre three miles away from UHW, patients will have to be transported to the bigger hospital when emergencies occur.
A new business case presented to Cardiff & Vale University Health Board (C&V UHB) has disclosed for the first time the specific cancer services that will need to be provided at UHW because they will not be safe to be provided at the standalone New Velindre.
These include a new Cardiff Cancer Research Hub, which will be the regional centre for cutting edge cancer research; the provision of complex new therapies eg CAR-T, where a patient's white blood cells are altered to recognise and attack cancer cells; the care of patients with severe side effects from systemic anti-cancer therapies, which work throughout the whole of the body and include chemotherapy and immunotherapy; the future delivery of solid tumour advanced therapies; early phase clinical trials and Advanced Therapy Medicinal Products trials for solid tumours and blood cancers; and trials of any phase that needs access to specialist services at UHW, for example the Intensive Care Unit for anaphylaxis reaction to treatment.
All of these cancer services and research facilities have to be colocated at UHW, an acute general hospital, for the safety of patients. They cannot be provided at New Velindre because the Velindre Trust chose to remain as a standalone model of care rather than integrating on the same site as an acute hospital.
The business case presented to the C&V UHB also confirmed their plans to provide additional cancer services at UHW in the near future, with the development of the Acute Oncology Service (AOS) at UHW and not at New Velindre.

Acute Oncology Service
The Nuffield Report of 2020 required the location of an Acute Oncology Service at UHW, and that it should include the acute oncology assessment of known cancer patients with inpatient admission to protected beds as an option, and oncology support for unscheduled cancer patient admissions.
The business case states that without these cancer services being provided at UHW the new Velindre Cancer Centre will not be clinically viable.
A spokesperson for the campaign group Colocate Velindre said "It must be of serious concern to the Health Minister and the Finance Minister to be informed that the new Velindre is not clinically viable on its own, and to be given the list of additional cancer services that will need be provided at UHW.
This UHW business case provides the stark reality of the extent of the cancer services that will have to be provided at UHW because Velindre Trust chose the standalone model for New Velindre. In addition, split sites for the provision of a service are never popular with patients, who rightly always place a high value on a service being under one roof, and on seeing the same NHS staff.
"This UHW proposal reminds all Ministers that to follow Nuffield advice, they must ensure all the new cancer services fall into place at UHW first and very soon. Nuffield saw the UHW Hub as a condition of moving forward and to be done 'immediately'.
Fully costed
It is important that all the new UHW cancer services are fully costed and added to the costs for the new Velindre Full Business Case. The full financial consequences of the standalone model of cancer care chosen by Velindre Trust must be available for Ministers when they make their decision on the future of cancer services in south east Wales.
"Nuffield said the approach Velindre is suggesting with a new cancer centre largely focused on high-volume, outpatient-type activity required important changes to the way cancer services are delivered. This UHW business case has partly clarified the extent of the changes that are required. Ministers must now ask themselves whether New Velindre provides value for money for a mainly outpatient based facility, given the additional costs of cancer services that have to be provided at UHW."
The spokesperson added: "Velindre Trust has recently had to delay yet again the signing of the contract with private funders and contractors for New Velindre. In addition the Auditor General for Wales will be investigating the cost of this contract.
"A publicly available costing provided at the March 2023 C&V UHB finance committee meeting for the construction of New Velindre was nearly £400m. million.
Figures recently presented to a Senedd committee pointed to a whole 25 year debt reaching around £700m-£800m. Given the delays in signing the contract and the recent interest rate rises, these figures must be higher again.To these costs must now be added the costs of the cancer care services which have to be provided at UHW to enable New Velindre to be clinically viable.
"We would therefore urge wise heads in the Welsh Government to take this opportunity to pause and consider again whether this outdated stand-alone model of care is the best way forward for cancer care in SE Wales, both medically and financially.
"There has also been a reduction in the number of inpatient oncology beds at Velindre. The 2023 Full Business Case for New Velindre states there were 39 oncology inpatient beds in 2020. This has fallen to 34 beds now with a further reduction planned to 31 beds in the New Velindre."
"There are many reasons why now is the right time for politicians to pause and rethink this outdated stand alone model of care.
"Given these latest revelations, the case for a standalone New Velindre has descended into farce. It's our view that if Velindre had been merged with C&V UHB, as should have happened years ago when the 21 local health boards were reorganised into seven health boards, then never in a million years would C&V have suggested building New Velindre in a field three miles from the nearest Intensive Care Unit."
Critical
A spokesman for Velindre University NHS Trust responded: "Velindre Cancer Centre has successfully run cancer services since our establishment in the 1960s. Our dedicated staff treat and care for thousands of patients from across south east Wales every single year as the number of people referred to us with cancer grows. The development of the new Velindre Cancer Centre is critical to keep pace with this increasing demand.
"The Nuffield Trust report of December 2020 made a series of recommendations for the south east Wales regional health boards and Velindre Trust to improve cancer services. This included the need for each Local Health Board to further develop unscheduled care for cancer patients and the establishment of a research hub at University Hospital Wales. The report also clearly states the need for solutions to the issues facing the old Velindre Cancer Centre and concluded that co-location on a nearby acute site would not be possible for some considerable time.
"All recommendations were accepted by the Trust and local health boards of south east Wales. Through our commitment to collaboration, very good progress is being made on all fronts, which is testament to our collective ambition to improve cancer care for the patient population of south east Wales."
---
Support our Nation today
For the price of a cup of coffee a month you can help us create an independent, not-for-profit, national news service for the people of Wales, by the people of Wales.