News
Father of suicidal teenager banned by mental health unit from visiting her in 'vindictive' move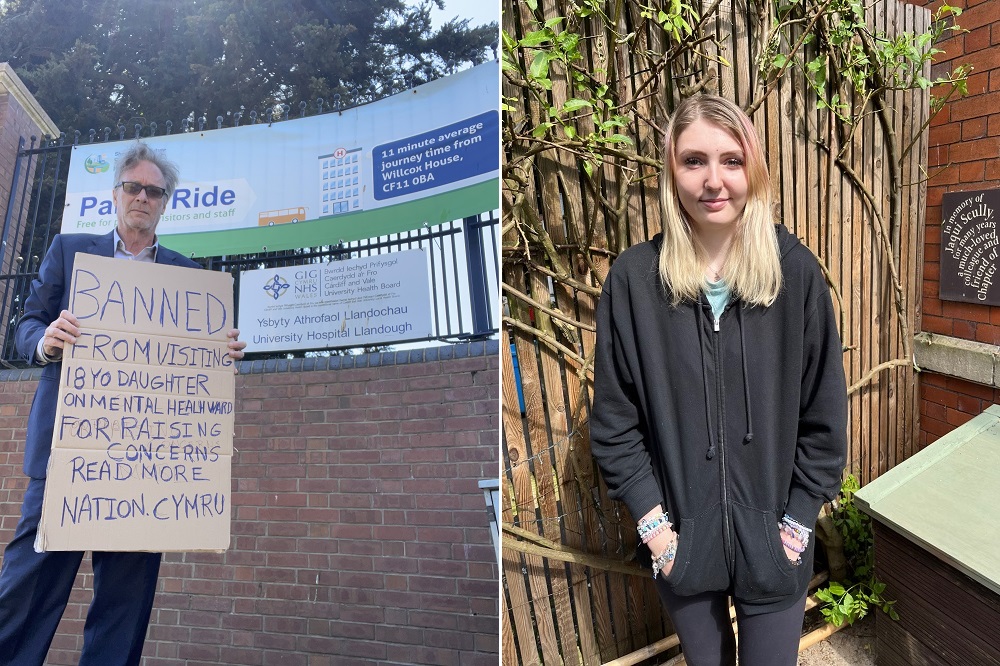 Martin Shipton
The fathers of two suicidal teenagers have accused a Welsh health board of acting vindictively towards them because they have spoken out about what they see as the shockingly poor treatment their daughters have received at a mental health unit.
One of the fathers, who would typically visit his daughter for five hours a day, has been banned from visiting her at all while the unit has stopped engaging with the other father after he threatened legal action.
In a special report, Nation.Cymru has this week given voice to widespread concerns held by service users and their families about the Hafan y Coed mental health unit at Llandough Hospital, which is run by Cardiff and Vale University Health Board. The article followed a protest outside the hospital undertaken by around 30 relatives of patients.
Tynia Hancock, 19, and Anya Del Amo, 18, both of whom have made multiple suicide attempts, told us of virtually non-existent treatment programmes that leave them feeling desperate and neglectful monitoring that makes it easy for them to harm themselves and abscond, even when they have been sectioned for their own safety.
Their fathers, Mathew Hancock and Scott Del Amo, spoke in harrowing detail about incidents when their daughters nearly lost their lives, including one occasion when Tynia was able to put a cable round her neck when supposedly on suicide watch and make a video call to her family to say goodbye.
Both fathers also told how their ability to track their daughters via their mobile phones was ended when Hafan y Coed staff told the young women how to turn the tracking facility off.

Compassionate
In a statement responding to the concerns, the health board said: " "The health board is committed to providing quality and compassionate mental health support to all of our service users in both community and inpatient settings.
"We are unable to comment on the details of individual cases and these particular cases are complex.
"Our teams work closely with patients and their families to deliver appropriate care and support packages that meet the needs of the individual and these are risk assessed and reviewed regularly. Families are also involved in discharge plans where possible.
"Mental health services frequently work with individuals whose needs are complex and where clinical risk needs to be carefully co-managed with the service users themselves, and our teams make every effort to explain the approach and achieve family engagement and support where possible.
"Our concerns team are already in touch with both families involved and we would urge them to discuss any further concerns they may have through the formal process."
Untrue
Both fathers disagree with the statement in its entirety, but claim the final paragraph is simply not true.
Mr Del Amo said: "I have now been informed that I am banned from the hospital premises. This is devastating and vindictive. I usually visit Anya for around five hours a day and am the only person who visits her. It seems as if Hafan y Coed wants to punish her as well as me.
"The 'concerns team' has never been in touch with me and I've now been told I can't visit my daughter."
Mr Hancock produced a letter from Cardiff and Vale University Health Board dated May 18, which said that during a conversation with a staff member he had stated his intention to take legal action against the individual he was talking to and another staff member.
The letter went on to state that it would be inappropriate for the department to have any further verbal contact with him. It said both named staff members "were doing there [sic] utmost to support you the rest of the family [sic] to facilitate your concerns and should not be subject to threats and unreasonable behaviour."
Mr Hancock denies that he issued threats or engaged in unreasonable behaviour and says he has many recordings of conversations with Hafan y Coed staff members, including the relevant one from May 17, which confirm that he expresses himself reasonably when raising his concerns. He also says the health board is behaving vindictively.
Protest
On Saturday afternoon Mr Del Amo staged a peaceful protest outside the hospital estate against the visiting ban imposed on him.
We tried to contact Cardiff and Vale University Health Board for a response. A note on the board's website states: "Any calls from the media outside normal office hours should be directed to the Health Board switchboard on 029 2074 7747." However, the switchboard operator said that while there was a number listed on the board's internal directory for the "comms team", there was a note against it stating: "no media enquiries".
We then sent an email to the health board's media team, but received no response.
---
Support our Nation today
For the price of a cup of coffee a month you can help us create an independent, not-for-profit, national news service for the people of Wales, by the people of Wales.