News
Father's Day visit ban for dad who complained about his suicidal daughter's health care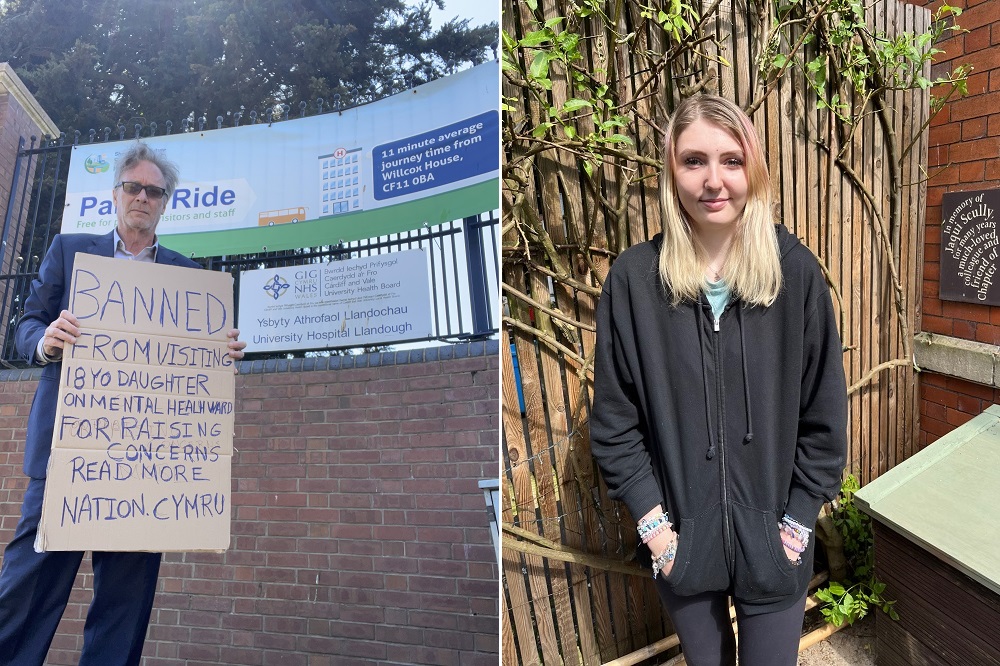 Martin Shipton
The father of a suicidal teenager has criticised the "cruelty" of a health board after he was banned from visiting his daughter on Father's Day.
Earlier this month we reported a series of major concerns about the Hafan y Coed mental health unit at Llandough Hospital near Penarth, run by the Cardiff and Vale University Health Board.
Relatives of patients staged a protest outside the hospital attended by around 30 people.
We spoke to patients Anya Del Amo, 18, and Tynia Hancock, 19, both of whom told us of virtually non-existent treatment programmes that left them feeling desperate, and neglectful monitoring that made it easy for them to harm themselves and abscond, even when they had been sectioned for their own safety after multiple suicide attempts.
The teenagers' fathers Scott Del Amo and Mathew Hancock also voiced concerns, going into harrowing detail about incidents involving their daughters.
After speaking to Nation.Cymru, Mr Del Amo was told he could no longer visit his daughter, although typically he had been used to doing so for around five hours a day.
Subsequently it has been made clear to him by hospital officials that he cannot visit her on Father's Day.
He told us: "They are punishing both Anya and me because they disapprove of the critical publicity they have received. This is nothing but cruelty.
"Anya asked the unit on Thursday to let me visit, but the doctor she spoke to hasn't got back to her. And despite being banned verbally from the premises, I haven't received a letter explaining the decision. I am very concerned that no one in the NHS is holding them to account for their behaviour."

Trauma 
Ms Del Amo herself made a statement criticising the decision to ban her dad from the unit: "The hospital know my biggest trauma is being separated from my dad as a child yet they are doing it again because he complained about my treatment."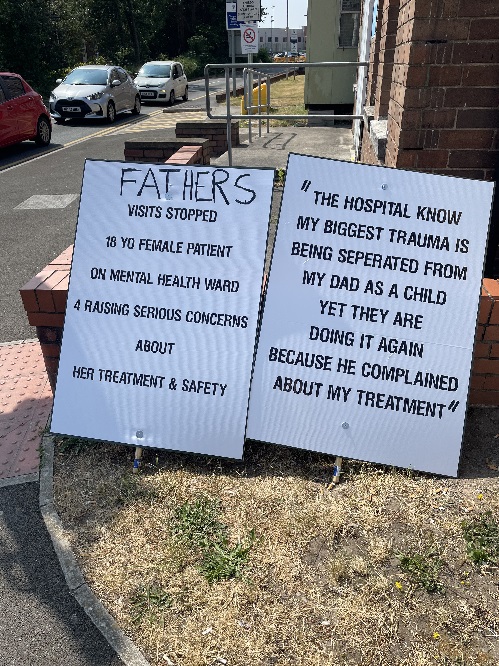 Mr Del Amo has put his daughter's comment on a series of posters he displays outside the hospital during regular protests.
He flatly denies engaging in any threatening or aggressive behaviour towards staff at Hafan y Coed and has made many audio recordings of interactions with them.
He says he has asked robust questions, many of which have not been answered.
Compassionate 
When we first asked the health board about the fathers' concerns, we received a statement which said: In a statement responding to the concerns, the health board said: "The health board is committed to providing quality and compassionate mental health support to all of our service users in both community and inpatient settings.
"We are unable to comment on the details of individual cases and these particular cases are complex.
"Our teams work closely with patients and their families to deliver appropriate care and support packages that meet the needs of the individual and these are risk assessed and reviewed regularly. Families are also involved in discharge plans where possible.
"Mental health services frequently work with individuals whose needs are complex and where clinical risk needs to be carefully co-managed with the service users themselves, and our teams make every effort to explain the approach and achieve family engagement and support where possible.
"Our concerns team are already in touch with both families involved and we would urge them to discuss any further concerns they may have through the formal process."
Both fathers disagree with the statement in its entirety, but claim the final paragraph is simply not true.
Meanwhile a Freedom of Information disclosure to Nation.Cymru has revealed that during the period April 2021 to early June 2023, nearly 300 A&E visits were made from Hafan y Coed – 124 in 2021-22; 129 in 2022-23; and 43 between April and early June 2023.
Mr Del Amo said: "This works out at between two and three A&E visits a week. I believe the majority will relate to self-harm and suicide attempts, proving my point that insufficient care is being shown towards these most vulnerable of people."
Cardiff and Vale University Health Board was invited to comment on the Father's Day ban and the number of A&E visits, but did not do so.
---
Support our Nation today
For the price of a cup of coffee a month you can help us create an independent, not-for-profit, national news service for the people of Wales, by the people of Wales.