News
Fire service issues safety advice following increase in barn fires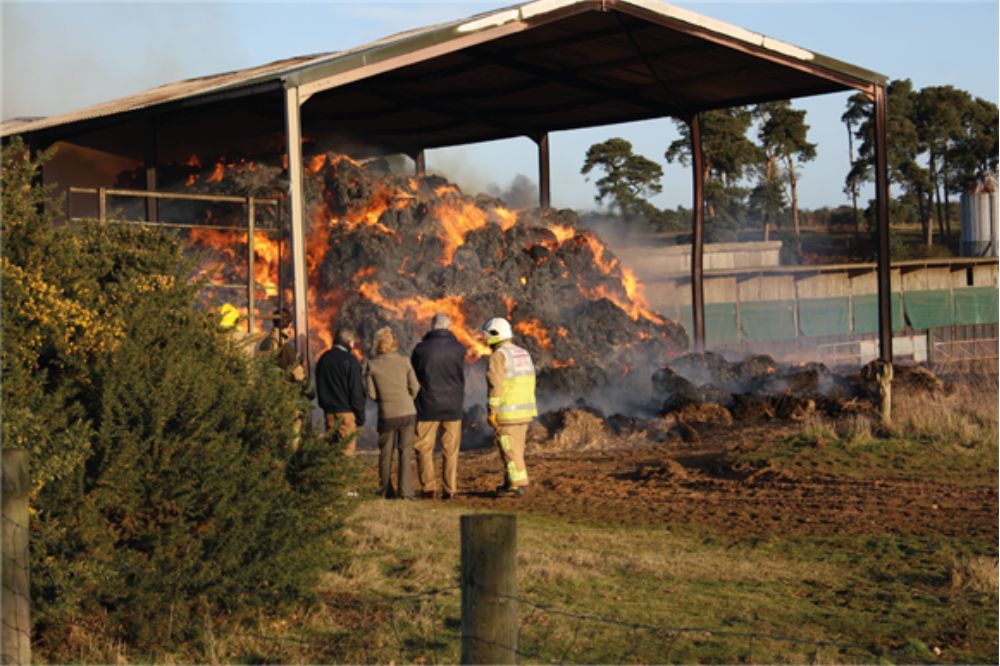 A Welsh fire rescue service is issuing a farm fire safety reminder following a recent increase in the number of barn fire incidents requiring attendance by its crews.
Mid and West Wales Fire and Rescue Service's (MAWWFRS) area is home to a tapestry of rural and agricultural communities and the Service has recently experienced an increased number of barn fire incidents requiring attendance by its crews.
The increase is thought to be partly due to the early warm and dry weather conditions during May and June which has provided earlier hay-making opportunities.
Each year in the UK on average around 1,600 farm buildings and 85,000 areas of grassland are destroyed by fire.
MAWWFRS is issuing a farm fire safety reminder and advice to members of the farming communities within its service area in an effort to reduce the likelihood of further barn fires:
Stored bales must not have a moisture content greater than 22%.
Bales that have a moisture content of 22% or higher pose a risk of increasing in heat once stacked, leading to overheating and possible spontaneous combustion.
Baled hay, straw and bracken should have a moisture content of between 18-20% before being stacked in storage.
The temperature of bales should be below 35°C before being brought off the field for storage.
Bales with a temperature above 35°C can maintain their own heat generation to a point where spontaneous combustion can occur.
Where possible, stacks should be sited separately, away from other farm buildings, especially livestock buildings.
Keep stacks to a reasonable size, well apart and dry. Avoid storing fertilisers, chemicals, gas cylinders, tractors and other machinery in barns containing bales. Ensure that all electrical equipment and wiring is well-maintained.
If bales are smouldering or on fire call 999 immediately.
Signs of bales overheating may include discolouration or browning in some areas, stacks seen to be 'steaming' early in the morning or late evening, the presence of a sweet, sickly smell and hay turning to a tobacco-like form.

Threat
A variety of resources available to members of the farming community in need of support or advice.
Due to the rich farming heritage of mid and West Wales, the Service also employs a Farm Liaison Officer to work with farmers to best protect their property and livestock from the threat of fire.
The Service's Farm Liaison Officer, Jeremy Turner, can be contacted on 0800 169 1234 or [email protected].
---
Support our Nation today
For the price of a cup of coffee a month you can help us create an independent, not-for-profit, national news service for the people of Wales, by the people of Wales.