News
First Minister: 'England isn't the template for the rest of the UK to follow'
//= do_shortcode('[in-content-square]')?>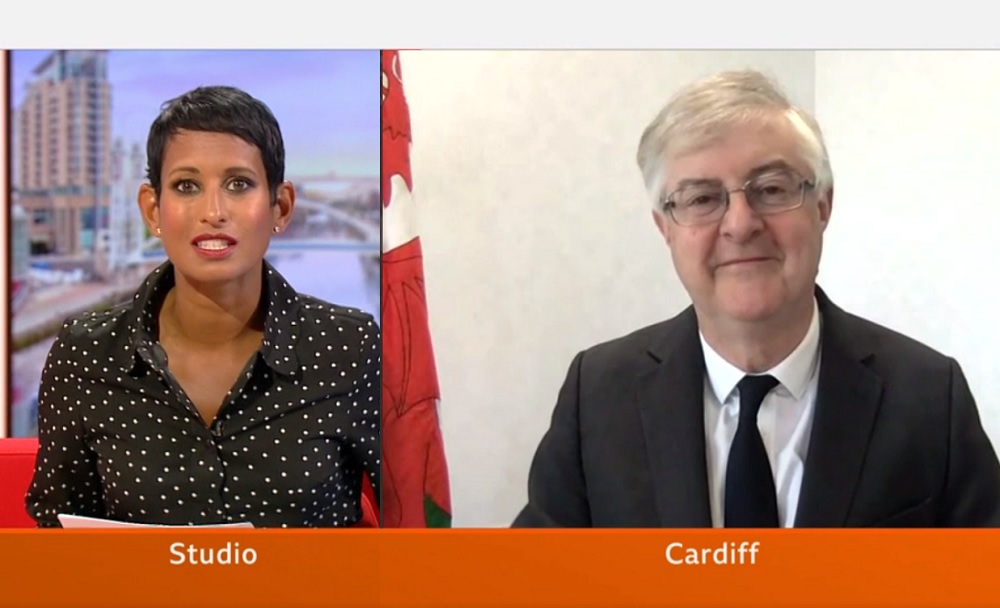 The First Minister of Wales has said that England is not the template for the rest of the UK to follow and that his government will adopt a 'Stay local, keep Wales safe' message today.
He said that the new guidance would be that people do not travel more than five miles to see family and friends in Wales so that the virus wasn't carried into communities where there was "very little" of it.
Mark Drakeford was speaking on BBC Breakfast at 7.53am this morning.
"Why aren't you following the same measures as the UK Government is putting forward for England?" presenter Naga Munchetty asked.
The First Minister responded: "Now, I could put it the other way to you: Why aren't they following what's being done in other parts of the United Kingdom? England isn't the template for the rest of the UK to follow."
Naga Munchetty also asked "why devolution is proving to be four separate strategies?"
"Because while I think we are still moving in the same direction across the United Kingdom, then we're all moving cautiously, we're all lifting lockdown, but we're applying it in our own contexts," Mark Drakeford said.

'Community'
It will be announced today that people from two different households will be able to meet outdoors in Wales from Monday.
They will need to stay in their local area – within five miles as a "general rule" – and remain two metres apart.
The First Minister told BBC Breakfast that the aim of the five-mile rule was to stop the spread of coronavirus into areas where it is not yet circulating.
"We have parts of Wales where there has been very little coronavirus and we don't want the virus to be taken into those communities," he said.
"You can be infectious to other people while feeling perfect;y well yourself. And travelling more than five miles away from your home runs the risk that you could be taking coronavirus from your community into another community where the virus isn't circulating.
"That's why our message to people in Wales is very simple: stay local, keep Wales safe."
'One step at a time'
Mark Drakeford said that while R was under 1 Wales could slowly relax the lockdown step-by-step, but would not run the risk of R going above 1 again.
"And in Wales, we think the R level is about 0.8, that was the same about 3 weeks ago, that means that we have some headroom, but limited headroom," he said. "We're doing things one step at a time.
"And the one step we're able to offer people in Wales at this point is that two households will be able to get together in the open air at a two-meter distance.
"It hasn't got worse so we still have that headroom. We had that headroom two or three weeks ago. We've still got the same headroom."
"So if it's the same in three weeks will there be further relaxation?"
"That's what we would like to happen of course. We want to allow people further freedoms and get back closer to how life used to be before coronavirus. But we will only do that in the most careful and cautious way."
"The room for manoeuvre in Wales remains very limited – the R-value is no better in Wales today than it was three weeks ago. So we still wanted to have a very careful and cautious approach in Wales."