News
First trial of overnight dialysis in Wales shows encouraging results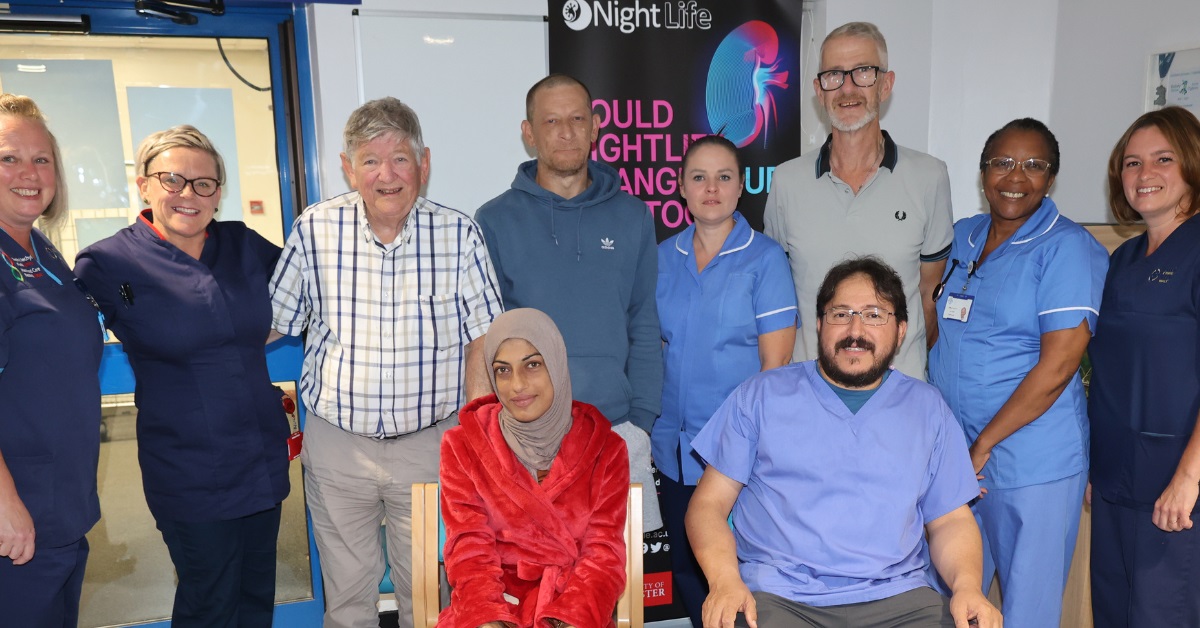 New research into improving the quality of life for adults with kidney disease by conducting overnight dialysis has got underway in Wales and is showing encouraging results.
The Nightlife Study is a clinical trial assessing if overnight dialysis, performed three times a week in a hospital improves the quality of life of people with kidney failure compared to those who have shorter dialysis sessions during the day.
Ysbyty Gwynedd is the first hospital in Wales to take part in the trial, which will take place in the hospital's Renal Unit over the next six months.
Six patients, five male and one female, are taking part and are already feeling the benefits. All six are now having their dialysis for eight hours, three times a week instead of four hours, three times a week. There are also four patients who are receiving day dialysis as part of the trial, which allows researchers to compare both groups.
Consultant Nephrologist, Dr Abdulfattah Alejmi says nocturnal dialysis has so far given patients an overall improved sense of wellbeing, with more time available during the day to socialise, work and care for others.
He said: "In the majority of cases, the haemodialysis appointment we currently offer lasts four hours, three times a week, with additional travel time and very little flexibility.
"Patients' diet and fluid intake are often very restrictive and despite the benefits of receiving treatment, patients can often suffer from symptoms such as fatigue, impacting on their quality of life.
"The trial has proved a success so far with all patients taking part with excellent feedback received. I was so pleased to hear from one of the patients that she felt she had her life back and now she has time to see her friends during the day.
"I'm really looking forward to seeing the results at the end of the trial which will in turn help us shape how we can offer dialysis differently for our patients across the UK in the future."

Second transplant
Hajar Al Ghabari, 26, from Bangor came to live in North Wales around three years ago after fleeing the war in Syria. Having been diagnosed with kidney disease in her teenage years she is now waiting for her second transplant after a previous transplant failure.
Since joining the trial she said her quality of life has massively improved.
"When I receive my treatment in the day I feel a lot more fatigued and I suffer from headaches so having my treatment during the night when I'm asleep has made such a huge difference to me.
"I have a lot more awareness during the day now, I can go and spend time with my friends and family and I feel so much more energetic – I feel like I've got my life back," she said.
Studies suggest that overnight dialysis can potentially have many benefits for patients including better blood test results, improved blood pressure control, improved heart health and reduced medications.
Dr Alejmi added: "We know that taking part in studies can enhance the quality of life and improve patient care. We would like to thank our patients for taking part in this exciting trial, by doing so they are helping to contribute to the future health and wellbeing of others.
"The trial would also not be possible without the support of specialist nurses and the research team who have welcomed and embraced the challenge of delivering this clinical trial."
Dr Nicola Williams, National Director of Support and Delivery at Health and Care Research Wales, said: "This study is a great example of research being part of the patient treatment journey and it would not be possible without the crucial roles of the clinical research delivery staff and specialist practitioners."
---
Support our Nation today
For the price of a cup of coffee a month you can help us create an independent, not-for-profit, national news service for the people of Wales, by the people of Wales.