News
FixMyStreet app now available in Welsh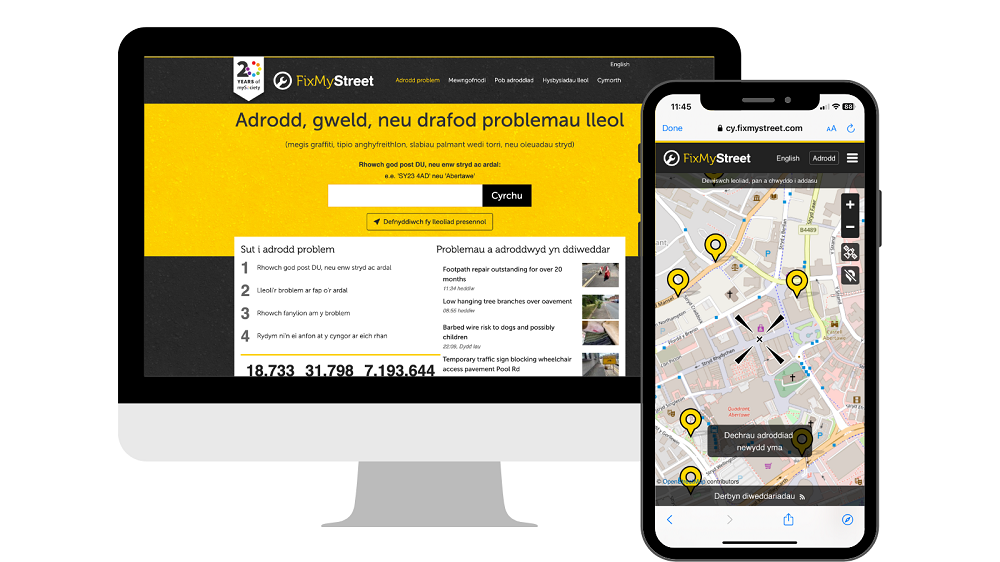 An app that allows users to report problems in their local area to the relevant authorities is now available in Welsh.
FixMyStreet allows you to report issues such as broken streetlights, fly-tipping, potholes etc to the correct authority, even if you don't know who is responsible.
For the first time since its launch in 2007, users in Wales wanting to make reports in Welsh will be able to view a Welsh-language version of the website and app, including a Welsh-language map provided by Mapio Cymru.
Launched in 2019, Mapio Cymru is a project that aims to ensure mapping services are as good in Welsh as they are in English.
Using open data sources Mapio Cymru provides a Welsh-only map of Wales. It also works with organisations across Wales to improve mapping services in the Welsh language.

Accessible 
Louise Crow, Chief Executive at mySociety, said: "FixMyStreet was built to make it easier for citizens to report problems in their communities. We are delighted to be able to make the service accessible to Welsh-speaking citizens, with a fully translated reporting process and a Welsh-language map, enabling users to select the street names and locations with which they are familiar.
"We look forward to seeing the Welsh-language version of the service put to good use by more citizens who care about improving where they live."
Ben Proctor, Innovation Director at Data Orchard CIC which runs the Mapio Cymru project, said: "Digital mapping technology is really powerful and easy for organisations like mySociety to use in English. Sadly it's not the same in Welsh. We aim to make it easier for organisations to deliver services on the highest quality Welsh-language mapping available."
Welsh-speaking users can start using the Welsh-language version of FixMyStreet straight away by heading to cy.fixmystreet.com or downloading the FixMyStreet app from the relevant app store.
There are currently gaps in Mapio Cymru's Welsh language map because the project relies on volunteers and public bodies to contribute definitive Welsh names.
Volunteers can help to plug the gaps by adding the Welsh names for features on the map (buildings, roads, mountains, fields and so on).
Public bodies can help to plug the gaps by publishing the Welsh names that they hold for features under an open licence.
The Mapio Cymru team is available to advise on these issues. Just visit mapio.cymru.
---
Support our Nation today
For the price of a cup of coffee a month you can help us create an independent, not-for-profit, national news service for the people of Wales, by the people of Wales.