News
Former Labour MP Ann Clwyd dies at 86
Martin Shipton
Ann Clwyd, Wales' longest serving woman MP who became well-known internationally as a human rights campaigner, has died at home in Cardiff at the age of 86.
For 35 years she was the MP for Aberdare and then Cynon Valley, during which time she held a number of key front-bench posts including Shadow Secretary of State for Wales.
But her passionate support for those who were oppressed made her more suited to the role of campaigning backbencher.
Early in her Parliamentary career she spent time underground in Tower Colliery, protesting against the plan to close it down. Her efforts were not in vain and a workers' cooperative led by Tyrone O'Sullivan, who died recently, succeeded in buying the pit and keeping it going from 1995 until 2008.
She supported the invasion of Iraq, not out of any sense of tribal loyalty to Tony Blair, but because of her long standing support for the Kurdish people, thousands of whom had been gassed by Saddam Hussein. Blair appointed her as his special envoy to Iraq and she showed fearlessness and courage in making repeated visits to a dangerous war zone.
In the latter part of her Parliamentary career, she became a champion for those who had complaints about the quality of their health care. Her interest in the issue was heightened by what she saw as the poor nursing care given at the University Hospital of Wales to her dying husband Owen Roberts, a retired BBC journalist. She was subsequently appointed by Prime Minister David Cameron as an adviser on complaint handling in the NHS.

Journalist
Before entering politics, Ann Clwyd had herself been a journalist, working for the BBC, the Guardian and the Observer.
Her original name was Ann Lewis, and she was born in Pentre Halkyn, Flintshire. She was educated at Holywell Grammar School and the Queen's School, Chester, before graduating from the University of Wales, Bangor.
From 1979 to 1984, she was the Member of the European Parliament (MEP) for Mid and West Wales. Elected to Parliament in a by-election in May 1984 following the death of Ioan Evans, she became the first woman to sit for a Welsh valleys constituency.
She served as Shadow Minister of Education and Women's Rights from 1987,but was sacked in 1988 for rebelling against the party whip on further spending on nuclear weapons. She returned as Shadow Minister for Overseas Development from 1989 to 1992, and then served as Shadow Secretary of State for Wales in 1992 and for National Heritage from 1992 to 1993.
In 1991, at the National Eisteddfod, she was made a member of the Gorsedd of Bards.
She was the Opposition spokesperson for Employment from 1993 to 1994, and for Foreign Affairs from 1994 to 1995, when she was again sacked, for observing the Turkish invasion of Iraqi Kurdistan without permission.
In 2003 she presented a private member's bill that made it a criminal offence for parents and others to take girls out of the UK to be subjected to female genital mutilation. It became law.
In August 2004, she became a member of the Privy Council.
She was a vice-chair of the Parliamentary Labour Party from 2001 until 2005, and was elected as Chair, beating Tony Lloyd in May 2005. However, in December 2006 she was defeated by Lloyd by 11 votes when she sought re-election, with her closeness to Tony Blair being cited as a reason for her defeat.
She served as Chair of the All Party Parliamentary Human Rights Group and the All Party Parliamentary Iraq Group. She was Vice-Chair of the All-Party Parliamentary Group on Coalfield Communities, and Secretary of the All-Party Parliamentary Group on Cambodia.
Compete 
After announcing her intention to stand down from Parliament in 2015, she changed her mind and said she wanted to continue. Labour told her she would have to compete with others for the nomination. She did so and won.
She stood again in 2017 and was re-elected.
In the series of Parliamentary votes on Brexit in March 2019, she voted against the Labour whip and in favour of an amendment tabled by members of The Independent Group for a second public vote.
She didn't seek re-election to Westminster in 2019,
In an interview with me in 2019, she said it was her membership of the European Parliament that had broadened her political perspective and sparked her intense interest in human rights. She said her view of the institution had changed after she was elected to it.
She said: "I went over [to the European Parliament] as a prospective candidate, to a meeting organised by the European Commission. They'd taken a group of us who were journalists actually over to see what it was like.
"My one abiding memory was of being in this event, and they were actually popping Champagne corks into the ceiling. I thought this was really, really profligate – I was a bit shocked by the whole thing. We were in the period of excesses – the huge sugar mountains, wine lakes and all the rest of the things we campaigned against at the time. People forget that both the Tories and Labour were split on the issue.
"I was elected as an anti-EU candidate. After two years I thought, 'I can see how this place works'. I could see how it could work. I found the interaction with other nationalities to be really something worthwhile, something I felt excited about. When one of the factories in my constituency, in Llanelli, was due to shut down, I talked to the trade unions in Europe, and the place it was supposed to move to in Belgium refused to take it through solidarity for the workers in Llanelli. I thought, if we can cooperate like this to save jobs, this is tremendous.
"There were lots of other issues. I took a petition to the European Parliament in 1977 for women's rights. Many of the things we argued for then became law during the period when I was a Euro MP: equal rights for men and women. It was really exciting and positive – I was on the environment and the employment committees, and they were talking about acid rain in Brussels when nobody was talking about acid rain in this country.
"I found it stimulating and exciting, and full of possibility for doing things for the better."
European Parliament
She said she had always been grateful that she went to the European Parliament first and not to Westminster: "I think it broadened my horizons," she said. "I became more acutely aware of human rights, because there were people there who campaigned very strongly for human rights. That's where I got involved in Cambodia – Pol Pot [the murderous head of the Khmer Rouge] and all of that. I became a human rights campaigner as a result of being in the European Parliament and meeting people who were themselves active and introduced me to the issues. I don't think I would have had that if I'd went to Westminster first."
Later she became involved with Iraqi and Kurdish exiles living in Cardiff who were campaigning against Saddam Hussein. She said: "There was a chemical weapons attack on the Kurds. Alastair Hay, the specialist toxicologist, went to Kurdistan and brought back soil samples. Ministers kept telling us in Westminster there was no proof.
I'd say to them 'get the proof!'. They could have got the proof. The proof was we saw some of the victims in hospital in London of the first chemical weapons attack against the Kurds. I took an all-party group of women MPs to see them. They were badly burnt – some of them could not talk, because of what chemical weapons do to people. It seemed to me really obscene that we should be selling weapons knowing that this was the effect, because someone as ruthless as Saddam Hussein was using them.
"I got involved in Kurdish politics, and in the end became special envoy for Tony Blair on human rights for Iraq. I was able to visit prisons, was hopefully able to influence a bit the aftermath of Saddam Hussein. We had researchers gather evidence, ready for trials. We knew we would have to have hard evidence if there were ever trials of those in the regime who were responsible. I remember talking to [UN Secretary General] Kofi Annan in Geneva, and saying 'if we gather the evidence, what will you do?' And he said: 'they'll probably have to come before an International Criminal Court'. When we got the evidence, he didn't actually do anything. So we had a big fight to get indictments over a period of years, and eventually it happened."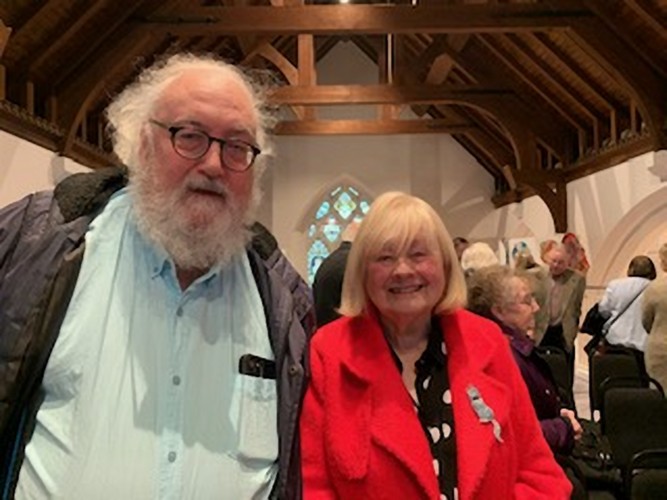 Tony Blair
Asked whether she thought Tony Blair's reputation had been trashed unfairly for getting Britain to participate in the invasion of Iraq when no weapons of mass destruction were found, Ms Clwyd said: "Yes I do. There are very few people who will stand up in Parliament now and defend him. I'm one of them . My support for that war came after collecting evidence of what Saddam Hussein was doing to his own people."
Ann Clwyd was a truly remarkable woman who should act as a role model to other female politicians. She would not compromise on sticking up for the underdog and was fearless when stating her point of view, even when it was likely to make her unpopular with some.
This was particularly the case when she backed the invasion of Iraq. For her, the debate over whether Saddam had weapons of mass destruction at the time of the invasion was irrelevant. What was far more important was removing a tyrant who had murdered so many people in a particularly horrible way.
Even during her recent prolonged illness, she continued to think of the wellbeing of others. On what I didn't realise was the last time I would visit her, just last week, she urged me to take up the case of someone she knew who was being mistreated by their employer. I'm so pleased that I did.
Ann Clwyd: March 21 1937 – July 21 2023.
---
Support our Nation today
For the price of a cup of coffee a month you can help us create an independent, not-for-profit, national news service for the people of Wales, by the people of Wales.