News
Freedom of Information requests reveal 178 rapes and sexual assaults in Welsh hospitals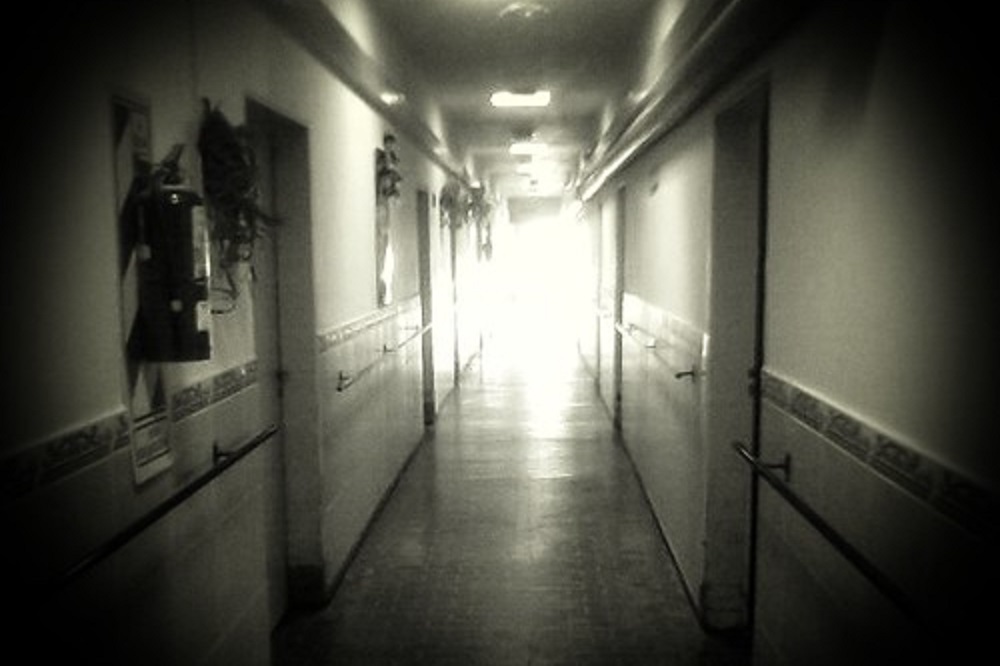 New figures reveal that there have been at least 178 rapes or sexual assaults in Welsh hospitals in the past three years and nearly half of these of these assaults have taken place on hospital wards.
Almost as alarming as the figures themselves is the haphazard way in which police forces gather information on the crimes and the tiny number of ensuing prosecutions, which in Wales appears to be just four.
Freedom of Information (FOI) requests submitted by the Women's Rights Network (WRN) to UK police forces have revealed there were over 6,500 sexual assaults, including over 2,000 rapes reported in hospitals across Wales and England – an average of 33 per week – between January 2019 and October 2022.
It is understood that women, men and children, patients, staff and visitors were victims of these assaults.
Close to 3% of those assaults occurred in Welsh hospitals.

'Tip of the iceberg'
A new report written by criminology professor, Jo Phoenix, concludes that these figures are likely to be just the tip of the iceberg, and that a combination of inconsistent data collection and low rates of prosecution is likely to be hiding the true scale of the problem.
The UK-wide figures suggest that 15% of sexual assaults and rapes on hospital property took place on wards and nearly half of the rapes took place on a ward.
Just over 4% of all reported cases lead to a charge or a summons.
In Welsh hospitals, the proportion of attacks on wards appears to be much higher at 44% with just over 2% leading to a criminal charge.
The report states that accurate data is essential for good law and good governance, but with no central system to record the number of rapes and sexual assaults in UK hospitals, "those responsible for patient care, hospital management, hospital staff and security cannot effectively discharge their responsibilities."
As the majority of victims of rape and sexual assault are female, it also highlights the value of single sex wards, something which is not guaranteed in Welsh hospitals.
Data
The FOIs were sent to 43 UK police forces, of which 8 failed to respond, including Scotland which said it does not collect that data and Northern Ireland which rejected the request.
Of the 35 forces that responded, five forces failed to provide information about the number of assaults that had taken place on hospital wards, and three did not provide information on the number of people charged or summonsed.
Data from South Wales Police, Gwent Police and Dyfed Powys Police is contained in the report, but North Wales Police responded late and so their figures were not included in the report.
Nation.Cymru has seen those figures, which contain the highest number of sexual assaults in Wales and the only data recording the sex of the victims and can be seen in this table.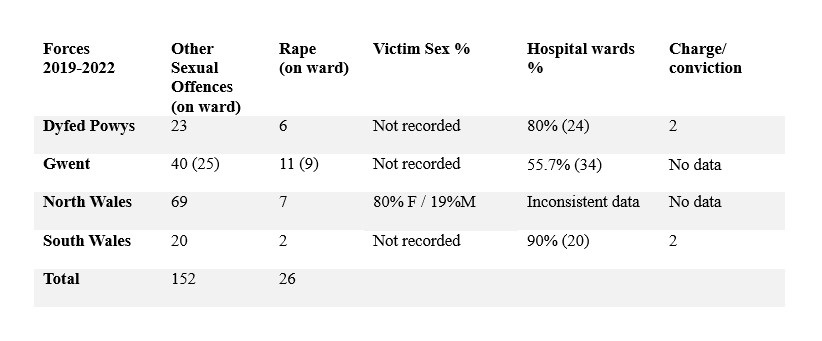 Keywords
The report notes that accessing this data depends on keyword searches, which one police force said "were notoriously unreliable" because they "rely on keywords being spelt correctly, and with no grammatical errors, but also these searches rely on the keywords actually being mentioned in the summary description of the record – if they are mentioned anywhere else within the record but not in the summary, then they will not feature in any results."
This problem is echoed in the response from the Welsh constabularies.
Gwent Police commented: "Please note that the key word search is restricted to the summaries, as a key word search of the full data log is not available. If the keyword was not mentioned in the summaries, then it would not be highlighted for us to check.
"There were zero results for the outcomes of charge/summons. Please note that outcomes are completely dependent on what the officer has inputted onto the system, it is a manual process. If they have not manually updated this, then the information would not have been updated and won't be correct."
Dyfed Powys Police added that the systems of recording such incidents are not consistent and therefore "may or may not be accurate."
South Wales Police provided the following information: "Two of the sexual assault occurrences resulted in a charge. Please note that the results retrieved are dependent on how the information has been entered on the system. As such, the information provided should not be considered statistically accurate and/or definitive."
Recommendations
Calling on NHS authorities and the police to formally acknowledge what it calls a "hidden domain of sexual violence," the report recommends that constabularies should be required to record full data about sexual violence in hospitals, including:
Home Office Counting Rules include offence, clinical setting, hospital ward, residential ward, mental health ward.
How many incidences are reported to the police broken down by sex of victim and sex of alleged perpetrator.
How many incidences are recorded to the police broken down by sex of victim and sex of alleged perpetrator.
Outcome of Police investigations.
And that NHS authorities should:
Take seriously their safeguarding responsibilities, including the application of single sex exemptions for hospital wards, in order to ensure that women and girls in particular are adequately protected there.
Take seriously their responsibilities to address sexual violence in hospitals, rather than only promote sexual safety policies that merely identify processes and procedures for reporting.
Take seriously their responsibilities to protect staff from sexual assault while at work.
To record appropriate data so that a better understanding of where and by whom and in what circumstances rape and sexual assaults happen on hospital property.
To signpost clearly the procedures in place to report and record allegations of sexual assault by both patients and staff.
To review existing safety measures and assess the need to install additional CCTV and/or door-entry systems.
Cathy Larkman of Women's Rights Network (Wales), who is also a former Police Superintendent said: "These figures are incredibly shocking and unacceptable. We are at our most vulnerable in hospital and our safety should be paramount, but this does not appear to be the case.
"What is more, we are in an even more dire and dangerous position in Wales where the situation is far worse. This needs to be a massive wake-up call for Welsh Government and our hospital trusts and we have not been reassured by their silence on this to date.
"Hospitals should ensure that we are safe and that we are not in fear of sexual assault.The appalling lack of outcomes also means that we are getting dangerously near a state of virtual decriminalisation.
"This is a national disgrace and surely this is now could be considered a critical incident for our Welsh police forces requiring a significant and sustained response"
---
Support our Nation today
For the price of a cup of coffee a month you can help us create an independent, not-for-profit, national news service for the people of Wales, by the people of Wales.