News
French government forced to lift ban on science exams in Basque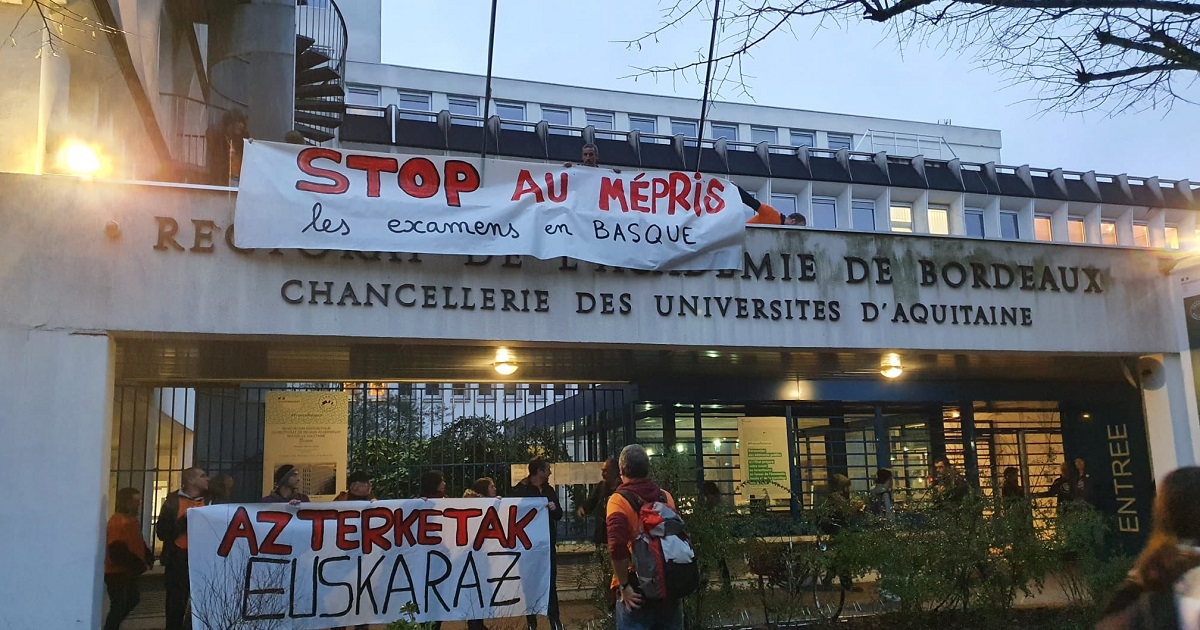 Luke James
The French government has lifted a ban on sitting science exams in Basque following a campaign by students, parents and teachers.
French education minister, Pap Ndiaye, confirmed in a letter that students in Basque immersion education will be able to use the language in chemistry, physics and biology exams as part of the "Brevet", which is equivalent to GCSEs.
The decision, which comes weeks after campaigners chained themselves to the gates of the regional education authority's headquarters, will benefit around 270 students who attend four "Seaska" secondary schools where all teaching is in Basque.
However, the change won't apply to thousands more Basque-speaking students in bilingual schools and a demonstration has been called to push for full language equality.
"It's very good news but it's a very fragile arrangement and it's very limited," Peio Jorajuria, the president of the Seaska schools association, told Nation.Cymru.
"We will continue to fight for the rights of those studying in other schools and in other languages."
Until 2017, students could sit all their Brevet exams, apart from French, in regional languages such as Basque, Breton or Catalan, as well as some exams as part of the "Baccalaureate", the equivalent of A-Levels.
French President Emmanuel Macron vowed to protect regional languages during his first presidential election campaign in 2017.
But just a year later, his first education minister, Jean-Michel Blanquer, brought forward a reform that reduced the number of Brevet exams that could be taken in Basque and ended all Baccalaureate exams in Basque.

Social risk
Blanquer claimed there is a "social risk behind immersion" in "regional languages."
His policy puts students who study in Basque or other languages but have to sit exams in French at a distinct disadvantage, say parents and teachers.
That has led to falling numbers of students in public schools choosing to study in Basque.
"They are totally dismantling bilingual secondary education," said Peio Jorajuria.
"In primary school, we have lots of children who are bilingual. But to be able to use it across all subjects, secondary education is really important.
"We need students who are educated in all subjects in Basque. Subjects like economics, political science, maths and science. If we want engineers who can speak Basque the in the years to come, secondary schools must be able to teach them these subjects in Basque."
In the Seaska Basque immersion schools, many students have continued to submit their exams in Basque despite the fact that they are now marked in French.
"I have two children being educated in Seaska," added Jorajuria. "They don't have exams this year but last year my oldest daughter did the Brevet in Basque.
"All year she had incredible marks and in the science exam she received 2 out of 20. When the exam was marked in Basque, she received 17 out of 20."
Alternative markings
Basque teachers have used "alternative markings" to highlight the injustice of the French government's policy.
Students, parents and teachers have also taken part in peaceful civil disobedience as part of the campaign, including occupations of schools in a bid to prevent exam papers being transferred to French-language markets and, last summer, a four day occupation of school inspection offices which the police attempted to prevent by using tear gas.
Campaigners this week called a demonstration in a bid to maintain progress following the French government's climbdown over science exams.
"The French state is pursuing a policy of eradicating regional languages like Basque," said Sébastien Castet of the Basque Cultural Institute which is organising the demonstration.
"On Saturday April 22 we will demand the right to take exams in Basque, we will not accept this censorship of our young people."
In 2021, the French Parliament passed a law that would increase support for children to receive immersive education in languages like Basque, Breton, Catalan, Occitan, Corsican or Alsatian.
But the French Constitutional Council ruled that was "unconstitutional" because French is the sole language of the French republic.
---
Support our Nation today
For the price of a cup of coffee a month you can help us create an independent, not-for-profit, national news service for the people of Wales, by the people of Wales.