News
Gerwyn Price inspires children from his local community to get into darts and improve their maths skills
Rhiannon James, local democracy reporter
The successes of former World Darts Champion Gerwyn Price has "inspired a generation" of children from his local community to get into darts.
In the village of Markham, in Caerphilly County Borough, pupils are improving their maths and social skills by throwing arrows every Tuesday afternoon.
Headteacher at Markham Primary School, Lindsey Prichard, praised the club – which is offered to pupils in Years 4, 5 and 6.
Mrs Prichard said: "There was an initial community interest around darts, particularly with Gerwyn Price being from the village and the school. Our children became inspired by him.
"The club is developing their maths skills. It's not just about coming and playing, there's a focus on maths, communication, working together – as well as the social aspect.
"It's shown the children, look what hard work can achieve – he has become a role model. It's certainly put Markham on the map and as a school we have built on that and enabled them to have the opportunity within education."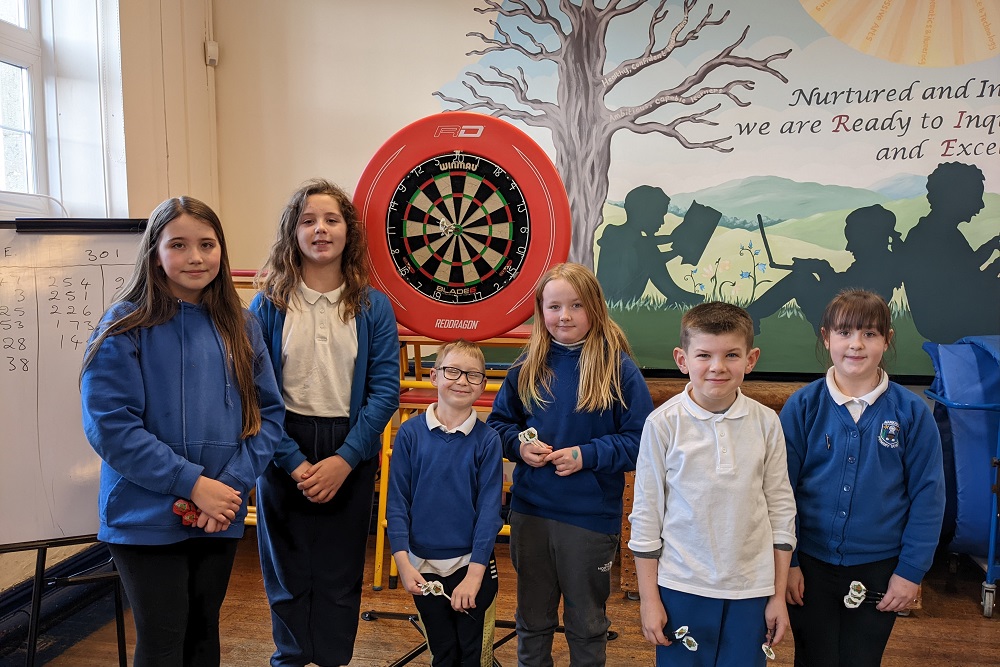 Due to the club's high demand, the school has a rotating timetable so that any child who wants to attend has the opportunity to do so.
Head girl at Markham Primary School, Ella-Mai Symons, said: "I didn't really like maths much before, but when I started playing darts it made it more fun."
John Mullen, from the Welsh Darts Organisation, runs the club. He said: "We can definitely see the benefit of it.
"Some of the kids are getting quite proficient and some are putting themselves forward to do the adding up, which shows their confidence has grown."

Mentor
Mr Mullen is a long-time friend and mentor to Gerwyn Price. Together they set-up Markham Darts Academy, which is based at Markham Welfare Club.
Mr Mullen said there is a lack of youth clubs in the area to keep children out of trouble, but this is where the darts club steps in.
With the help of Argoed councillor Walter Williams, dart boards were bought with money from the council's Community Empowerment Fund (CEF).
Labour councillor Williams praised the club and its involvement with the school. He said: "The school recently had an excellent Estyn report, in which the darts club is mentioned."
He added: "When playing you see the children respecting whoever has won. It's a competition but once it's over they're friends again, it's good character building."
Shauna Loader, a volunteer at the club, said: "It's nice to see the children improve – they go from getting frustrated to slowly realising not every week is going to be the same, they have to keep practicing."
The darts academy has spread throughout Wales, with Mr Mullen helping set-up clubs in Neath and Anglesey, as well as a club the Pontygwindy Inn in Caerphilly.
---
Support our Nation today
For the price of a cup of coffee a month you can help us create an independent, not-for-profit, national news service for the people of Wales, by the people of Wales.