News
Godfather of 20mph limits says Senedd petition breaks rules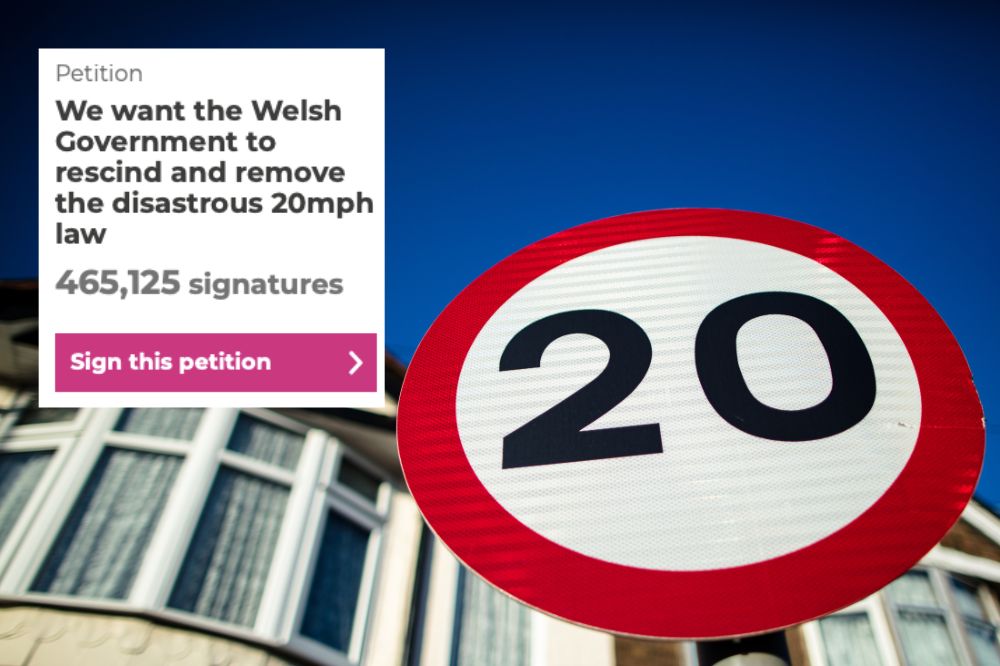 Emily Price
The founder of a campaign to introduce 20mph speed limits in built-up areas has claimed the petition opposing Wales' new default limit breaks Senedd petition rules.
With more than 465,000 signatures the petition asking the Welsh government to "rescind and remove the disastrous 20mph law" is the most signed petition in Senedd history.
But, Rod King, campaign director of the group, '20's Plenty for Us' says credibility shouldn't be given to the large number of signatories because the basis of the petition breaks several Senedd petition rules.
Mr King heads the not-for-profit organisation which campaigns for slower speed limits in residential areas across the UK.
He told Nation.Cymru that Members of the Senedd should recognise the "flaws, misinformation and lack of evidence" included in the petition's details.
Mr King has written an online briefing in which he lays out why he believes Senedd petition rules have been broken.
He claims this is because the details contain potentially false or defamatory statements as well as using language which is offensive, intemperate, or provocative.
The petition, which was started by Mark Baker, claims the new 20mph law will "mark the end of having socialism in power in Wales."
But Mr King, who has been described as the 'Godfather' of 20mph speed limits, has argued that this is "false" because there is "no evidence" to back the statement up.
The petition states: "Welsh Government claim to have supporting evidence stating that reducing to 20mph EVERWHERE saves lives! Yet we get flyers merely claiming that it will, and opinions from doctors that see RTCs coming into A&E. This is NOT evidence. The only true evidence is from Belfast and it states it makes NO DIFFERENCE to RTCs!"
Mr King says this is also a false statement because in Belfast the 20mph speed limit covered 76 roads, including 26 that were pedestrianised with motor vehicles excluded.
He said: "Since those roads had mean speeds before implementation of less than 20mph and few casualties, it is inevitable that speeds and casualties would not reduce further.
"Belfast's implementation is a poor example and is completely different to the Welsh implementation of 20mph as a national 'default'. To say that it is 'the only true evidence' is not credible."
The petition also references a 20mph pilot which took place in Monmouthshire. The petitioner claims the 20mph speed limit was "reverted" there because it was causing "absolute carnage on the roads".

"False statements"
The petition also states: "Mark Drakeford has come out claiming it is a success in St Brides Major but every time I go though there NO ONE is driving at 20mph."
The 20's Plenty for Us founder said this statement is also "false" because during the pilot, a decision was made to retrospectively make 3 sections of roads an exception.
Mr King said: "This aligned it with the exceptions guidance which was publicised after the pilot commenced. The comment about St Brides is anecdotal. The interim report from Welsh Government shows a significant mean speed reduction (from 28.2mph to 24.9mph). "
Mr King also criticised the use of the word "carnage" which he says is both "false and provocative" because the word is defined as "the killing of a large number of people".
The petition also states that the Welsh Government "FAILED to produce ANY convincing evidence" to support claims that a lower speed limit would be safer because the law has been spearheaded by the department for climate change and not by "health & safety".
Mr King says this statement is "false" because there is evidence available online from the Welsh Government to support this.
He said: "The Welsh Government has conducted due consultation and evaluation of public attitudes to 20mph limits over many years. The most recent results are available on the Welsh Government website 20mph public attitudes research."
Welsh Government ministers have said the new road regulation will result in fewer deaths and save the NHS around £92m every year.
The Welsh government has said the cost of the road regulation rollout is outweighed by casualty prevention savings, including the reduced impact on NHS and emergency services.
One study estimates these savings could be up to £92m every year. But it has been met with both support and fierce opposition.
"Flaws"
Speaking to Nation.Cymru, Mr King said: "It is known from successive assessments of public opinion over many years that a community-enhancing 20mph limit for residential streets is supported by 71% of the public with 14% opposing.
"Whilst the Welsh 20mph default with local authority exceptions will benefit 500,000 children, 300,000 households without a car and 600,000 people holding concessionary travel passes, it was bound to attract opposition.
"A click and share petition that misinforms as much as this one can be expected to collect many signatures when 20mph is implemented on  a national scale.
"Whilst the number signing is significant, it is not surprising and it should not impact policy. Members of Senedd should recognise the flaws, misinformation and lack of evidence in this petition when considering whether it is worthy of debate in Senedd.
"20mph limits in urban areas, including main roads, are being deployed across the world and whilst they may cause some personal inconvenience, have huge benefits to society as a whole.
"Welsh Government and Local Authorities should be congratulated for delivering this life-enhancing and life-preserving 20mph initiative for the people of Wales which does have wide public support."
Shadow Minister for Transport, Natasha Asghar blasted the campaign director for  attempting to "discredit" the petition.
She said: "It is incredibly disappointing to see certain people actively working to discredit this record-breaking petition, which has gained nearly 500,000 signatures in such a short period of time.
"The public are fed up with not being listened to, and this petition highlights just how disgruntled and frustrated they are with Labour's costly 20mph speed limit scheme – and who can blame them?
"This policy is already affecting people's journey times, hampering hardworking businesses, slowing our emergency services down, and delivering a £9billion blow to the Welsh economy.
"Instead of admitting this whole thing has been a disaster and scrapping 20mph speed limits, those in support of this ludicrous 20mph project, continue to ignore and quash legitimate concerns."
A Senedd spokesperson said: "The Senedd receives petitions on a wide variety of subjects. All petitions must comply with the rules set out, known as the determination of the proper form of petitions. In considering petitions we always try to respect the words used by the people who submit them.
"Petitions are submitted by real people – they are not a legal statement – we allow scope for strong statements of opinion. When petitions are looked at by Members of the Senedd Petitions Committee they are provided with rigorously researched briefings before taking any action."
Petitioner
The petitioner, Mark Baker said: "This 'data' is coming from a campaign that has no where near the support that the petition has and I believe they are clutching at straws to discredit it.
"The petition does follow all the rules as it cannot go live without being vetted by the petitions committee at the Senedd. They contacted me prior to it going live to make some changes to its wording as there was some text in there that did breach some rules.
"However, there was no profanity in it. they also did not question the statements made in the petition about the Belfast study or the Monmouthshire reversal so they also took those statements as true.
"I do believe that 20mph has a place on roads that have schools on them. I believe that the Welsh Government have alienated the concept of 20mph with this policy and people will not accept it at all now. The petition has more supporters than Labour does Voters.
"Bath council introduced 20mph zones in 13 areas and in the 12 months since implementing them over half of them are being ignored and there has been no reduction in the amount of fatal RTC's.
"During the 12 months since Bath installed 20mph zones the rate of people being killed or seriously injured went up in 7 out of 13 areas. Thats 53.8% of the areas doing this in Bath. The article does state that it does NOT bring in any significant reduction on the number of people killed or seriously injured.
"The Spain study did show a reduction in fatalities back in 2019 and 2020, however the reports now show that in 2022 there 1042 fatal incidents on Spanish roads which led to 1145 people dying and 4008 people suffering serious injury. This equates to a 4% INCREASE in deaths.
"The Belfast study that I have read stated that there is no significant reduction in collisions at 20 compared to 30. This study reported that although there was a reduction in RTC's it was not due to a reduction in speed. it was down to a reduction in volume of vehicles on the road. The zones that changed to 20 were compared to those that stayed at 30 and the result was very little change.
"In my honest opinion, this is a sad attempt to discredit a petition that has garnered so much support that they feel desperate to do all they can to fight it."
---
Support our Nation today
For the price of a cup of coffee a month you can help us create an independent, not-for-profit, national news service for the people of Wales, by the people of Wales.