News
Hit podcast teams up with FAW to get defibrillators to Welsh football clubs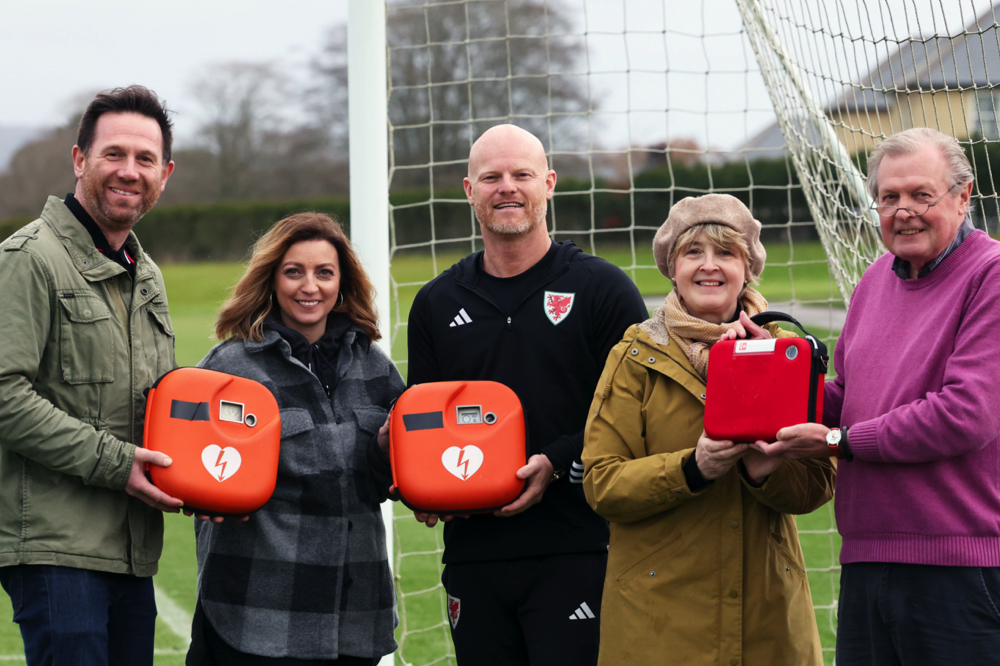 A hit podcast made in Wales has teamed up with the FAW and Save a Life Cymru to give more football clubs access to defibrillators.
The Socially Distanced Sports Bar podcast began its life in lockdown and is the brainchild of comedians Elis James, Mike Bubbins and broadcaster Steff Garrero who have stepped in to help improve cardiac arrest survival in Wales.
Steff Garrero said: "We wanted to help and do our bit so that local, grassroots clubs right across Wales had access to a defibrillator.
"Often, people think that cardiac arrest happens to men over a certain age but that isn't the case. I think that really came to light when Christian Eriksen collapsed during the Euros in 2021.
"Here was a supremely fit 29-year-old fighting for his life and was saved by CPR and a defibrillator."
The FAW has agreed to fund the defibrillators and The Socially Distanced Sports Bar podcast will provide the cabinets.
Save a Life Cymru will ensure the lifesaving equipment is properly registered and maintained.
The podcast trio has even garnered support from comedians Richard Herring and Bob Mortimer.

Donation
Steff Garrero added: "We appeared on Richard Herring's podcast in October alongside the brilliant Bob Mortimer.
"We told them what we were trying to do and straight away Bob, who has of course had heart surgery, donated his fee and Richard doubled our appearance fee to help towards the cause.
"It's really gathering momentum and people want to do what they can to help."
FAW Chief Executive Noel Mooney is a firm supporter of the campaign and highlighted the issue of defibrillators being locked away in changing rooms.
He said: "We want to make sure defibs are available to the whole community not just the players. It's another great example of how football clubs in Wales are at the very heart of our communities."
Recently, Save a Life Cymru – the national organisation to improve cardiac arrest survival in Wales – revealed that less than half of Welsh adults are trained in CPR and defibrillation.
Every year in Wales, more than 6,000 people will have a sudden cardiac arrest and around 80% of those will happen in the home.
Almost one in four of us (24%) have witnessed someone collapse and possibly need bystander CPR and defibrillation intervention.
Support
Yet, less than half of adults in Wales are confident in performing CPR.
However, when people understand that on calling 999, the call taker will talk you through CPR and direct you to the nearest registered defibrillator, 73% of adults said that they would feel more confident to intervene.
Professor Len Nokes, Chair of Save a Life Cymru says: "A person's chance of surviving a cardiac arrest will decrease by 10% with every passing minute if CPR and defibrillation is not performed.
"Even if you aren't trained in CPR, you need to have the confidence to act quickly and do something because ultimately, you could save a life.
"If you find someone not breathing or not breathing normally, please call 999 and start CPR immediately.
"The 999-call taker will tell you where your nearest defibrillator is, but never stop CPR to fetch a defibrillator – send someone else to fetch it for you."
Football clubs across Wales that are interested in receiving a defib can get in touch with @distantpod on social media.
The podcast hosts are also linking up with local Cardiff coffee company Fat Whites to raise money for defibrillators. Fans can buy coffee and all proceeds will go towards raising money for the initiative with the aim to support as many clubs as possible.
---
Support our Nation today
For the price of a cup of coffee a month you can help us create an independent, not-for-profit, national news service for the people of Wales, by the people of Wales.