News
Humanist 'chaplain' appointed by Senedd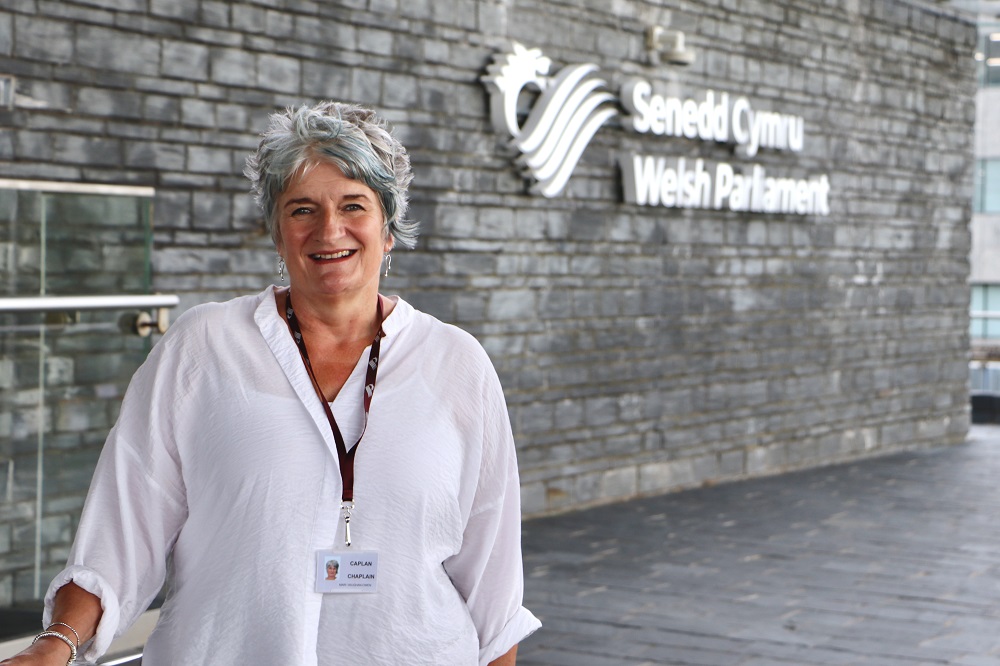 Martin Shipton
The Senedd has appointed a humanist pastoral carer as part of a new team aimed at supporting MSs and their staff in Cardiff Bay and across Wales.
In addition, there will also be a Christian and a Muslim chaplain.
Mari Vaughan-Owen, who is also a humanist celebrant, has been hired to provide the non-religious pastoral care element. She is a trained and accredited member of Humanists UK's Non-Religious Pastoral Support Network (NRPSN).
The new team will provide support for all staff, and will complement existing counselling services. A Christian chaplain was first introduced in the Senedd in 2019 but following calls for support for non-religious members and staff, the new team was established.
Non-religious pastoral care is support that encompasses the emotional, moral, ethical, and existential aspects of life. It is grounded in a non-religious outlook and non-religious pastoral carers provide support to people in hospitals, hospices, prisons, and universities. As part of its support of the expanding NRPSN, Humanists UK works to increase provision across all sectors, and in every part of the UK.
Through the NRPSN, which was founded in 2016, Humanists UK has enabled the training and accreditation of over 220 current pastoral carers, who work in 10% of prisons and 30% of NHS Trusts in England and Wales. Most are volunteers but around 15 are staff. In 2018, humanist pastoral carer Lindsay de Wal became the first humanist appointed to lead a chaplaincy and pastoral care team in the NHS in England.
In January 2023, the UK Government announced that it intends to launch a new Chaplaincy Faith and Belief Forum to replace His Majesty's Prison and Probation Service's Chaplaincy Council, which will include humanists from the outset. In February, James Croft became the first humanist head of a UK University's chaplaincy, pastoral, and spiritual care team. And in August, new NHS England guidelines mandated equality in non-religious and religious pastoral care for the first time. NHS Wales is currently similarly reviewing its guidance.
Research conducted by YouGov for Humanists UK in 2017 showed widespread demand for the provision of non-religious pastoral care in a variety of settings.

Inclusive
Mari Vaughan-Owen said: "'I am pleased that this inclusive service will be available to all staff working in the Senedd. It is important for people to have the option to receive care from someone of like mind at a time of crisis and I look forward to working with my new colleagues to build the chaplaincy and pastoral care team."
Describing her work as a humanist funeral celebrant, Ms Vaughan-Owen states on her website:" I am a humanist celebrant based in Cardiff and I conduct funeral ceremonies across south east Wales. I am able to conduct ceremonies in Welsh and would be willing to travel to other parts of Wales.
"For the past 41 years I have worked as a nurse and health visitor, working in many clinical and community areas across London and Cardiff. Loss and bereavement have played a significant role throughout my working life and I have a deep understanding of the complex feelings around loss. Everyone's experiences are different and each situation has its own complexities.
"As a non-religious celebrant, I aim to provide a meaningful and dignified ceremony, tailor-made for you and your family. It is a privilege to be able to work with people during such a significant and life changing moment in their lives."
Wales Humanists coordinator Kathy Riddick said: "Historically, public institutions have looked to people from religious communities to be the sole providers of chaplaincy and pastoral care, but with over half of people in Wales identifying as non-religious, we welcome the Senedd's approach to a broader service.
'We look forward to supporting Mari and the whole team in this new challenge and hope that all other public services in Wales, such as the NHS Trusts, similarly move to a more inclusive approach for their pastoral care delivery."
---
Support our Nation today
For the price of a cup of coffee a month you can help us create an independent, not-for-profit, national news service for the people of Wales, by the people of Wales.