News
Hunt supporters happier with policing of fox hunting in north Wales than anti-hunting groups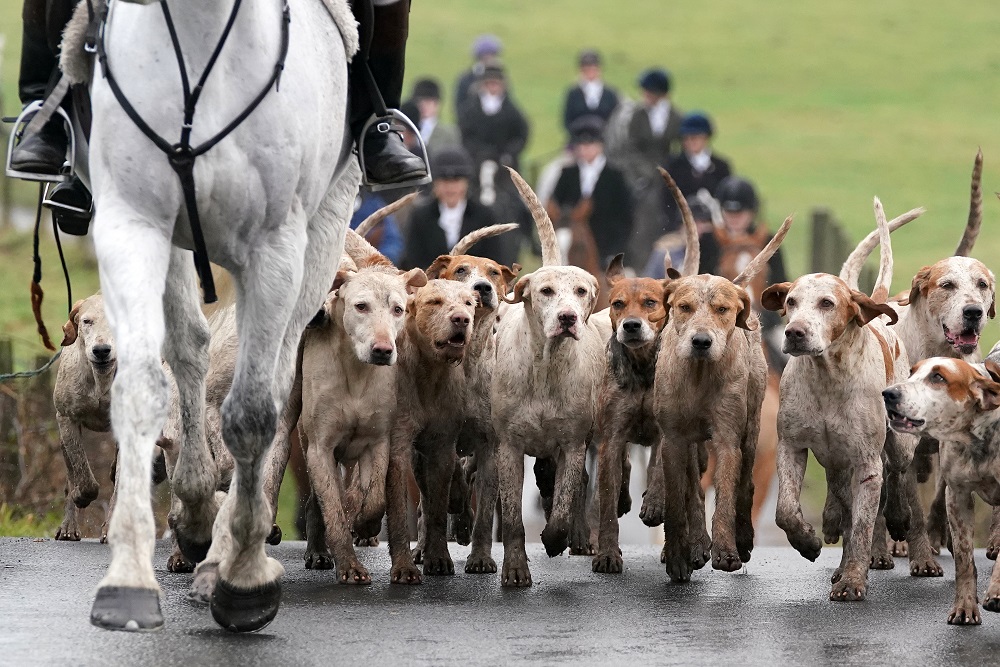 Pro hunting groups are more satisfied than their opponents with the policing of the Hunting Act in north Wales according to a newly published independent review.
Since 2004, fox hunting with hounds is illegal in Wales and England which places a duty on the police to enforce the law.
Commissioned by North Wales Police and Crime Commissioner Andy Dunbobbin, the review compiled by academics at Glyndwr University runs to 68 pages.
The full title is: 'Independent review of North Wales Police in relation to enforcing the ban on fox hunting with hounds and police incidents connected with hunting.'
Between 1 January 2018 and 16 March 2020 – when lockdown began – in total, the police response to 57 incidents was examined.
The review found that people involved in hunting themselves, "… were far more satisfied with how the Hunting Act and incidents associated with hunting were being policed than members of anti-hunting groups."
Furthermore, it says that anti-hunting groups considered the police are biased in favour of the those who participate in hunting.
Whilst North Wales Police say they dealt with each party "objectively", the review team say it's unclear how this was monitored: "given the stereotypes that exist around hunt saboteurs".

Operation Yarder
The Force's approach to enforcing the Hunting Act and policing incidents connected with hunting is called Operation Yarder.
The review states that: "… police officers were deployed infrequently on Operation Yarder and had minimal training.
"The review teams' perception was, that an officer deployed on Operation Yarder would be reluctant to take a statement about an allegation of illegal hunting, if doing so drew them away from what they understood their primary concern as being (managing disorder at a hunt) … this lack of interest in illegal hunting could be perceived as bias."
The Crown Prosecution Service (CPS) have appointed Wildlife Crime Co-ordinators in each Police Service Area in Wales.
However, the team from Glyndwr University say they were unable to reach agreement with the CPS "to engage these co-ordinators in a formal interview".
Good practice
North Wales Police and Crime Commissioner Andy Dunbobbin said that the review shows North Wales Police's actions are consistent with good practice.
He added that Wrexham Glyndwr University had sought the views of the pro-hunting and anti-hunting community, the police and others connected with the issue. It also looked at enforcement challenges linked to the Hunting Act 2004.
The review notes that fox hunting is not a national policing priority, and that in the past this fact has informed North Wales Police's response to the issue.
However, the report also states that more recently North Wales Police had changed its approach in this respect.
Andy Dunbobbin said: "Rural and wildlife crime is especially important to me due to the significant impact that crime can have on our rural communities across north Wales."
Mr Dunbobbin said he'd commissioned the review because, "Many people from across the spectrum of opinion on hunting raised this issue with me …. While the findings demonstrate that North Wales Police are doing an effective job in policing the Hunting Act … the report also recommends a number of changes in operations.
"I will now work with the Chief Constable and senior officers of North Wales Police to see how these recommendations can be put into practise."
Recommendations
The review into the policing of the Hunting Act in north Wales has 10 recommendations.
Many revolve around the Joint Communication Centre (JCC) based in St Asaph where staff working for North Wales Police take hunting related calls from the public.
Ensuring that JCC staff are briefed about the distinction between trail hunting – which is legal, and illegal fox hunting is recommended. Also, which information to obtain when an incident is reported.
There are further recommendations relating to staff training and guidance – for both police officers and civilian staff, including what questions to ask when an incident is reported.
Whilst referring to the "challenges involved in proving cases", one recommendation is that: "… all incidents of illegal fox hunting should be approached with an investigative mind set where no pre-conceptions are applied. For example, that a statement by a hunt or anti-hunt campaigner will inevitably be of limited evidential value."
It is also recommended that North Wales Police should ensure that call centre staff supervisors: "… more actively scrutinise hunt related incidents to satisfy themselves that crime-recording follows national standards."
The final recommendation is that North Wales Police and the Crown Prosecution Service: "… should continue to liaise closely over charging decisions and seek an objective expert witness to review the evidence in relevant cases."
---
Support our Nation today
For the price of a cup of coffee a month you can help us create an independent, not-for-profit, national news service for the people of Wales, by the people of Wales.