News
'I was mugged in broad daylight by a seagull'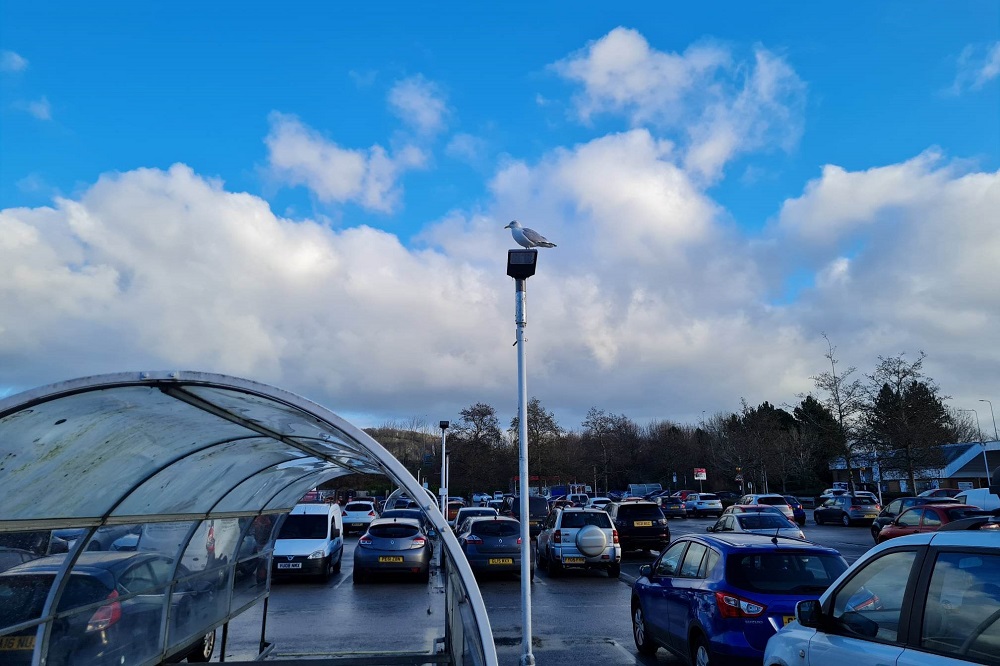 Richard Evans, local democracy reporter
Like a scene from Alfred Hitchcock's The Birds, terrorised supermarket shoppers in Llandudno Junction are running the gauntlet of seagulls on the hunt for packaged food, wrapped-up snacks, and special-offer meal deals.
The gulls sit perched atop the roofs of nearby trolley bays and lighting posts, or waiting for unsuspecting shoppers to place their shopping on their car roofs while they open their vehicle's doors.
The Local Democracy Reporting Service has been made aware of at least four incidents in recent weeks, and it seems that they are getting bolder with each successful aerial raid.
Richard Evans gives his account of losing his shopping to a crafty scavenger earlier this week and how he outwittted the fly-by thief
"I was off to a job in Rhyl, and, knowing I would have to shake hands with numerous people, I thought I'd take a bottle of hand sanitiser, given that COVID is still hanging around at the height of flu season.
"I also knew I might be late back for lunch, so I set off in plenty of time, planning to stop off at Llandudno Junction's Tesco, to pick up the hand gel and a packet of sweets – just to keep me going.
"I never expected to be mugged in broad daylight. But I should have known better. It had happened before.
"As I left the store, probably dreaming of what to pick up later for lunch, I returned to my car and, hands full of shopping, placed my big bottle of green hand gel and a £1 packet of sweets on the car's roof, so I could open the car door.
"Then it happened. The seagull swooped down and snatched my packet of sweets right before my eyes, nonchalantly flying off to the other side of the car park.
"How dare he? I'm saying 'he'. I'm not entirely sure if the gull was male or female, but let's keep things simple. "Adrenaline took over. I charged across the car park, ignoring amused onlookers, still holding my bottle of hand sanitiser tightly until I faced down the gull."

Principle
Mr Evans continued: "I found 'him' hiding away in a quieter corner of the car park, attempting to use his yellow beak to rip open the sweets. I haven't told you I really needed the sweets, but I did (I suffer from low blood sugar levels), and despite leaving early, I hadn't time to go back into the store.
"But more importantly, it was now a matter of principle. I would never hurt an animal, not even a thieving seagull who had stolen my sweets.
"With no intention of hitting the seagull, I pitched my bottle of hand sanitiser in the bird's direction, deliberately missing the gull by a few feet. But it was enough to frighten him away.
"I picked up the sweets, threw away the outer packaging, and returned to my car, the scavenger watching me with his beady eyes as I smiled back victorious.
"I should have learned. The same thing happened weeks earlier. That time the gull tried to take my wallet but dropped it at the last second.
"The gulls perch on nearby trolley bays and lighting posts, waiting for unsuspecting victims to make the same mistake. I won't make that one again!"
Swooped
The Local Democracy Service have had other reports, both at the same Tesco store and the nearby Asda in Llandudno Junction. Dad Howard Evans, 35, a mechanic, was returning to his car after Christmas whilst chatting to an insurance company salesman.
"I popped into the little Asda to do my shopping and returned to my car," he said. "I was on the phone on hold to an insurance company, for like half an hour.
"I put my food on the car roof to get my car keys. The seagull swooped down and took my sandwich just as the insurance guy took my call off hold. I shouted, 'you ####ing #######', and the guy on the phone thought I was talking to him.
"The seagull made off with my sandwich. Once I got back into the car, I had to apologise to the insurance guy." He added: "I can't believe how aggressive they are."
Another former employee at Tesco told the LDR Service that the birds can be a "nightmare", particularly during the summer months.
A spokeswoman for Tesco claimed they weren't aware of the problem. Asda was also contacted for a comment.
A spokeswoman for Conwy County Council commented: "Because people feed gulls, they have learnt that humans are an easy source of food," she said. "Please don't feed the gulls and put unwanted food and food wrappings in a bin with a lid."
---
Support our Nation today
For the price of a cup of coffee a month you can help us create an independent, not-for-profit, national news service for the people of Wales, by the people of Wales.