News
Intrigue as Labour selects candidate for Carmarthen but fails to make public announcement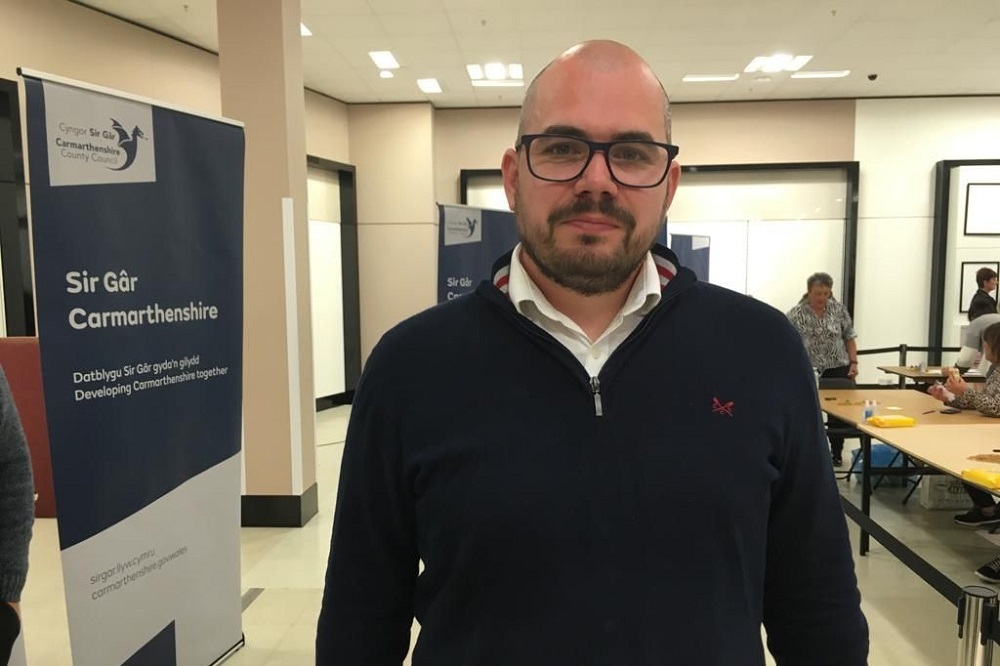 Martin Shipton
Mystery surrounds why Welsh Labour has not announced publicly why a former UK Government policy adviser has been selected as its Westminster candidate for the new seat of Caerfyrddin / Carmarthen.
Some local party members are saying they have heard that Martha O'Neil's nomination has not been welcomed by her employer, an unspecified animal welfare charity.
Ms O'Neil was selected by postal ballot after a controversial late decision by party officials to exclude Rob James, the Labour opposition group leader on Carmarthenshire County Council from the candidates' shortlist.
Before his exclusion, Cllr James was seen as the favourite to win the selection contest. Postal ballot papers had already been sent out with his name included when party officials insisted that he was excluded.
It is understood that the councillor was told by Welsh Labour officials that he was disqualified from the process because of a text message he supposedly sent that he has no recollection of.

Text message
The text message is understood to have referred to Deputy Transport Minister Lee Waters, the MS for Llanelli, around the time earlier this year that Carmarthenshire county councillors were debating the issue of second homes.
Cllr James was accused of having texted an unspecified person a message which said: "If you want to cause some trouble today you may want to point out in the second home debate that the MS for Llanelli has two second homes in Carmarthenshire and doesn't live in either of them."
The councillor has told local party members that he can't remember having sent such a message. Mr Waters has denied that he has two second homes in Carmarthenshire.
It is understood that Welsh Labour has said it can't prove that Cllr James sent the message, but that allowing him to continue in the selection process would have risked reputational damage for the party.
When a hustings meeting was held days after the councillor's removal from the contest, it had to be abandoned after descending into chaos with members complaining about what they saw as the undemocratic exclusion of Cllr James. A number of party members were subsequently suspended.
A postal ballot held more than two weeks ago resulted in victory for Ms O'Neil, and local party members received an email from Welsh Labour headquarters in Cardiff informing them of the result and telling them the party appreciated their "spirit of solidarity and comradery" in "a difficult selection".
Limbo
However, one local party member told us: "We feel as if we're in limbo. No public announcement has been made about Martha's selection and we can't understand why.
"What has been suggested is that her employer – and we haven't been told who that is – is not at all happy about her selection as the candidate and is trying to make her choose between the job she only took up a couple of months ago and staying on as the candidate. There's even been a rumour circulating that the Labour Party may be threatening to take legal action against the employer.
"This is all very unfortunate. Although Martha is from the constituency originally, she is not currently on the electoral register and has been working in London. Clearly a young woman of 25 needs a job, but local members need clarity about her position. This is a winnable seat for us and we need a candidate in place and campaigning."
We asked Welsh Labour why Ms O'Neil's candidacy hadn't been announced publicly, whether it was the case that her employer had difficulties about her standing for the UK Parliament, and who her employer was.
A spokeswoman for Welsh Labour would only say that it was not the case that the party was considering legal action against the employer. She refused to comment further, and would not identify Ms O'Neil's employer.
We left a detailed message for Ms O'Neil, but she did not respond.
Passion
When she was campaigning for selection, she sent a message to local party members which said: "I have the skills, the passion and the dedication to give myself fully to this campaign – and to ensure a successful result for Labour.
"My immersion in the Welsh language and culture will allow us to bring disillusioned Plaid voters on board, while my professionalism and diligence are in stark contrast to the scandals and mismanagement we have seen under the Tories.
" … In me, you have a dedicated candidate, one who is keen to start working with members to curate a tailored, local manifesto to directly address the issues facing our communities."
Ms O'Neil's Linked-In profile states that she is a senior policy adviser in the charity sector, but doesn't specify her employer. Previously, until August this year, she was a policy adviser at the UK Government's Department of Science, Innovation and Technology.
In 2015, as the Under 19s Representative for Welsh Young Labour, she gave an impassioned speech at Welsh Labour's annual conference in Swansea, stressing the importance of engaging the younger generation in political debate.
She went on to introduce then First Minister Carwyn Jones as he prepared to deliver his conference speech. Ms O'Neil later studied at Trinity College, Cambridge, where she graduated with a first class BA degree in human, social and political sciences and wrote regular political columns for the student newspaper Varsity.
Caerfyrddin / Carmarthen is a new seat following boundary changes that will see Wales' representation at Westminster reduced from 40 MPs to 32. The constituency comprises parts of the existing Carmarthen East & Dinefwr and Carmarthen West & South Pembrokeshire seats.
Carmarthen East & Dinefwr's sitting MP is Jonathan Edwards, who was elected for Plaid Cymru, but who now sits as an Independent after accepting a police caution following an incident in which he assaulted his wife.
Plaid Cymru has yet to select a new candidate. Carmarthen West & South Pembrokeshire is held by Simon Hart, currently the Government Chief Whip at Westminster.
The party has not yet selected its candidate for the new seat.
---
Support our Nation today
For the price of a cup of coffee a month you can help us create an independent, not-for-profit, national news service for the people of Wales, by the people of Wales.