News
Is privatisation the answer to Cardiff Airport's problems?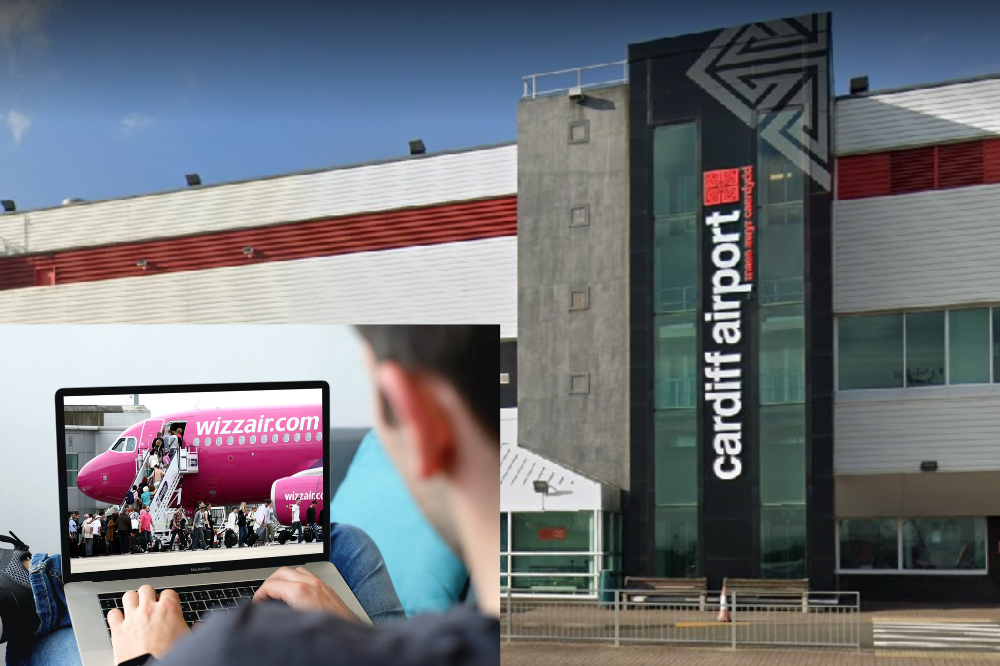 Luke James
Cardiff Airport lost the same number of international routes during its last decade in private ownership as it did during its first decade in public hands, research by Nation.Cymru has found.
Wizz Air's announcement that it will permanently end its operations at Cardiff from today has sparked calls to re-privatisation of the airport bought by the Welsh Government in 2013.
But an analysis of Civil Aviation Authority data shows there have been similar results under both models of ownership.
Between 2003 and 2012, Cardiff Airport lost 28 international routes carrying 1,000 passengers per year or more.
Exactly the same number of equivalent routes were lost between 2013 and 2022.
Cardiff Airport has faced severe turbulence under both public and private ownership.

Ascendency
Back in 2003, Cardiff Airport was in the ascendency.
Connections to European hub airports Amsterdam and Paris were performing well, 'bucket and spade' destinations like Alicante, Malaga and Palma de Mallorca were attracting passengers in the hundreds of thousands, and there were direct flights to destinations as far away as Sanford in the United States and Toronto in Canada.
Prague, Barcelona, and Sharm El-Sheikh were among 15 popular new routes added over the next four years as Cardiff Airport was carried along by strong economic growth.
Flybe and Bmibaby both began operations and a record 2 million passengers used the airport in 2007.
Then the financial crisis hit and, by 2012, passenger numbers had been cut by almost half.

Cardiff Airport then began a slow climb back towards its previous heights in 2013, the year it was bought by the Welsh Government.
Passenger numbers increased from 1 million in 2012 to 1.6 million by 2019, coinciding with a rise in the number of routes from 35 to 42 over the same period.
The new routes included Cardiff's first ever scheduled long-haul flight, to Doha, which almost doubled its number of users in its first year of operation.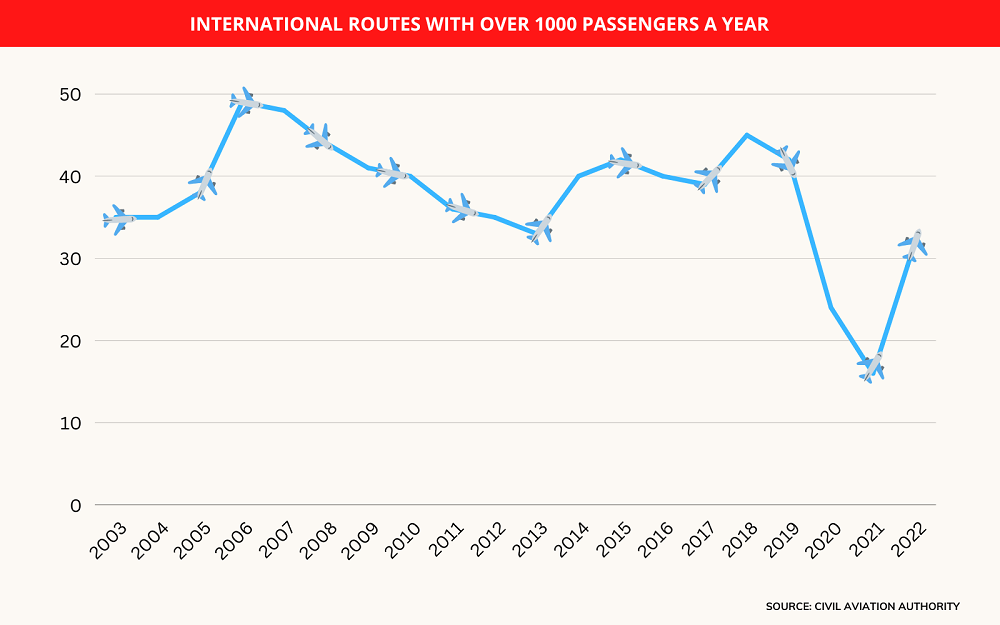 Existing routes
Passenger numbers on existing routes also improved. Between 2012 and 2019, there was a 69% increase in passengers flying to Amsterdam, a 62% increase on the Dublin route and a 38% increase on the Paris route.
Just as the financial crisis clipped Cardiff's wings when it was privately owned, so the pandemic disrupted progress under public ownership.
Regular direct flights to European cities popular for weekend breaks, like Rome and Berlin, as well as Cardiff's connection to the Middle East all fell victim to Covid-19.

Passenger numbers in Cardiff were down 44% in 2021 compared to the previous year, substantially higher than losses suffered by regional competitors: Bristol (-5%), East Midlands (-8%) or Birmingham (-14%).
Passenger numbers have begun to recover, with 830,000 people using the airport on 31 routes between January and November of 2022.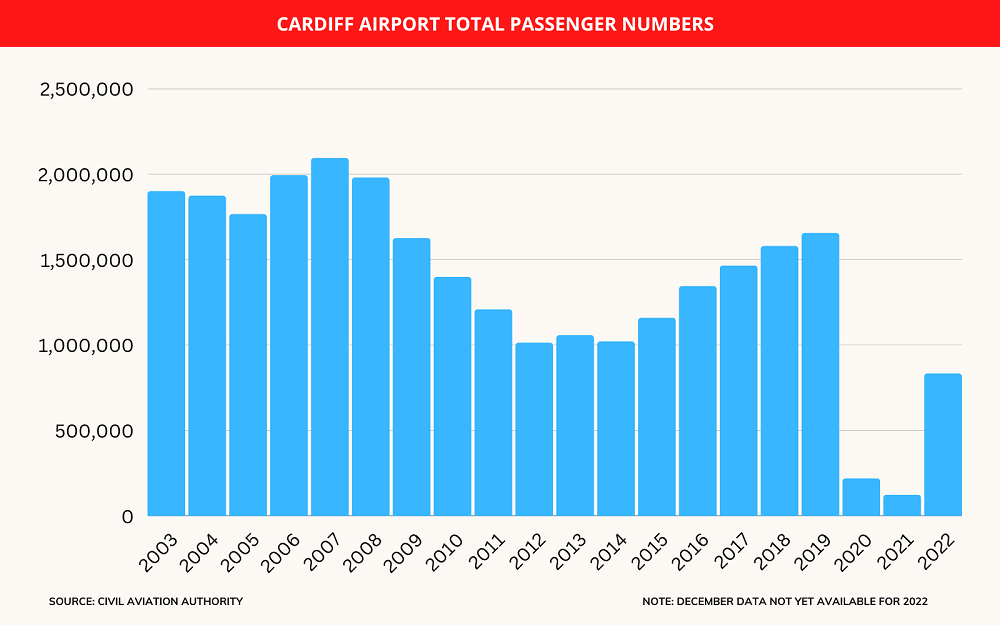 Wizz Air's announcement risks halting progress. It means Cardiff will lose a further two routes, to Milan and Bucharest, completely while also losing capacity on a further nine popular destinations which will continue to be served by direct flights.
What hasn't improved since renationalisation, even before Covid, are the numbers on the airport's balance sheet.
The airport has made a pre-tax loss every year since 2013, according to Senedd Research, and the Airport's chief executive has admitted making a profit remains a "long way off."
Re-privatised
Both the Welsh Conservatives and Welsh Liberal Democrats have called for the airport to be re-privatised.
"I really want to see it flourish in private hands but instead it languishes in the ownership of the Labour Government who is flying the airport off the runway into terminal decline," said Welsh Conservative shadow transport minister, Natasha Asghar MS.
"We can see this most clearly when looking at passenger numbers at Cardiff which are down 44% on pre-pandemic levels when Bristol Airport is down just 5%."
Welsh Liberal Democrat Leader Jane Dodds said: "Serious questions now need to be answered about Labour's strategy for the future of the Airport. With a bill of £210 million since the Welsh Government purchased the Airport and no sign of things improving, taxpayers will rightly be asking what value for money they are getting.
"The Welsh Liberal Democrats led the charge against the purchase of the Airport from the private sector in 2013 and we have continued to be vindicated since."
But the Welsh Government have insisted they won't "cut their losses and run" following the latest setback, a decision which is supported by Welsh transport expert Professor Stuart Cole
When asked by Nation.Cymru for his advice to the government, Cole replied: "They should continue to fund it ."
Cardiff can't compete with Bristol on a commercial basis but still provides an important service for the people of south Wales and the Welsh economy, according to Professor Cole, emeritus professor of transport at the University of South Wales.
He said: "The wrong decisions were made twenty odd years ago when EasyJet and Ryanair came on to the market. But it has some good airlines and some good connections.
"Cardiff Airport is also a symbol. It's a symbol that, in terms of international investment, Wales is open for business.
"For an economist operating a loss making enterprise is a bit ungodly, but there are instances where you have other strategic objectives and one of the strategic objectives essential to Wales is getting overseas investment."
---
Support our Nation today
For the price of a cup of coffee a month you can help us create an independent, not-for-profit, national news service for the people of Wales, by the people of Wales.