News
Jeremy Vine under fire for 'disgraceful' attitude to the Welsh language
//= do_shortcode('[in-content-square]')?>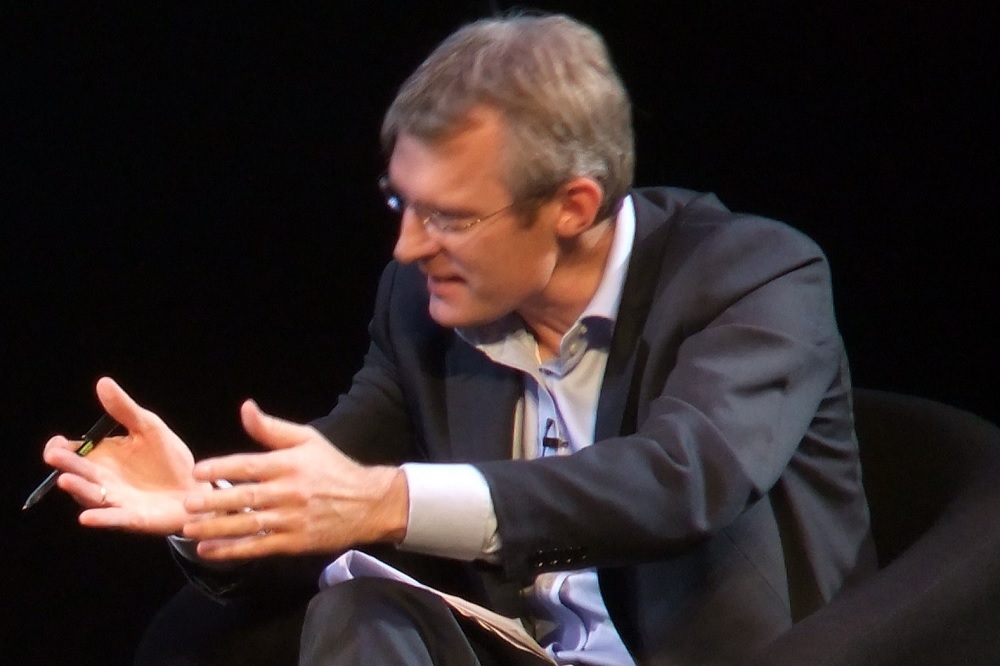 BBC Radio 2 host Jeremy Vine has been criticised after seeming to suggest that Welsh was on par with a foreign language in the UK, and that people should speak English instead.
His official Twitter feed responded to an online message suggesting that Welsh people speaking Welsh in Wales was equivalent to French people speaking French in France by asking: "Is France in the UK?"
The tweet has now been deleted.
The discussion kicked off after a heated debate on Jeremy Vine's BBC Radio 2 programme about the Welsh language.
He was discussing Lloyd Bank's initial refusal to accept a cheque written in Welsh by Cardigan Town Council.
He interviewed a man from Pontypridd who said that Welsh speakers "think they're better than anybody else".
"I don't want to speak it, it's a horrible language," he said. "If you go into any pub in west Wales, in north Wales, they're all there speaking English, soon as they come in and hear my accent, they start changing into Wesh, so we can't understand them.
"I hate it, I just hate the language."
Two other callers, one from Caernarfon and another from Cardiff, challenged his comments.
A Twitter user, Blogdroed, responded by saying: "I can't believe Jeremy Vine is giving airtime to the tired old trope about 'walkig into a pub and people switching to English'… for crying out loud its 2018 and people are still trotting out this nonsense."
Another user, William Jones, responded: "I walked into a pub in Paris the week before Christmas… Who would have thought, French-speaking French in France."
To which Jeremy Vine replied by suggesting that weren't comparable: "Is France in the UK?"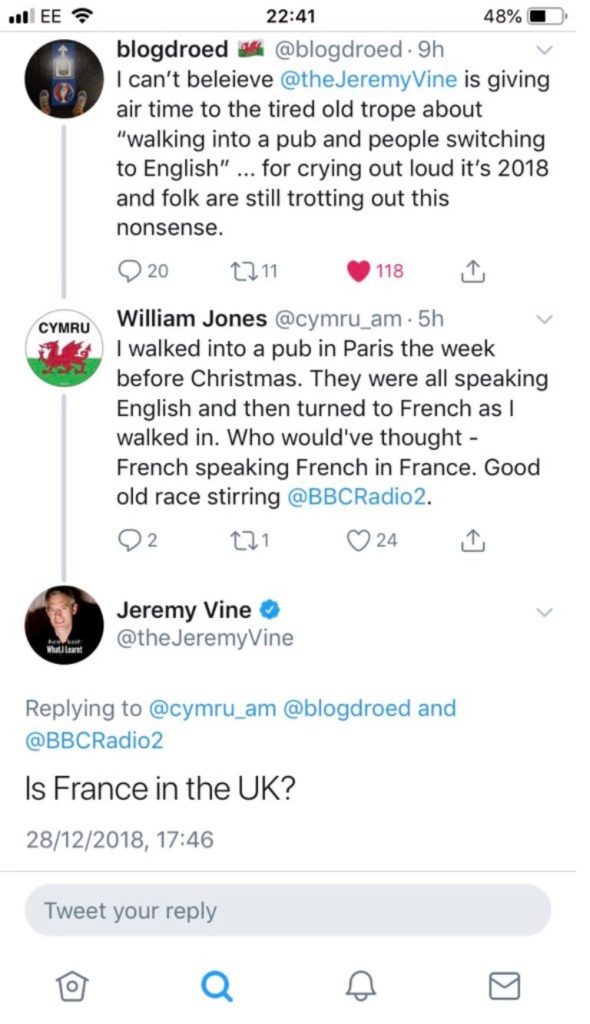 Director and producer Sian Harries responded to his message by saying: "God knows what will happen to our language once Brexit happens. The attitude towards speaking a minority language in the UK is disgraceful already."
Another user, Lieutenant Cool, accused Jeremy Vine of being intolerant and thinking "you should only speak English in the UK. Shame on anyone with that mindset."