News
Kickstarter launched to publish quirky and colourful book for Welsh learners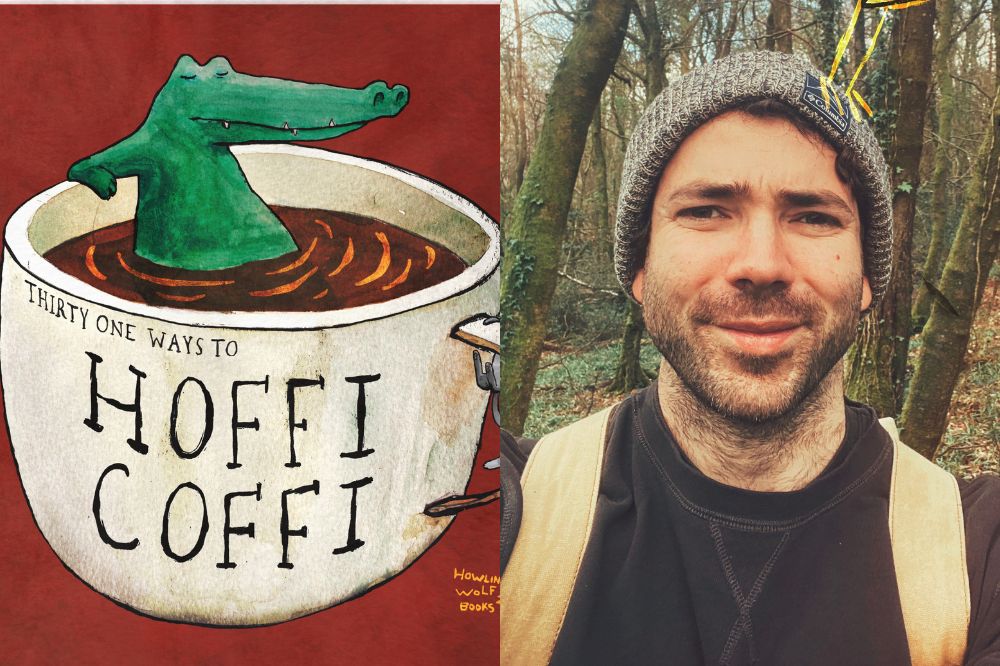 Emily Price
A writer and illustrator who is learning to speak Welsh is hoping to raise enough money from a Kickstarter campaign to fund publication of his quirky and colourful book aimed at fellow learners.
Joshua James Morgan from Cardiff started the project 'Sketchy Welsh' to help people learn the language in a simple and fun way.
So far, the Kickstarter, which has two days to run, has raised £3,000 towards the cost of publishing the book, which is full of memorable phrases and unique illustrations designed to make the language easier to learn.
His Welsh picture book '31 Ways to Hoffi Coffi' contains a collection of colourful pictures painted using a mixture of watercolour, ink and gouache paint.
Each striking yet strange image is accompanied by a Welsh sentence.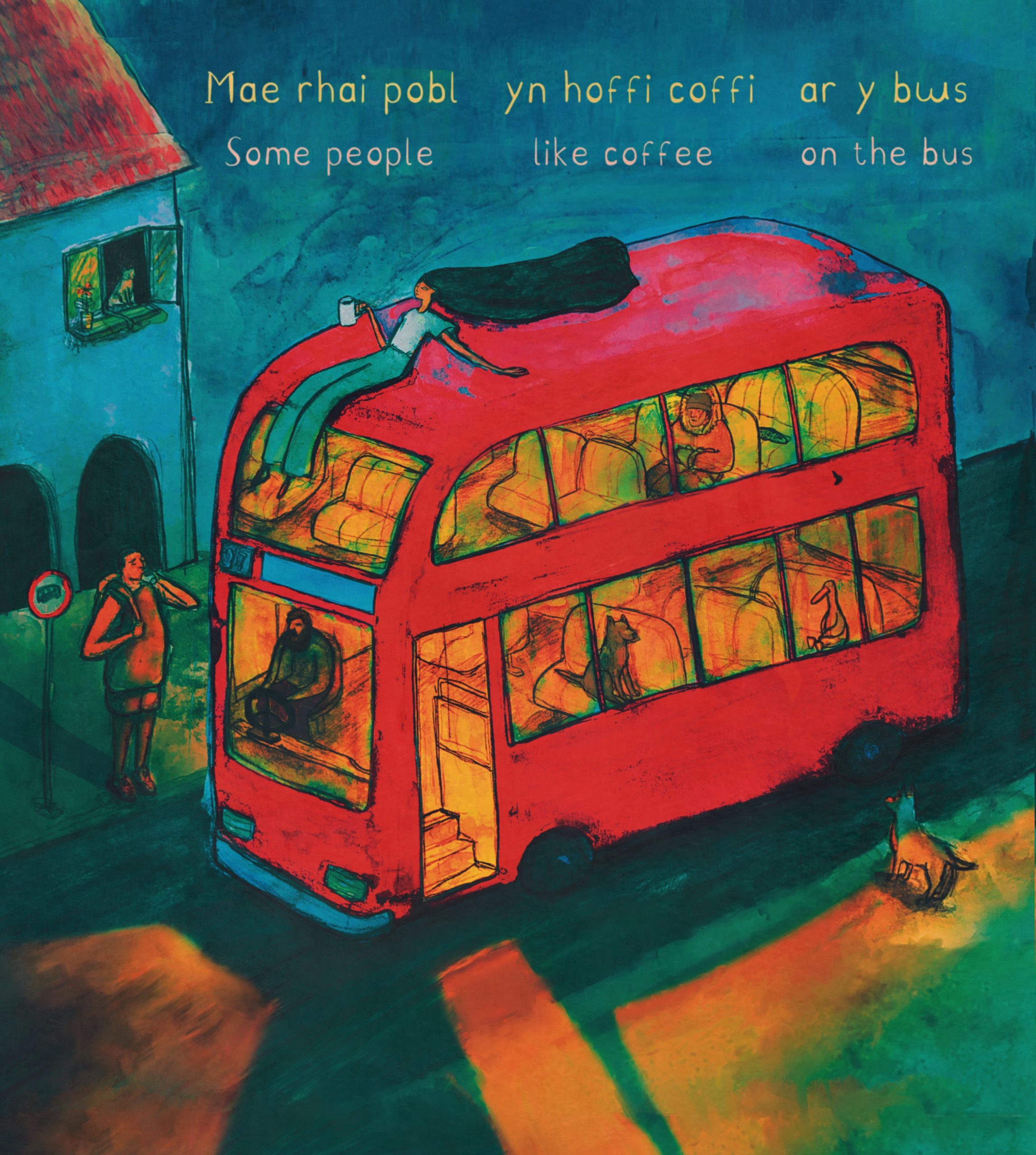 Peculiar
Josh's idea for the book stems from a time he spent learning to speak Isixhosa when he lived in South Africa.
In order to remember phrases, josh paired sentences with fun illustrations which he says helped him become fluent in the language.
After he retuned to live in Wales, Josh decided to use the same method again to help himself and his family learn Welsh.
As a former teacher, Josh thought that the more peculiar he made the picture, the more likely his children would remember the phrases.
His bold and vibrate designs include a crocodile relaxing in a cup of coffee asking: "But wyt ti'n hoffi dy goffi?" (How do you like your coffee?) and a horse overflowing with coffee saying, "Nac ydw. Dw i wedi cael llond bol." (No, I have had a belly full.)
Another fun image depicts two wrestlers geared up to start a match as one pauses to enjoys a coffee saying, "Mae rhai pobl yn hoffi coffi ar y dechrau." (Some people like coffee at the start).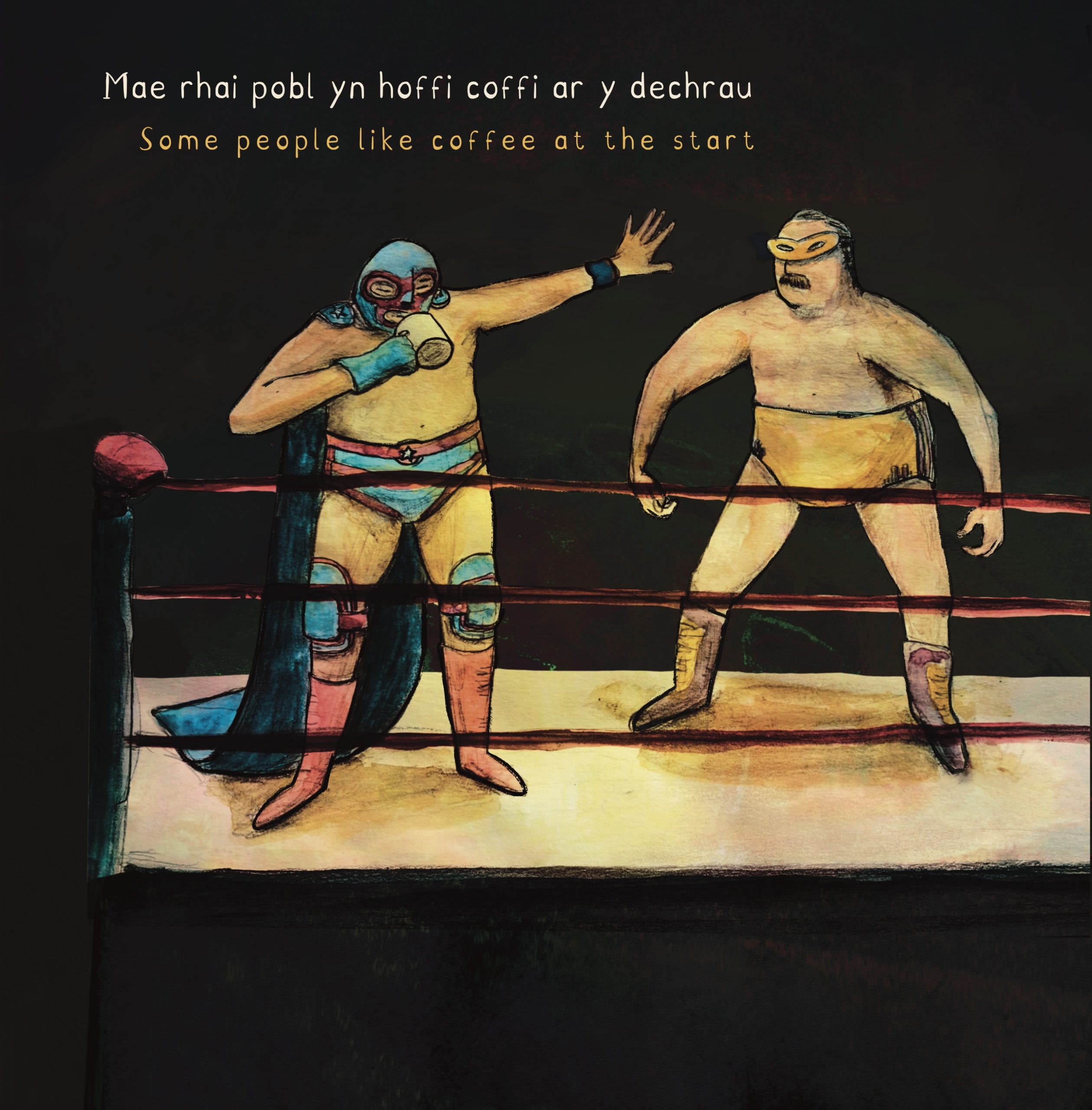 Encouragement
After posting images of the illustrations to social media, Josh received a keen response from people learning Welsh too.
Josh said: "I didn't think there would be a big appetite for this kind of thing but I've been flooded with people enthusiastic about the book.
"Every day I get so many questions and so much encouragement. The Welsh learning community at the moment is really lively and enthusiastic.
"For myself, having strange and memorable illustrations along with sentences in Cymraeg make them far more memorable and easier to learn."
Josh started a Kickstarter campaign to help fund the Sketchy Welsh project and its so far attracted over 170 backers and almost £3000 worth of pledges.
Once the book is available to buy, Josh has promised to provide all Kickstarter supporters with one of his original ink sketches and a 20% discount.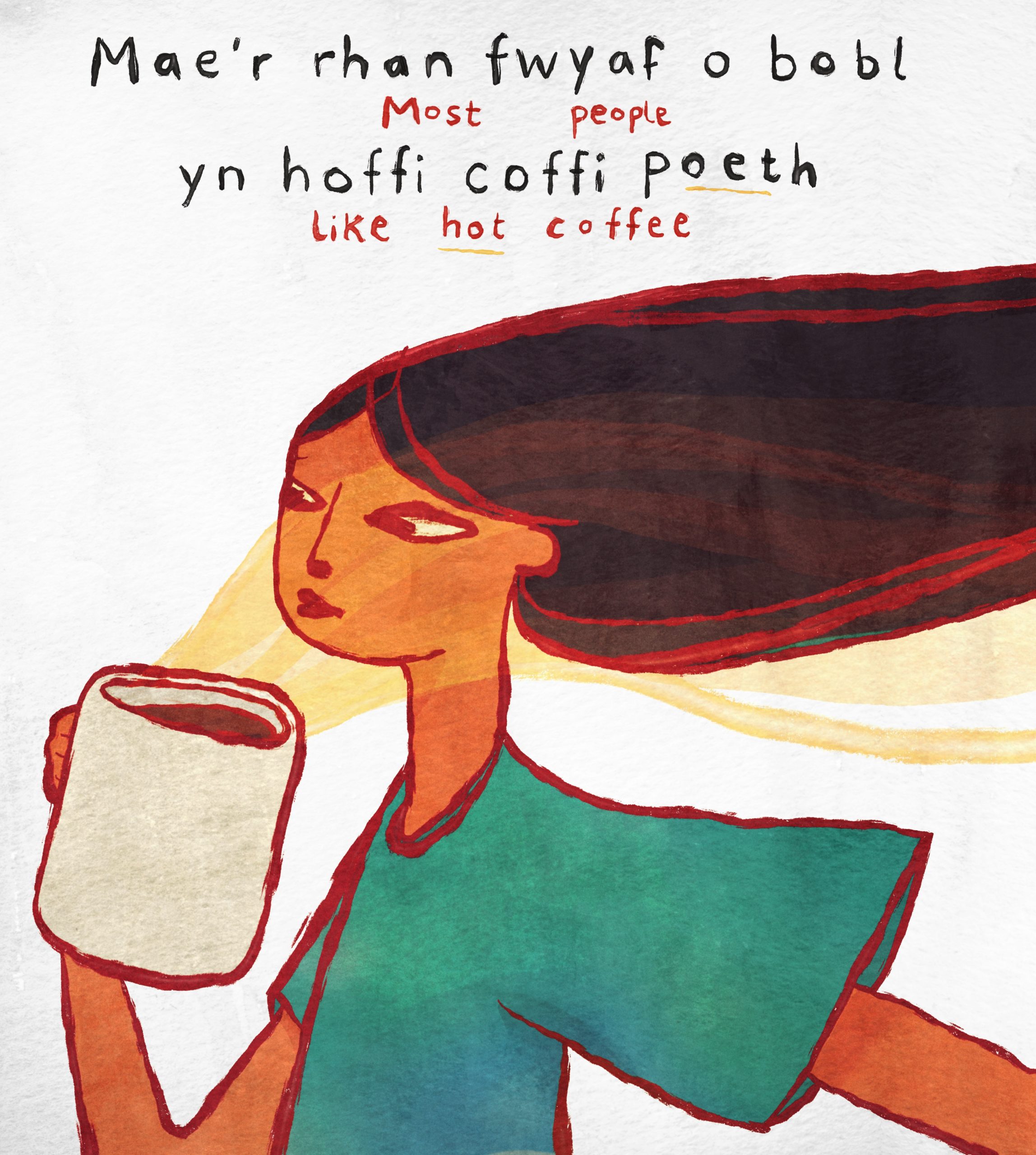 Variety
Josh used his imagination to think up wild and fun scenarios in which Welsh sentences could be used rather than using phrases that might not be very useful anywhere in life.
He opted to write regularly used phrases but illustrated them being used in bizarre situations.
He said: "When I come up with a phrase, I usually have four or five ideas for the accompanying drawing. I'll always choose the most peculiar one.
"I tried to put as much useful variety in the Welsh phrases in the book. Using a repeated theme is a good way to keep a good grasp of what's going on so that its paced.
"What I've done in the past with my kids is try to read Welsh books that have some kind of translation in them and then you cant read it at its natural pace. You have to spend ten minutes figuring out what each word might actually mean.
"If you read '31 Ways to Hoffi Coffi' every day for a week whilst drinking a cup of coffee, you'll probably learn all the phrases naturally and easily."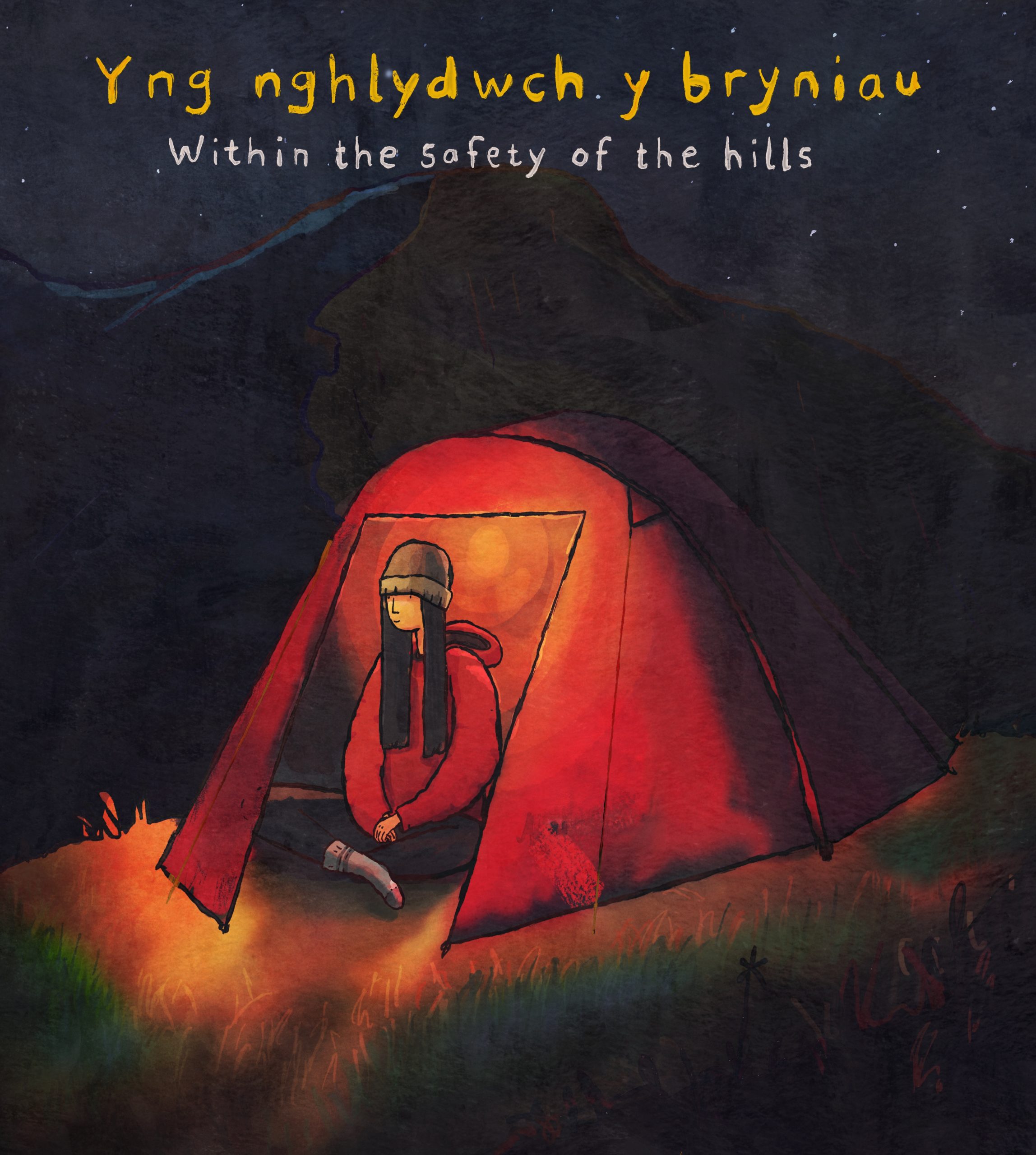 Josh has future plans to write and illustrate other Welsh books and has already started working on the pictures.
He plans to illustrate his Welsh speaking journey all the way through to fluency.
He said: "I'm really pleased with '31 Ways to Hoffi Coffi' and its made me think a lot about other Welsh books I have in the pipeline. I've pretty much planned all the illustrations for the next book."
'31 Ways to Hoffi Coffi' will be available on Josh's website once his Kickstarter campaign ends and he begins the printing process.
You can support Sketchy Welsh here.
---
Support our Nation today
For the price of a cup of coffee a month you can help us create an independent, not-for-profit, national news service for the people of Wales, by the people of Wales.