News
Labour councillor quits the party, saying he doesn't trust a word Keir Starmer says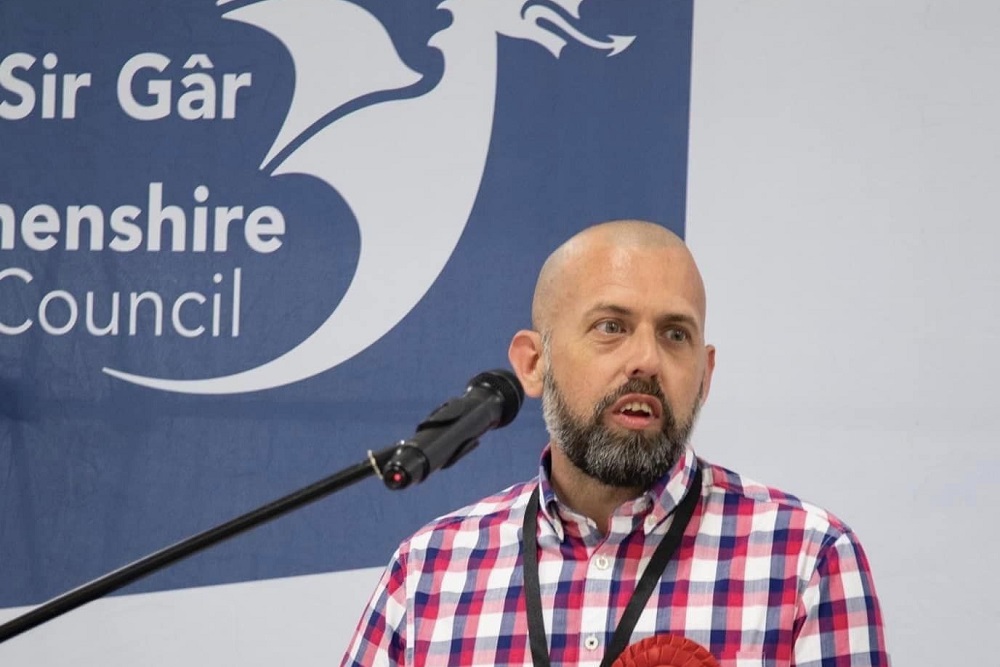 Martin Shipton
A Welsh Labour councillor has resigned from the party, saying he does not trust a word Sir Keir Starmer says.
Emyr Rees was elected to Carmarthenshire County Council in May 2022, taking a seat at Glanamman that was previously held by Plaid Cymru.
He has now left Labour for a variety of local and national reasons, but will continue to sit on the council as an Independent.
Carmarthen Labour Party has been in turmoil following a decision by party officials to exclude Cllr Rob James, leader of the party's opposition group on the county council, from a shortlist to choose a general election candidate for the new seat of Caerfyrddin / Carmarthen. In early September a meeting to choose the candidate broke up in chaos as local party members expressed anger at his removal from the selection after postal ballot papers had already been sent out with his name on them.
Cllr James was told by Welsh Labour officials that he was disqualified from the process because of a text message he supposedly sent that he has no recollection of. The message is understood to have referred to Deputy Transport Minister Lee Waters, the MS for Llanelli, around the time earlier this year that Carmarthenshire county councillors were debating the issue of second homes.

Trouble
Cllr James was accused of having texted an unspecified person a message which said: "If you want to cause some trouble today you may want to point out in the second home debate that the MS for Llanelli has two second homes in Carmarthenshire and doesn't live in either of them." The councillor has told local party members that he can't remember having sent such a message. It is understood that Welsh Labour has said it can't prove that Cllr James sent the message, but that allowing him to continue in the selection process would risk reputational damage for the party.
Mr Waters said the message was factually incorrect – like many Senedd Members he has a home in his constituency and another in Cardiff.
Subsequently Martha O'Neil, 25, a former UK Government policy adviser has been chosen as the Westminster candidate for Caerfyrddin / Carmarthen, although her selection has yet to be announced publicly.
Facebook
In a Facebook post written to explain his decision to quit Labour, Cllr Rees stated: "It has not been an easy decision for me – this has been something I have thought deeply about for some time. Unfortunately the Labour Party is not the same party that I joined many years ago. Then it was a party that inspired me and gave me hope of transformative change that would have made a difference within our community. Sadly this is no longer the case.
"There are many reasons that have brought me to this decision – the 20mph speed limit change for example. Though I'm not for it, I am also not against it. How can I be against any form of legislation that was brought about to improve road safety? Considering that I have campaigned for road safety in our community for many years before I became a councillor, I feel that the money could have been better spent by the Welsh Government, ensuring speed limits were adhered to , vastly improving our public transport and providing school transport for all our children again.
"After the shambolic handling of the selection of our candidate for the next general election, and when lifelong Labour members called out this unfair and undemocratic handling, they were simply suspended from the party.. They just imposed a candidate that most of the CLP [Constituency Labour Party] do not want.
"I could list many more reasons as to why I have left the party, lille how the leader of the party has U-turned on every promise made that I can now no longer trust a word he says. But I want to keep this statement as short as possible. I do want to add though that I do want to work as closely as I can with Labour councillors locally as I still consider them as my friends , and this decision has no reflection on them at all.
"And most importantly, I will continue as I've started , being as dedicated to helping people in Glanamman, and giving a voice to all, especially those who feel voiceless."
There is speculation that other councillors in Carmarthenshire may also quit Labour. A local party source said: "Time will tell. There's a lot of chatter about creating a new political party at the moment."
---
Support our Nation today
For the price of a cup of coffee a month you can help us create an independent, not-for-profit, national news service for the people of Wales, by the people of Wales.