News
Labour suspends party members in wake of chaos at selection meeting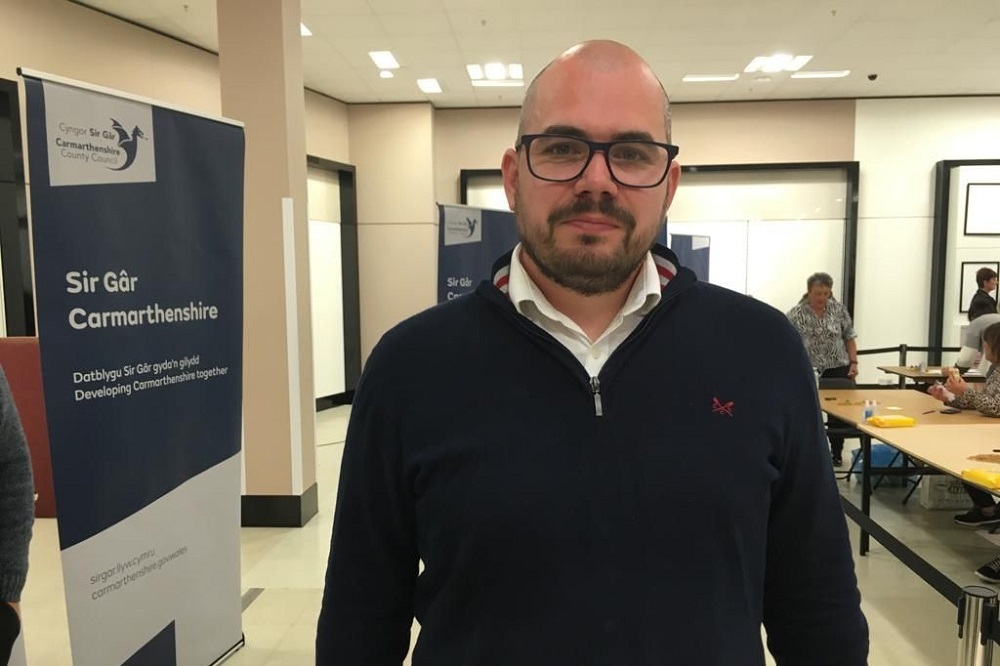 Martin Shipton
At least three members of Carmarthen Labour Party have been suspended after a candidate selection meeting was abandoned in chaos amid protests about the exclusion from the process of a popular county councillor.
Rob James, who leads the Labour group on Carmarthenshire County Council, was originally included on a shortlist of four seeking selection as the party's general election candidate for the new Westminster seat of Carmarthen.
Ballot papers had already been sent out and returned by those unable to attend a hustings meeting when party officials decided Cllr James should be removed because he was alleged to have sent a text message to an unspecified recipient five months ago which wrongly implied that Llanelli MS Lee Waters had two homes in Carmarthenshire but lived in neither of them. Cllr James says he has no recollection of sending such a message.
It is understood that Welsh Labour has said it can't prove that Cllr James sent the message, but that allowing him to continue in the selection process would risk reputational damage for the party.
The meeting descended into uproar and broke up as local members protested against Cllr James' exclusion.

Disruption
In a letter to members of Carmarthen Labour Party, Torfaen council leader Anthony Hunt, who chairs Labour's Welsh Executive Committee, apologised for the break-up of the meeting, blaming the disruption on "a small number of members". He added: "However strongly anyone holds an opinion, however much anyone might feel that problems have occurred in the process, it cannot be right that these feelings are expressed in ways which override the rights of others to the orderly conduct of a meeting."
Some members responded in robust terms to Cllr Hunt, one stating: "Thank you for your apology. However, I think I may well have been at different Hustings to the one you mention! But assuming it is – I fear you have been misinformed.
" …Please note – it was not 'a small number of members' who 'disrupted the meeting to the extent we could not continue with the hustings'. Rather, as you know, more than half of the meeting voted to postpone the hustings because of procedural concerns – and this was not upheld.
"So I walked out after voting to postpone, not because I was alarmed or intimidated – rather because I was not prepared to participate in what I now perceived to be a flawed and unclear process. I'm not sure I can adequately express to you how disillusioned, disappointed and disheartened I am."
Another local member wrote to Cllr Hunt stating: "(What) have I (or indeed you) learnt from this whole unedifying experience? As someone who I greatly respect said to me – 'Such a sad day for me personally, having flown the flag for Labour locally over many years, and am desperate to get rid of this shameful government that has reeked so much damage on our country. To see the Party act in this disingenuous, undemocratic manner fills me with sadness'.
"This was not a supporter of any one candidate and who was as puzzled as I was … about the reason for Rob James' sudden 'withdrawal'.
"The phrase 'shooting yourself in the foot' comes to mind. Distress, confusion and anger now prevail – quite unnecessarily in my view. But there are also other issues. Having witnessed the proceedings, what impression must this have given to the handful of young members there or to any members not previously active? Plus of course if you took time to observe the demographic of those attending – most/ many of which form the local volunteer support – you should be worried."
Lawyer
A local party member who spoke on condition of anonymity told us: "At least three party members have been suspended. They've been told not to speak about their suspensions except to their doctor or their lawyer, as is standard when members are suspended these days.
"The situation has been handled appallingly by Welsh Labour, and as yet we don't know when we will be picking our new candidate."
The suspended members will in due course face disciplinary hearings, but in the meantime will not be able to engage in party activities.
There are three other would-be candidates on the shortlist: Calum Higgins, Tansaim Hussain-Gul and Martha O'Neil. From December 2021 until August 2023, Ms O'Neil was a policy adviser to the UK Government, initially at the DCMS and then at the Department of Business, Science and Technology.
Cllr James said he did not wish to comment.
Welsh Labour was asked to comment, but did not do so.
Boundary changes
The new Carmarthen seat created following boundary changes contains most of the existing constituency of Carmarthen East and Dinefwr, together with part of the current Carmarthen West and South Pembrokeshire seat.
Carmarthen East and Dinefwr is currently held by Jonathan Edwards, who was first elected as a Plaid Cymru MP in 2010. He left Plaid after accepting a caution for assaulting his wife and now sits as an Independent.
Carmarthen West and South Pembrokeshire is held by Simon Hart, the Conservative chief whip at Westminster.
One projected result for the next general election suggested the new seat was likely to be won by Labour, while another put Plaid Cymru in the lead.
---
Support our Nation today
For the price of a cup of coffee a month you can help us create an independent, not-for-profit, national news service for the people of Wales, by the people of Wales.