News
Laws to block industrial action could prompt longer rail strikes – union boss says
Laws imposing minimum service levels during strikes could backfire on the Government by prompting workers to stage longer periods of industrial action, a union boss has warned.
Rail services in Wales have seen disruption again this month after walkouts by RMT union members at Network Rail launched fresh strikes in a dispute over pay.
The UK Prime Minister is reportedly considering measures which could allow employers to sue unions and sack workers if they did not provide a certain level of service.
ASLEF general secretary, Mick Whelan, has said legal limits on how many workers can take time off to picket could lead to unions launching longer strikes to retain the same impact of day-long action under current rules.

Unsafe
Mr Whelan said that anti-strike laws, which could be introduced within days, are also unlikely to work and will make railways unsafe on strike days.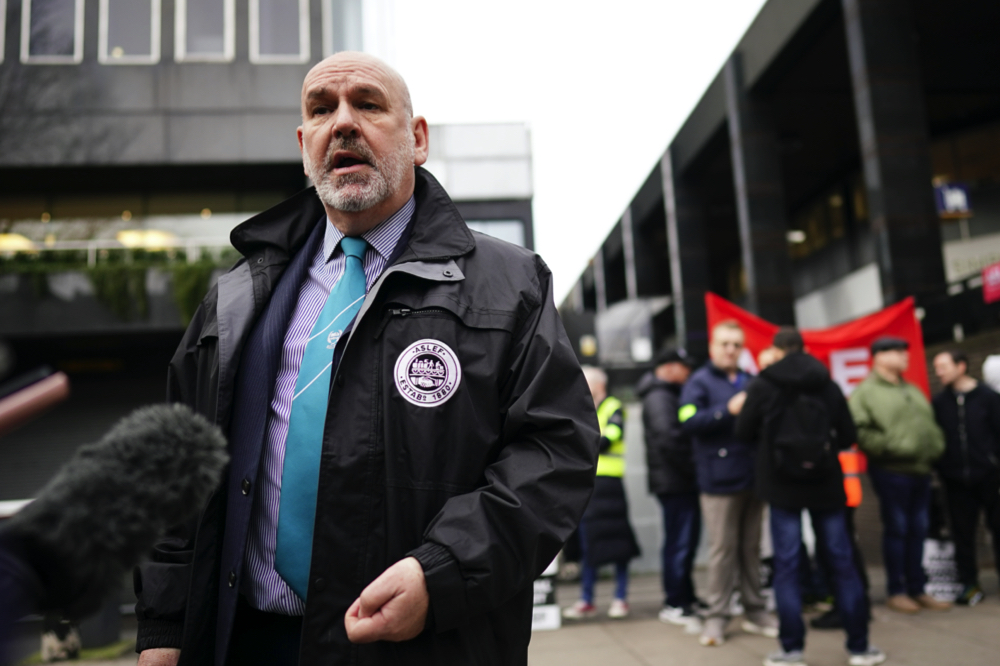 He added that unions would "of course" take the Government to court if it imposed such laws.
Mr Whelan said: "We've had minimum service levels in countries all over Europe for years, but it's never been enacted, because logistically it doesn't work.
"I haven't seen the legislation, but what I've garnered is that we would have to negotiate with each different company a minimum strike level.
"If say the strike minimum levels were 20%, we were told in the past that we didn't run full railway services during the fire brigade strike and the railway was unsafe, so we'd be doing something unsafe.
"Also, would we have to take more days action, to equate to the same level of effect that we have from one day now?
"Corrupt and immoral"
"Coming to the table will resolve this – threatening us with sacking or more pernicious legislation when we already have the worst trade union legislation in Europe, isn't going to solve the issue."
Mr Whelan added that the Government had not shown union leaders details of a £2,000 annual increase reportedly offered to train drivers and accused rail companies of doing a "corrupt and immoral deal" with ministers by taking profits while refusing to give train drivers a pay rise for four years.
Trains in Wales are running today but are expected to be busier than normal before strike action resumes for another 48 hours tomorrow.
Plaid Cymru MS, Llry Gruffydd blasted the new anti strike measures proposed by Rishi Sunak as "abhorrent".
The MS for the North Wales region said: "The abhorrent proposed anti strike measures are a foot on the throat of working people during a cost of living crisis. This authoritarian crackdown is Thatcherism on steroids.
He added: "Workers have seen their pay and conditions erode for well over a decade under Westminster rule and many families are struggling to survive.
"They have every right to stand up for themselves and demand a better deal, it's no wonder that more and more people are coming to the conclusion that independence is the only way to safeguard the rights of workers in Wales."
RMT's general secretary Mick Lynch warned that industrial action will continue beyond May unless a reasonable offer is made.
"Open for dialogue"
As strike action continues to sweep across the country, The Welsh Government has said it cannot negotiate over pay without the help of Westminster.
New TUC leader Paul Nowak has written to the Prime Minister calling for an urgent meeting to discuss the industrial disputes including those on the railways, in the NHS and the civil service and called for a change in Government direction, saying ministers should open pay negotiations with unions.
Rishi Sunak has said that his government's door is always open for dialogue and talks are due to be held next week in another attempt to find a settlement.
---
Support our Nation today
For the price of a cup of coffee a month you can help us create an independent, not-for-profit, national news service for the people of Wales, by the people of Wales.