News
Leaked documents reveal plight of Cardiff's historic Coal Exchange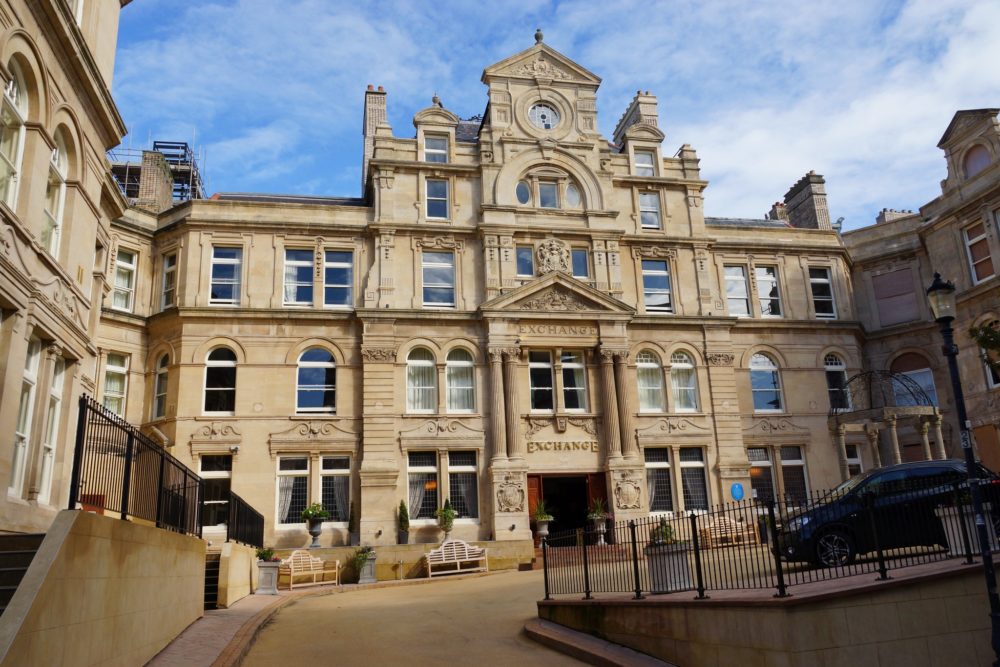 Martin Shipton
Fresh concerns have been raised about the future of Cardiff's iconic Coal Exchange building following a leak of documents to Nation Cymru which reveal details of its financial plight.
Meanwhile it has emerged that a member of the partnership which now holds a lease on the building previously ran a financial services business that had its licence to operate revoked.
Located in the Butetown district of Cardiff, the Victorian Coal Exchange is a Grade 2* listed building dating from the era when the city was the largest coal exporting port in the world. More recently it was a music venue, but was forced to close in 2013 because the building's structure was no longer considered safe.
In 2016 it was bought by the Liverpool-based hospitality firm Signature Living, with financial assistance from Cardiff council. Ownership was passed to a newly created subsidiary company called Signature Living Coal Exchange, which devised an ambitious renovation programme and turned part of the building into a hotel.
However, the Signature Living group effectively went bust during the Covid-19 pandemic, leaving the Coal Exchange in limbo.
Its ownership is now complicated. A company called Eden Grove Developments, whose sole director is former Cardiff Labour councillor Ashley Govier, stepped in to rescue the building but a lease on it is held by a limited liability partnership headed by businessman Anil Rai, of Eastbourne.

Award
The hotel has reopened and it has just been announced that it has won a TripAdvisor Traveller Choice "Best of the Best" award.
Ieuan Davies, the hotel's marketing manager, said: "We are thrilled to be recognised as one of the world's best 'out of the ordinary' hotels. At the Coal Exchange Hotel we strive to create extraordinary experiences for all our guests, and this award is a testament to our dedicated team."
In March, responding at a full council meeting to concerns about the Coal Exchange expressed by Conservative group leader Adrian Robson, Cardiff council's cabinet member for investment and development Russell Goodway said: "While ultimate responsibility for the upkeep of the Coal Exchange building rests with the owners, council officers have been engaged in discussions with a number of key stakeholders about the safety and condition of the building, including Coal Exchange Hotel LLP (as the leaseholder), Eden Grove Developments Limited (as the freeholder), Cadw, Mann Williams (Specialist Consulting Engineers, recommended by Cadw), Cardiff Demolition and Valco Scaffolding."
Mr Rai. of Cardiff Exchange Hotel LLP, was previously a designated member [equivalent to director] of Focus Wealth Management LLP (FWM), whose licence to operate was revoked by the regulator.
A statement issued by the Financial Conduct Authority (FCA) in 2015 said: "This firm's authorisation has been revoked by the FCA and/or PRA [the Prudential Regulation Authority] as a result of enforcement action and they can no longer provide regulated activities and products. There has been disciplinary or regulatory action involving this firm.
Prudent
Explaining its reason for revoking FWM's licence, the FCA stated: "On the basis of the facts and matters and conclusions described in the Warning Notice, and in the Decision Notice, it appears to the Authority that FWM is failing to satisfy the Threshold Conditions, in that the Authority is not satisfied that FWM is a fit and proper person having regard to all the circumstances, including whether FWM managed its business in such a way as to ensure that its affairs are conducted in a sound and prudent manner.
"FWM has failed to pay the Overdue Balance and it has not been open and cooperative in all its dealings with the Authority, in that FWM has failed to respond to the Authority's repeated requests for it to pay the Overdue Balance, and has thereby failed to comply with Principle 11 of the Principles and to satisfy the Authority that it is ready, willing and organised to comply with the requirements and standards under the regulatory system.
"These failures led the Authority to conclude that FWM has failed to manage its business in such a way as to ensure that its affairs are conducted in a sound and prudent manner, that it is not a fit and proper person, and that it is therefore failing to satisfy the Threshold Conditions in relation to the regulated activities for which FWM has had a permission."
Focus Wealth Management LLP was struck off the Companies House register in 2019 after failing to file its accounts.
Other documents show that HMRC was recently pursuing the Exchange Hotel for unpaid VAT totalling more than £160k and unpaid employer national insurance contributions of more than £132k.
Another document shows that in April this year an insurance policy on the building was cancelled because the insurer had not been made aware that it was in a poor state of repair.
Wealth management
Mr Rai's Linked In profile states: "Anil has over 24 years experience in Wealth Management. During this time Anil has developed a business that offers a highly personalised service to high net worth individuals, helping them to understand complex issues in a way that is easy to understand.
"Over the past two decades Anil has developed relationships with many companies and individuals who offer professional services within the finance, accounting, law and tax sectors. Anil can draw on their knowledge and experience to help solve complex issues for his clients.
"In recent years Anil has developed bespoke investment solutions for high net worth individuals in order to maximise their tax position and to enable them to achieve higher returns. He works closely with HMRC to make sure the investments are in line with the Government's expectations."
Mr Rai has not responded to a message inviting him to comment.
---
Support our Nation today
For the price of a cup of coffee a month you can help us create an independent, not-for-profit, national news service for the people of Wales, by the people of Wales.