News
Let's teach kids about world of work from age of three – Education Minister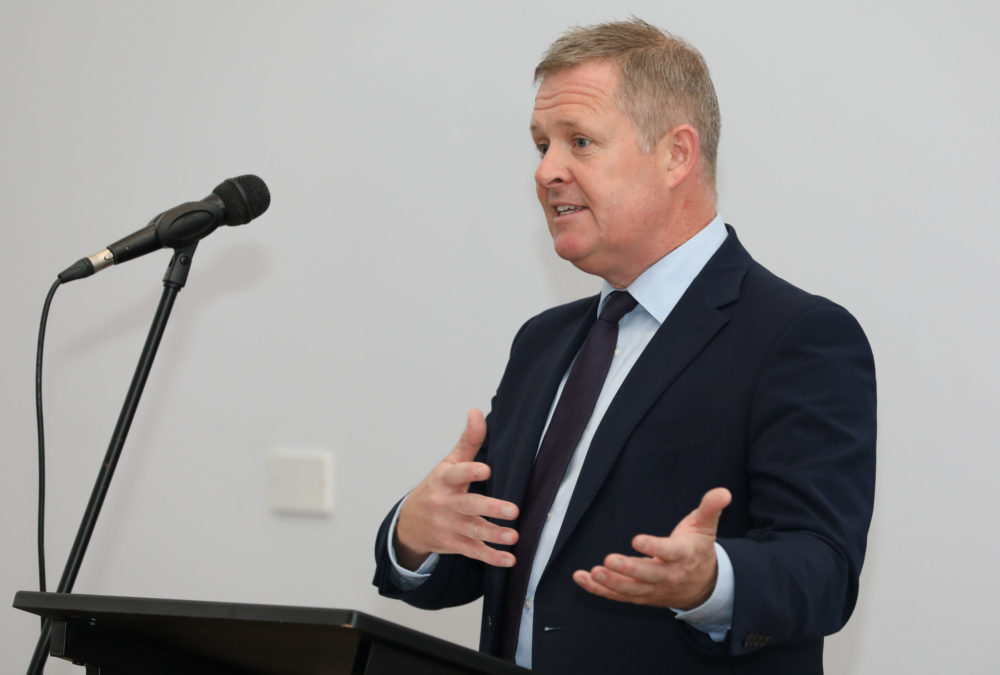 Children should have the chance to learn about the world of work from the age of three onwards, according to Welsh Education Minister Jeremy Miles.
Speaking at a meeting of Wrexham Business Professionals (WBP), Mr Miles said there was an urgent need to strengthen links between local businesses, schools and colleges.
He also told the audience it was time to rethink the conveyor belt strategy where all children from an early age onwards are urged to set their sights on achieving a university place.
He said: "The focus is too much on moving pupils up to further education and securing university degrees.
"While there is a clear place for academia we are losing sight of vocational, and technical requirements, and the value of practical skills-based apprenticeships."

New national curriculum
He said the Welsh Government was drawing up a new national curriculum for Wales with significant strides forward starting this year and being fully rolled out by 2026.
Far reaching changes will include new GCSE qualifications in subjects such as engineering and manufacturing.
"We need to broaden out the work related experience we give to young people in schools and colleges," the minister added.
"Vocational qualifications must be more easily navigable and better reflect the needs of employers locally, nationally and globally."
He said a key to making this successful was to forge consistently strong engagement between employers, schools and colleges and this should be across the board from early years through to college-level.
"Schools should have opportunities for children to learn about the world of work from the age of three."
School visits
This could be achieved by regular school visits to factories and offices, business representatives consistently liaising with and giving talks and demonstrations in schools, more comprehensive work experience schemes, and better education of teachers about the real life skills needed in the today's workplace.
Mr Miles also urged WBP members to think of ways in which they can engage with school pupils and students of all ages.
"I ask you to reflect on your own career journey, think about what influenced you and inspired you," he said.
"How can you bring that into schools today? Think of opportunities for how you can proactively help pupils, for schools to link up with you and you to regularly visit them.
"We need to work together in partnership to give young people a sense of hope and entrepreneurship, fire their confidence and excite them with unlimited career challenges."
Mr Miles was one of two guest speakers at the WBP breakfast meeting and his blueprint for transforming Welsh education was endorsed by Wrexham Senedd member, Lesley Griffiths.
Ms Griffiths, who is Welsh Government Minister for Rural Affairs, North Wales and Trefnydd, invited schools to arrange for pupils to visit the Welsh Senedd in Cardiff so children can see government in action.
Decisions
"We are after all making important decisions which affect their future. I think it is important for school groups to come and see how those decisions are made."
She said she felt proud to see that Wrexham was undergoing an important resurgence after being put on the global map thanks to Wrexham AFC's takeover by Hollywood superstars Ryan Reynolds and Rob McElhenney.
She said: "There is an increasing sense that now is our time. Things are tough and people are feeling the pinch financially, but we must not forget that there is still great hope for the future. Wrexham and North Wales have a wealth of resources which we can tap into now and strategise for the long term."
She pointed to the development of a £5.5m national football museum for Wales, the ongoing success of Tŷ Pawb cultural centre and community hub in Wrexham, improved regional transport links, the expansion of the renewables sector and offshore wind farm development in North Wales as being just a handful of the projects which are securing Wrexham's potential to be seen as the capital of north Wales.
Calling for businesses to become even greener, she said: "With extremes of weather seen on all our TV screens this summer it is more than evident that we are facing a climate emergency. We need to get to net zero quicker than we thought as the science shows we are increasingly running out of time."
Children and school leavers were as much aware of this as older generations and it was important to involve them in the conversation when discussing how the business world should develop in a greener future.
News about Wrexham Business Professionals can be found at : wrexhambusinessprofessionals.com or by emailing  con[email protected] or ringing 01978 752500.
---
Support our Nation today
For the price of a cup of coffee a month you can help us create an independent, not-for-profit, national news service for the people of Wales, by the people of Wales.