News
Over 6,000 people estimated to have joined the first March for Independence of 2023 in Swansea today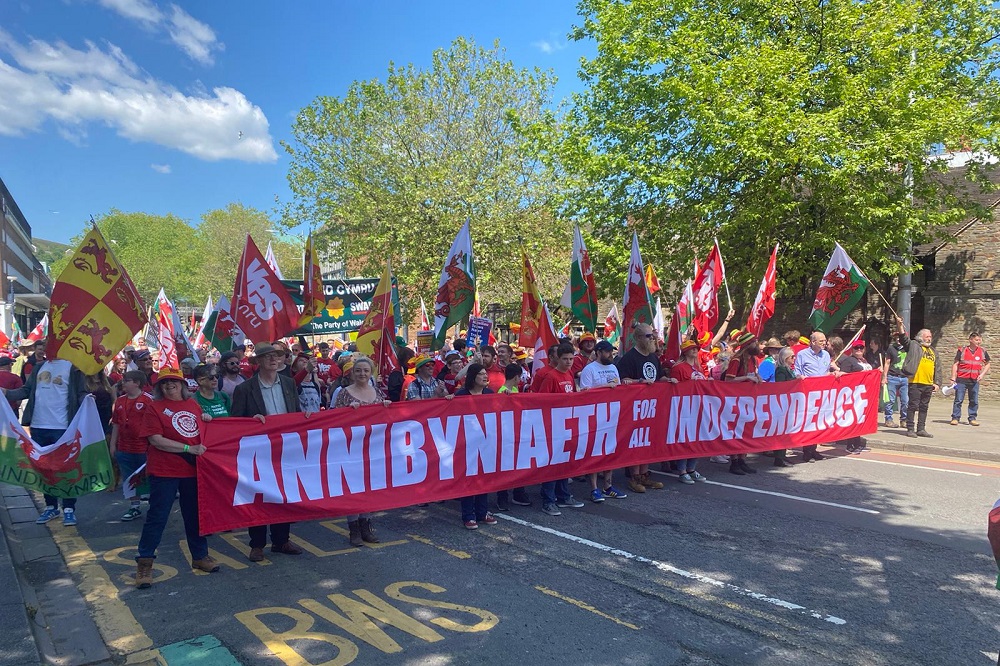 Between six and seven thousand people flocked to Swansea to join the first march for independence of 2023 organised by All Under One Banner Cymru and YesCymru.
It follows the successful October march in Cardiff last year, where as many as 10,000 people marched in the Welsh capital.
Today's 1.10-mile march started at 1pm in Wind Street, taking in Castle Street, College Street, The Kingsway, Dillwyn Street, Oxford Street, St Mary's Square, Princess Way, before finishing on the Waterfront.
One of the marchers, Cory Allen, 26, from Birchgrove in Swansea, said: "I'm just for an independent Wales and more togetherness. We are fed up of being ruled by another country, it's not for us anymore. Time and time again we are not being treated as equal and our resources are being taken away from us. Now is the right time for independence."
James Mackenzie, from Swansea, who marched with his 14-year-old son Kieran said: "I've always supported independence. I've been a member of YesCymru since its formation. I really believe that Wales is capable of standing alone. I think the recent issues that are happening in Westminster highlight the fact that we deserve to be away from that mess and be self-sufficient.
"These marches are special. It's about coming together. I think the All Under One Banner message is really important because regardless of political ideology or persuasion, or monarchist or republican, if you believe in Wales and its capability of self-determination, you're welcome to stand alongside us and achieve the same goal."

Future
Sara Crowley, from Mountain Ash, who came along with her partner and their 2-year-old twins Cadi and Peyton, said: "I'm marching for my children, for their future. I wouldn't let my next-door neighbour take care of my finances, so I don't see why Wales' next-door neighbour should either. We are big enough and strong enough to be able to stand on our own two feet. These marches are brilliant, everyone is welcome and it's just a lovely atmosphere."
Following today's march there was a rally at the National Waterfront Museum
Green, with a large stage and screen, speakers and music. Guest speakers included the author Mike Parker, Naomi Hughes of YesCymru, Plaid Cymru Westminster Leader Liz Saville-Roberts MP, and the Leader of the Wales Green Party, Anthony Slaughter.
This slideshow requires JavaScript.
The marchers were in full voice as they made their way across Swansea
---
Support our Nation today
For the price of a cup of coffee a month you can help us create an independent, not-for-profit, national news service for the people of Wales, by the people of Wales.