News
Local communities call on council to refrain from eating into city's green wedge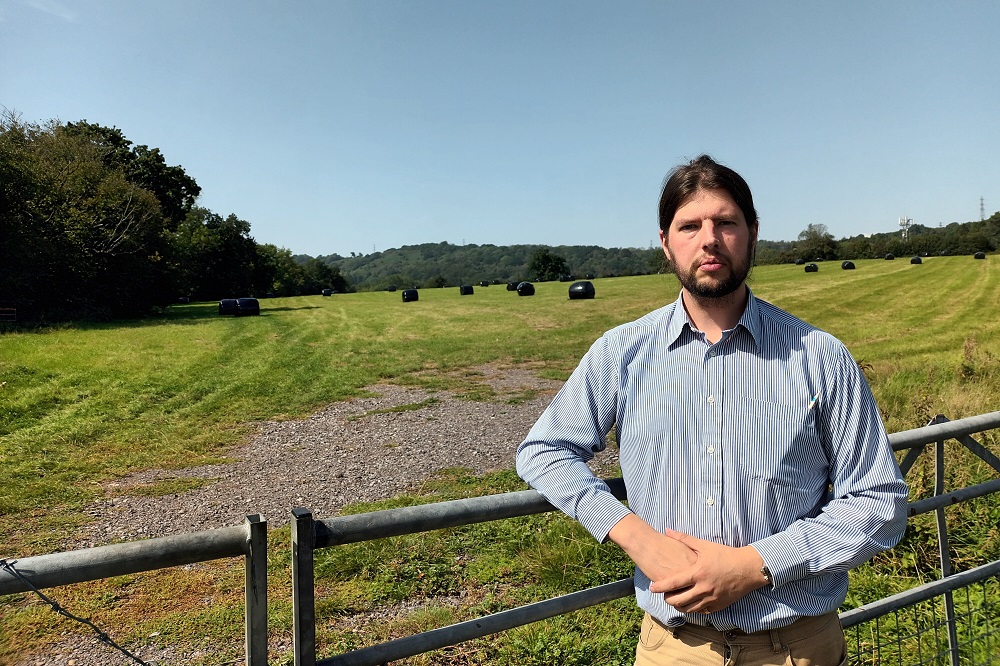 Ted Peskett, local democracy reporter
Local communities in Cardiff have called on the council to stop allowing construction in the city's green wedge as the production of its new development plan takes another step forward.
Cardiff Council announced in June that its preferred option for developing the city over the next 13 years would be an annual growth rate for housing of 1%.
The local authority said that all 26,400 homes required in the replacement local development plan (RLDP) can be delivered through existing planning permissions, or on land which is already identified for new development in the current LDP.
However, a number of communities in the north of Cardiff have noted with some concern that some candidate sites listed on the council's website are located on greenfield sites and areas of land in the city's green wedge.
Cardiff Council said the candidate sites that have been put forward at this stage are purely proposals by developers, landowners and other interested parties and have not been agreed.
Land to the west of Graig Road and north of the M4 is a candidate site which is located in the green wedge.
Battling
The Lisvane Graig Protection Society has been battling developers for years to protect green spaces in Lisvane.
"It is appalling and unnecessary and it should never have been considered," said the group's chair, Dr Jon Evans, on the candidate site.
"Unnecessary in the context that north east Cardiff has more than its fair share of housing development with 2,500 houses yet to be built between Lisvane and Pontprennau. Churchlands has 1,200 houses yet to be completed.
"We want to protect the natural beauty of the Graig and its surrounding area.
"It opens the door for other development and the idea of not building above the M4 has gone out of the window. This is the carte blanche to build everywhere."

Protection
An LDP is used by local authorities to identify areas of land for housing and development. It also identifies areas of land for protection.
Cardiff Council already has an LDP which was signed off by the local authority in 2016 and proposed to deliver more than 13,000 homes.
The plan predicted that the city's population would grow to 403,689 by 2026, but Welsh Government data later predicted a figure of 372,944.
Conservative Cardiff Council ward member for Lisvane and Thornhill, Councillor John Lancaster, said: "We think that there is currently enough development taking place on the countryside around Lisvane and that our remaining green spaces should therefore be protected.
"We would like to see the land north of the M4 designated as green belt, which would give it a longer-lasting level of protection than it has right now. For this to happen, it is vital that steps are taken to protect it now, so hopefully the RLDP will help."
Green belts are areas of land that remain protected for a longer period of time than the current LDP period.
Green wedges are areas of land that have protection, but this is reviewed as part of the LDP review process.
Cardiff Council Labour group's strategy, Stronger, Fairer, Greener includes a pledge to protect the green wedge around Cardiff.
Brownfield
The council's RLDP preferred strategy for consultation document confirms that a considerable amount of growth proposed for each of the three options that were looked at is already committed on a range of brownfield and greenfield sites.
It adds: "However, given the finite brownfield capacity to provide land for homes and jobs, it is inevitable that some options may necessitate releases of greenfield land."
Other options considered by the council for its RLDP include:
A low growth option: 20,900 new homes or 0.6% level of growth per annum
A high growth option: 33,500 new homes 0r 1.6% level of growth per annum
The Radyr and Morganstown Local Development Group and St Fagans Community Council have expressed concerns about the inclusion of two candidate sites.
One of them, called Plas Dwr Uchaf (site 23), includes the Ty Du Moor site of special scientific interest (SSSI) and the other, Goitre Fawr (site 61) includes a site of importance for nature conservation (SINC).
Bruised
Plaid Cymru/Common Ground Cardiff Council ward member for Pentyrch and St Fagans, Councillor Rhys Livesy, said: "Residents appear to be bruised from the last LDP consultation and have shown great resilience and patience in watching the destruction of greenfield site on a large scale at Plasdwr – without seeing benefit of any kind and even enduring removal of bus services and increasing road traffic.
"I have listened to and appreciate the council's arguments for allowing further development in exchange for funding from developers for much-needed affordable housing in the city (and on the ward).
"However, I believe this does not excuse any further greenfield development more than that is already planned on the existing Plasdwr site.
"We all have great responsibility to protect our remaining countryside and this is a key stage in the plan towards that goal.
"Candidate sites on this ward cover much of the last remaining countryside before the Cardiff and Vale of Glamorgan/Rhondda Cynon Taf borders."
A final plan for the RLDP will be brought before council cabinet members for consideration in June 2024.
This final plan, also known as the deposit plan, will also go through a consultation process before being submitted to the Welsh Government for examination in May 2025.
The RLDP is expected to be fully adopted by November 2025.
Green belt
A Cardiff Council spokesperson said: "The council is committed to delivering an RLDP that will shape the development of the city up until 2036, ensuring that the growth of the city is managed in an effective and sustainable way.
"With over 8,000 applications for housing on the housing list, there is a need to build homes, especially affordable homes, and 6,000 affordable homes will be delivered through the lifetime of the plan.
"The council has made it clear that all 26,400 homes required in the RDLP can be delivered through existing planning permissions, or on land which is already identified for new development in the current LDP.
"This means no new land will have to be found as part of the RDLP's proposed 1% growth strategy for the city to 2036.
"At this stage of the process, the candidate sites that have been put forward are purely proposals by developers, landowners and other interested parties and have not been agreed by the council.
"Over the coming months, these sites will be assessed considering all the points that have been raised by residents and interested parties.
"The findings of the assessment will be published and consulted on as part of the deposit plan that is scheduled to take place next summer.
"In terms of the specific concerns that have been raised, the council isn't proposing to take forward the candidate sites located in the green wedge to the stage two analysis.
"This includes site 23 at Plas Dwr Uchaf and site 61 at Goitre Fawr.
"In relation to requests for the council to create a green belt, Welsh Government guidance is clear that the council isn't allowed to make this allocation in a LDP, as we are only allowed to create a green wedge.
"The allocation of a green belt will be a considered in the Strategic Development Plan which will be a new regional plan for south-east Wales."
---
Support our Nation today
For the price of a cup of coffee a month you can help us create an independent, not-for-profit, national news service for the people of Wales, by the people of Wales.