News
Locals describe frustration and anxiety at plans for asylum seekers to be accommodated in Llanelli hotel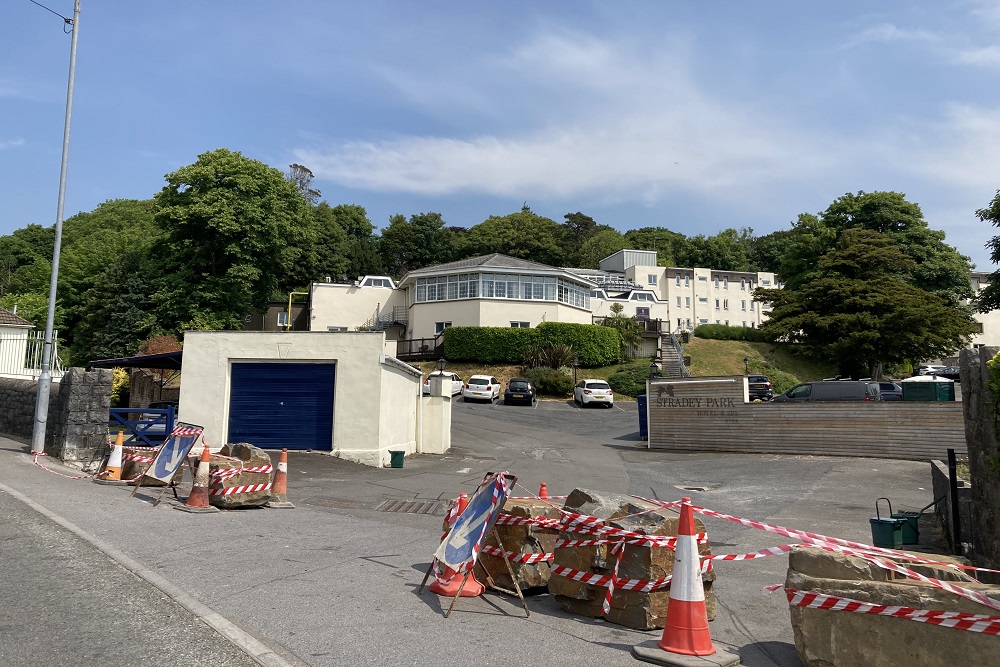 Richard Youle, local democracy reporter
Uncertainty and anxiety hang in the air on the outskirts of Llanelli where asylum seekers could start arriving early next month.
The Home Office has said little about the proposed use of Stradey Park Hotel and Spa, Furnace, for this purpose. Neither has the hotel owner.
Carmarthenshire Council said it had received written confirmation from the Home Office, following repeated requests, of a plan to accommodate 207 asylum seekers, made up of family groups, in 77 rooms at the hotel from July 3. The UK Government wants to cut the £6 million a day cost of accommodating 51,000-plus asylum seekers.
"It's a talking point wherever you go," said one Furnace resident, who asked not to be named.
It has been claimed that the plan includes a line about emergency provision at the hotel for up to 107 additional asylum seekers on top of the cohort of 207. When asked about this the Home Office did not comment, but Carmarthenshire Council is seeking clarification.
Furnace is quieter than Llanelli town centre a mile away. People living there refer to it as a village.
Nobody who spoke to the Local Democracy Reporting Service was in favour of placing a significant number of asylum seekers at the Stradey Park Hotel.
There was frustration about a lack of information, anxiety about how many asylum seekers would arrive and how long they'd stay, but also sympathy for their plight provided their circumstances were genuine.

Persecution
An asylum seeker is someone who has left their home country because they face persecution, war or violence. They generally can't work until their case has been decided. If their claim is successful they receive refugee status.
There has been a well-attended public meeting about the Stradey Park Hotel plan, a separate meeting of churches, charities, political parties and other groups, a protest and counter-protest, media scrutiny, and the mysterious appearance of boulders outside the hotel. It's understood that contractors could start making alterations to the site as early as June 23 – next Friday.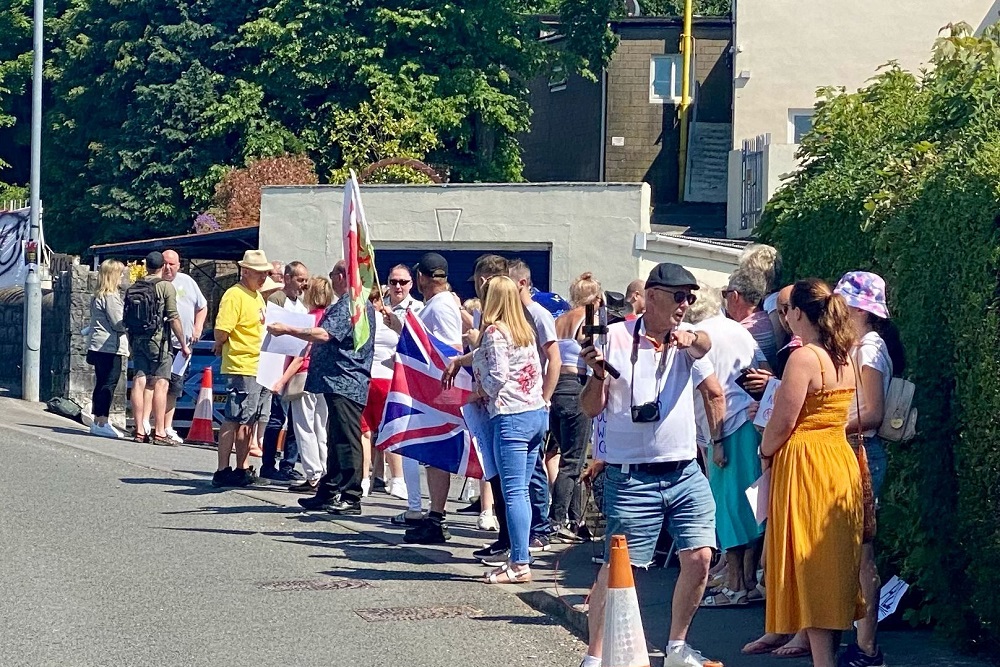 Janet Harries, who lives in Cwm Terrace – across the main road from the hotel – said Furnace was the wrong location for a large number of asylum seekers.
"We don't know who's going there or how many – we can't seem to get answers," she said. "I am sorry for these people and the circumstances they are in. But we don't know why they have come over."
Mrs Harries put her house up for sale before the current controversy began. She has a buyer, she said, who had assured her that they won't pull out.
That wasn't the case with her father-in-law nearby. "They have just pulled out because of what's going on at Stradey Park Hotel," she said.
Nia Morris, also of Cwm Terrace, said she also felt the location was wrong.
"Even if they are families, would you really want to put so many people in one place?" she said. "It's not humane."
She added: "The hotel is really busy – Sunday dinners are full, there are parties, weddings – it's really sad that this could be lost."
She said the rumour mill was rife, and that some residents had heard that most of the people being placed at the hotel would be men.
Concerned
A bemused Clive Hocking, of Lakeview Terrace, said he'd heard the expression that many would be "of fighting age".
Mr Hocking said he was concerned that the situation had attracted groups from outside the area with particular agendas. "It's the most excitement in this area for as long as I can remember, and for the wrong reasons," he said.
"While I don't think it's appropriate in a village with very limited resources to have people suddenly dumped here, at the same time (First Minister) Mark Drakeford says this country is a place of sanctuary. That does give us an obligation to at least consider how we might be of help for people whose situations are shocking."
His wife Linda said she was not against the idea of accommodating asylum seekers in Llanelli but that she wasn't sure about the use of Stradey Park Hotel for this purpose.
She said she was concerned about how any negativity towards the asylum seekers would impact on them.
She left her home country of South Africa for the first time in 2002 to work in Ammanford, around 14 miles from Llanelli, and while not an asylum seeker she vividly recalled the first few weeks.
"I didn't know anybody, and could count on my two hands the only other ethnic minority people," she said. "I remember how anxious I was about how people would receive me.
"They would stare at me, and in my head I thought they were staring at me for the wrong reasons. I was in a bed and breakfast for two months and I was terrified of going downstairs to the dining room."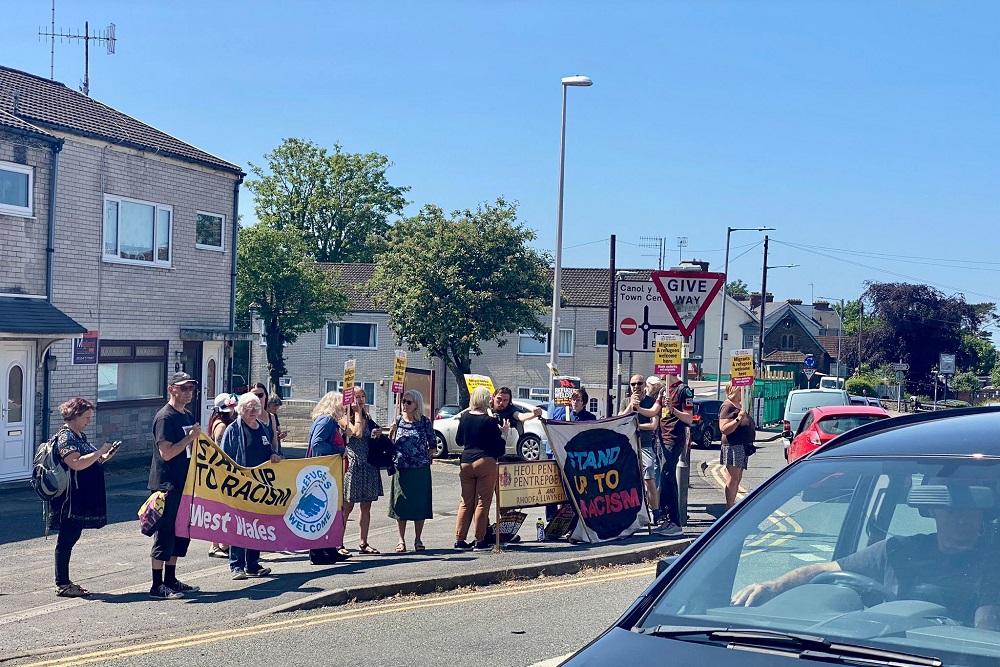 Warning
A woman a few doors down, who asked not to be named, also felt that other venues in Llanelli should take a few asylum seekers at a time rather than concentrating them all at the Stradey Park Hotel.
"It's one of the classiest hotels in the town," she said. "Of course they have got to have somewhere to go, and my heart is bleeding for them. But we need more information, and more of a warning."
A former Stradey Park Hotel employee, of Cwm Terrace, said the loss of the venue for the community was a big worry should the Home Office plan come to fruition.
The woman, who asked not to be named, said: "We're such a small village. We've got a lot of Polish people living in Llanelli, and there's no problem with them, but we don't need more really."
A resident of Pentrepoeth Road, close to the hotel, said: "There was a demonstration with people for and against it last Sunday, and there were protesters here again yesterday," she said. "I think the majority of people oppose the plan."
Nick and Joanne Morris, of The Dell, Furnace, said the current dispersed model of placing small groups of asylum seekers at different locations worked.
Mr Morris said he was not a "Nimby" (not in my backyard), but added: "Some of these people may well be vulnerable, but you can't solve vulnerability by making the community vulnerable."
Mrs Morris said she wondered if parents would walk their children to school if the hotel was occupied by asylum seekers. "Nobody can tell us what's happening," she said.
Nimby
A group called Furnace Action Committee has been liaising with the authorities to try and obtain information. Spokesman Robert Lloyd said it was working hard to keep emotions out of the debate.
"Yes, some sections of the community have accused us of being racist and 'Nimby' in our opposition to the plan," he said. "Nothing could be further from the truth as the dozen people on the action committee are widely recognised as the voice of reason in the community."
Mr Lloyd said the four-star Stradey Park Hotel employed nearly 100 people and was a key pillar in the county's tourism offer. He said it was unsuitable for its proposed use and that the committee objected on the grounds of health and safety, planning, and the impact on the wider community and key public services.
Mr Lloyd claimed 314 asylum seekers could potentially be accommodated there, and that such a concentration would not be in the interests of their health and wellbeing.
He also warned that Furnace and Llanelli were being used by "commuter campaigners" as a battleground for "extreme" political views and that the debate on social media had taken some worrying turns. He feared that conditions were ripe for a "powder keg" atmosphere.
Mr Lloyd said: "Furnace Action Committee is pledged to keeping tensions to a minimum and chipping away at the Home Office plan with sensible concerns about the suitability of the venue."
Dyfed-Powys Police
Dyfed-Powys Police said it was engaging with the community around the Stradey Park Hotel and that it would always seek to facilitate lawful, peaceful protest while balancing it with the rights of others. A spokesman said: "Any violence and risk to public safety will not be tolerated. Any criminal offences reported will be investigated and the appropriate action taken."
Ward councillor Martyn Palfreman said there was "a complete lack of clarity" from the Home Office and that he and fellow Hengoed councillor Edward Skinner had been unable to answer residents' questions.
"There is pretty much universal opposition to the plan on the grounds that it's unworkable for the village of Furnace and that's inappropriate for those seeking asylum," said Cllr Palfreman.
"No consultation with the local community and very limited consultation with the local authority does not work on all levels."
Carmarthenshire Council opposes the plan and has called on the owners of Stradey Park Hotel, Sterling Woodrow, to pull out.
Council leader Darren Price said earlier this month: "I am outraged that this proposal by the Home Office to concentrate a large number of asylum seekers is going ahead."
Unworkable
Llanelli MP Nia Griffith, who has visited Sterling Woodrow's headquarters in Essex to try to get answers, said: "Wales is a welcoming country and, here in Llanelli, we have proudly played our part down the years in supporting those who have fled war and persecution elsewhere in the world in pursuit of safety.
"However, this proposal is unworkable, risks putting extra pressure on local services and creates a situation that could prove problematic for nearby residents and for the asylum seekers themselves. I will continue to vigorously oppose this plan for those reasons."
The Local Democracy Reporting Service asked the Home Office if councils where hotels were used to accommodate large groups of asylum seekers received any extra funding to provide services, how long the Stradey Park Hotel would be used to house asylum seekers, whether staff from the Home Office or its service provider would be deployed to the hotel, whether the asylum seekers staying there had free rein to wander around the area and would have any activities laid on for them, and whether there were circumstances in which they could work.
A Home Office spokeswoman said: "We have been clear that the use of hotels to house asylum seekers is unacceptable – there are currently more than 51,000 asylum seekers in hotels, costing the UK taxpayer £6 million a day.
"All asylum seekers in hotels are provided with full board accommodation with three meals a day served as well as all other essentials, including cash payments where eligible. Asylum seekers are not detained at hotels and are free to leave their accommodation."
The Home Office said it didn't comment on commercial arrangements for individual sites, but added that it engaged with local authorities as early as possible whenever venues were used for asylum accommodation, and that it did listen to the views of local communities, including providing onsite security and financial support.
It said asylum seekers in full-board accommodation received a £8.24 weekly payment to cover essential living items like clothing, non-prescription medicine and travel. And they could, it said, take up jobs on a "shortage occupation" list if their claim had been outstanding for 12 months or more through no fault of their own.
Sterling Woodrow was approached for comment but it did not respond at the time of going to press.
---
Support our Nation today
For the price of a cup of coffee a month you can help us create an independent, not-for-profit, national news service for the people of Wales, by the people of Wales.