News
Macron opens door for Corsican autonomy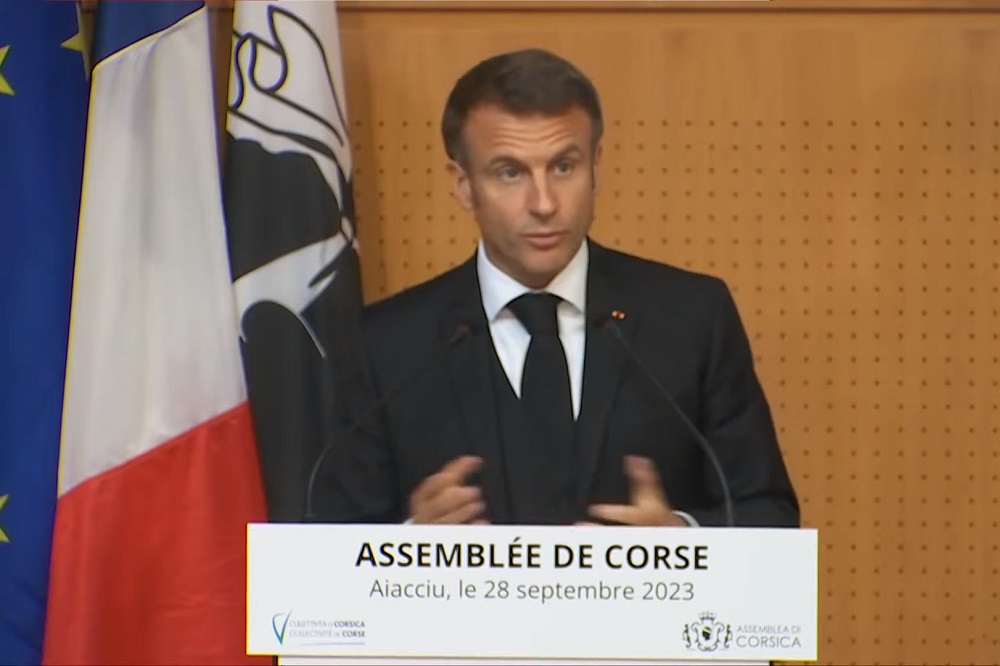 Luke James
Despite having a population ten times smaller than that of Wales, Corsica has three times as many second homes.
Some 72,000 of the Mediterranean island's properties – close to one in three – are used as second residences compared to an official figure of 24,000 in Wales.
And, whereas the Welsh government was recently able to raise taxes on second homes, the Corsican executive and assembly have no law making or tax raising powers to address the issue.
It's one of the main drivers for the push for Corsican autonomy to which French President Emmanuel Macron opened the door this week.
"I'm in favour of the uniqueness of the Corsican community being recognised in the constitution, those of an island community: historic, linguistic, cultural," Macron said in a speech to the Corsican assembly on Thursday.
Macron ruled out the creation of a special residents status for Corsica as part of a move to autonomy, a policy advocated by the island's assembly as the answer to controlling second home ownership.
But he did recognise the "unsustainable housing situation" and the need to "establish measures, especially fiscal, to regulate the housing market."
Roccu Garoby, the general secretary of the European Free Alliance group in the European Parliament which represents the moderate wing of Corsican nationalism, said it is a "step in the right direction."
"Property speculation is really high and it's almost impossible for people in Corsica to buy a house," he told Nation.Cymru.
"Macron does not want to create resident status as they have on the Åland Islands [an autonomous community in Sweden], which means you have to live a couple of years on the island in order to buy a property.
"But if we have legislative and fiscal power then you can have a kind of system like this, raising taxes for the first time you buy. Or, if it's a second home, you can raise taxes a lot or make it more complicated. It will not be exactly what we want but it could be close."

Violence
Macron's support for autonomy comes after a resurgence of violence on the island.
The number of arson attacks, mainly targeted at second homes, increased from four in 2020 to 22 last year.
Corsican cities were also the scene of serious rioting last March following the death in prison of Yvan Colonna, a nationalist who was serving a life sentence for the murder of France's most senior official on the island in 1998.
"The context for all of this is that in March 2022 there was an attack on a political prisoner, a guy called Yvan Colonna, who died, and that sparked a huge mobilisation in Corsica, with violence and clashes with police," explained Professor Anwen Elias of Aberystwyth university.
"The response to the events we're for the French state to say 'OK we're open to talking about a new statute of autonomy'.
"Discussions have been happening since then but there's been very slow progress. This visit by Macron was really to try to give new momentum to that process."
In his speech on Thursday, Macron gave Corsican politicians six months to agree on what powers should be included in a statute of autonomy.
The Corsican assembly, which is dominated by three nationalist parties holding all but 17 of the 63 seats, has already adopted with a two-thirds majority a draft statute of autonomy which calls for competence over all areas apart from areas like defence, justice, immigration and currency.
But Macron said there was a need for a broader consensus which commands the support of Corsican and French conservatives before a statute of autonomy is put to a referendum of the Islands inhabitants and a vote in the French national assembly.
Pragmatic
Gilles Simeoni, the autonomist president of the Corsican executive since 2015, said he will take a "pragmatic approach to find a political solution which would allow us to end the conflict which has poisoned the relationship between Corsica and the Republic during half a century and more."
Nationalists should reduce their demands to devolution of three or four key competencies, such as housing, language policy or health, Garoby said.
"This is one of the weaknesses of the nationalist movement: so far we have been saying we want everything devolved but classic central competences like police, justice, army, currency," he said.
"But now we are entering into a final phase of negotiations so we need to be able to say what our priorities are.
"Housing is so important. As is education, especially to be able to learn and teach Corsican at school.
"Those would be the two most important for the moment but we need a discussion within the nationalist movement on which competences we want."
The red line, he said, was that the Corsican assembly received law making powers on a par with other islands in the Mediterranean, such as Sardinia, which is just 10 miles away and has enjoyed autonomous status since the end of the second world war.
"What actually will change is very unclear and I think it's a very difficult way forward," said Professor Elias.
"We're at a very critical moment," she added. "There's a lot of discontent bubbling away here at the lack of progress and, if there is any agreement, I fear it's unlikely to satisfy a lot of people.
"There is this history of political violence so there's clearly a very high risk that if this agreement doesn't happen or is too limited, you have this reemergence of political violence.
"That would be dangerous of course and also means you just cannot tackle these really major problems like the lack of jobs, lack of housing that's affordable for local people.
"It's really a critical moment in terms of how the French state responds and what kind of agreement they can find."
Constitutional status
Corsica's constitutional status has been contested for hundreds of years.
It became part of France in 1768 when it was sold by the Republic of Genoa in response to a nationalist uprising.
The Corsican assembly was established by President François Mitterrand in 1982 and the socialist devolved further competencies in 1991.
The Corsican executive however still has no legislative power but can, in theory, modify French legislation.
Macron's offer to Corsica has already sparked calls for a similar status to be given to Brittany.
"We can't have elected representatives with more autonomy in Corsica, while keeping others in a system of inefficient centralism from another age," said president of Brittany, Loïg Chesnais-Girard.
---
Support our Nation today
For the price of a cup of coffee a month you can help us create an independent, not-for-profit, national news service for the people of Wales, by the people of Wales.