News
Magical moment when horse whisperer with dementia meets tiny pony Dottie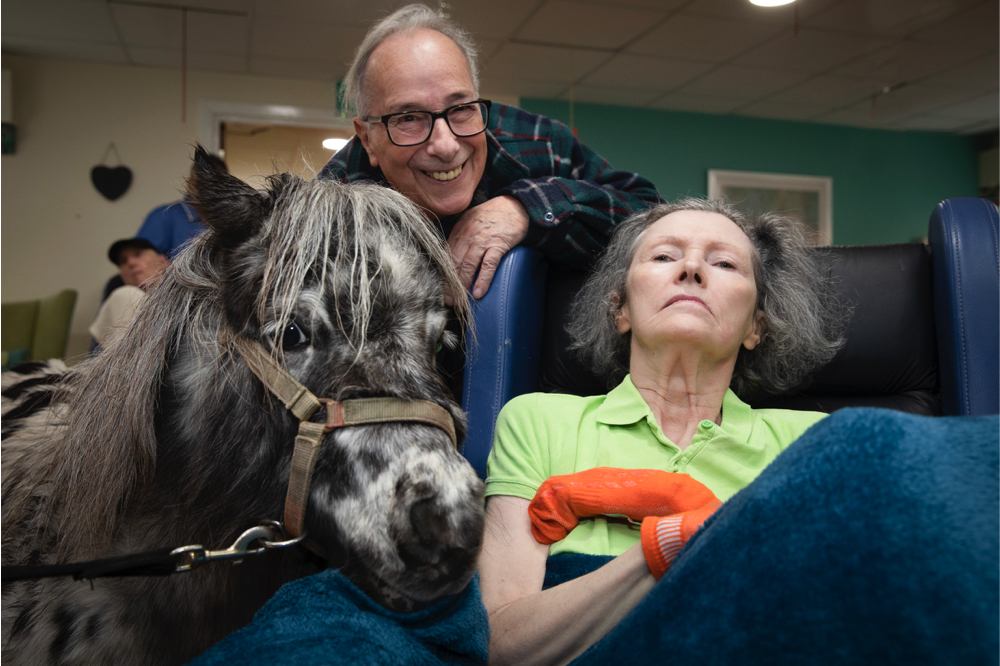 A little Shetland pony has brought a smile to the face of a revered horse whisperer who has dementia.
The touching encounter happened when the diminutive pony called Dottie, just 40 inches high, visited Pendine Park's Bodlondeb care home in Wrexham where Hilary Paul now lives.
Hilary is admired around the world for her compassionate training methods and remarkable understanding or horses.
Among her fans was the late Nicholas Evans, whose novel, The Horse Whisperer inspired the hit 1998 film of the same name, starring Robert Redford.
Around the time of the movie's release, she also met the author, who died suddenly aged 72 last autumn and he have her a copy of his later novel, The Loop.
He signed it and added the message: "To Hil, who knows all about the secrets of whispering and the wild. With very best wishes, Nicholas."
Sadly, dementia has robbed Hilary of the ability to communicate but when she came face to face with Dottie, which visited her and other residents at Bodlondeb, she was visibly moved.
Hilary's partner, Nigel Iskander said: "Hilary can't speak but when the pony went up to her and touched her arm, she smiled."
Considerate
The couple met during the public's fascination with horse whispering a quarter of a century ago with the release of the film.
Nigel said: "The novel and the subsequent film, may have been the general public's first realisation of the work people like Hilary did but she has been doing it for most of her life."
Hilary was horrified when her parents first took her to a riding school and she was told to use a whip to control the animal.
"She said it would hurt the animal who can feel a fly on its skin and she started to treat the house considerately without using a whip or a bit in its mouth," he said.
Nigel recalled how the petite 64-year-old, originally from the Manchester area, went into a stall with a large racehorse who was proving too difficult for the stable staff to handle.
"Hilary is an amazing lady who has worked with horses for years. I recall one time she went to Newmarket where a stallion was proving to be very difficult to handle.
"Before meeting the horse, she was chatting with the stable lads for about half an hour before one of them said "we're just waiting for the trainer" and Hilary said "well that's me".
"In she went and worked with the animal for about 45 minutes and then emerged with the horse following on a loose rein her like a dog on a lead. The lads were speechless," said Nigel.
During her life, Hilary has travelled widely and even spent several months in Australia and the USA learning how to be a horse trainer.

Magic powers
Nigel added Hilary does not have any secret magic powers when it comes to training horses,
"No-one can teach a horse by 'whispering' or looking into his eyes. No-one can apply some 'secret' process and have horses instantly understand everything forever more.
"Hilary believes a horse responds to being treated properly and once it realises the handler is treating it well, it will do what it is required to do. A horse reacts differently to a dog who will respond to treats and rewards, a horse will respond if it is well treated and feels safe.
"That is what Hilary taught in courses and workshops to horse riders. She has also showed farriers and blacksmiths how to handle horses that become frisky while being shod and also staged workshops for business leaders and managers about how to treat their workforces," he said.
After the movie was released, Hilary was interviewed by Lucy Hawking, the late Prof Stephen Hawking's daughter, for an article that appeared in the Times newspaper.
She told Lucy that listening was as important as speaking with the animals.
After Hilary was diagnosed with dementia a few years ago, photojournalist Nigel, gave up work to become her carer and the couple moved to a small-holding near Caersws in mid-Wales.
Prior to the move Hilary and Nigel lived with their eight horses and other animals at Cradley, a small village on the Herefordshire and Worcestershire border close to Ledbury and Malvern.
"Hilary loves all kinds of animals and could never give up on any stray or needy creature. We had a whole menagerie at home because Hilary is a wonderfully kind lady," added Nigel.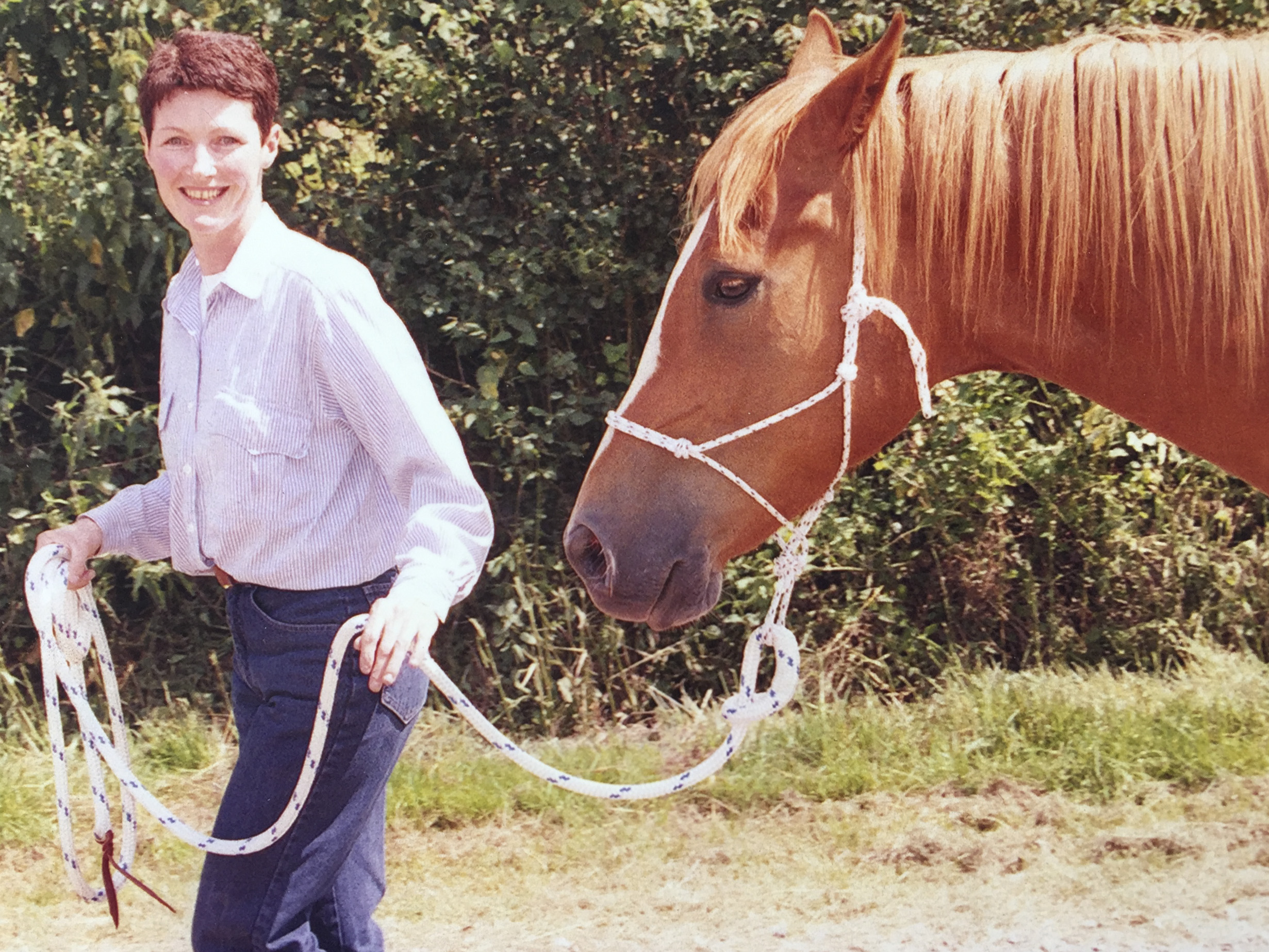 He is full of praise for their care and compassion shown to Hilary at Bodlondeb.
"As a journalist I've reported on all sorts of horror stories and as a carer I'm aware of what the job entails and she is looked after wonderfully at Bodlondeb. All the staff are so patient with her." he said.
Dottie, who is owned by Paula Llywelyn and her two-year-old son Ted, was brought to Bodlondeb by Maggie Bellis from her stables in Bryneglwys near Coedpoeth, Wrexham.
Maggie's brother, Clifton Jones, is a resident at Bodlondeb and during a recent visit was chatting to one of the carers who mentioned the benefits of animals meeting people who have dementia.
Bodlondeb manager Ann Chapman said: "Dottie was a huge hit with residents, who enjoyed meeting and petting her. She brought a smile to everyone's face.
"This sort of therapy also is a great way of opening up conversations with residents reminiscing and sharing stories about animals they have owned or me.
"It was incredibly touching and poignant when Hilary met Dottie and drew a smile to her face. It is a magical moment that I will never forget."
---
Support our Nation today
For the price of a cup of coffee a month you can help us create an independent, not-for-profit, national news service for the people of Wales, by the people of Wales.