News
Major challenges for Welsh agriculture as report says it must cut back on livestock farming to achieve net zero carbon emissions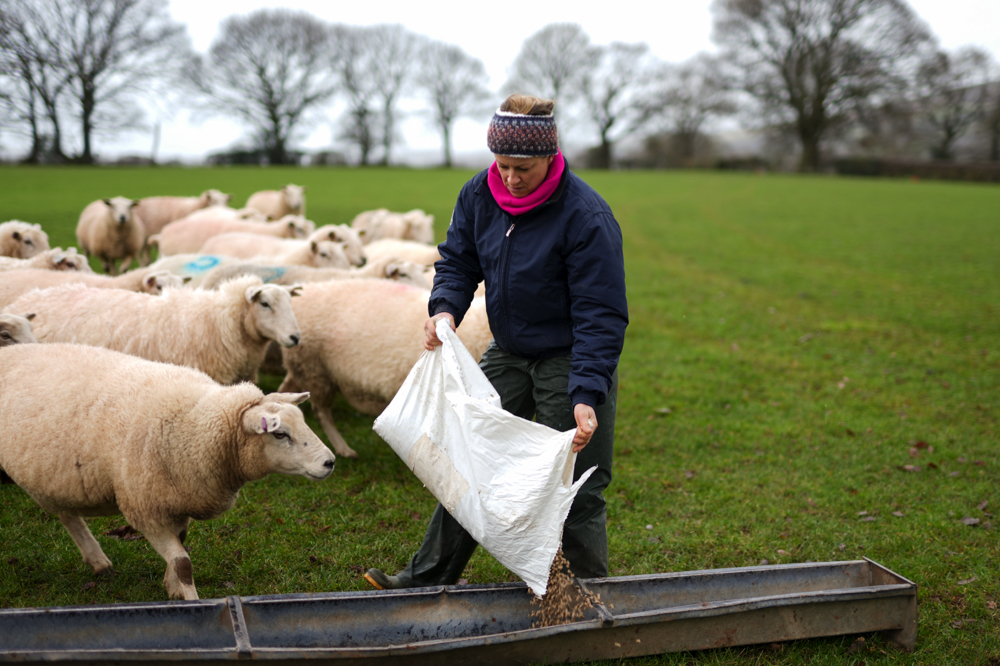 Martin Shipton
Welsh agriculture needs to move away from livestock farming and people need to eat less meat and more plant-based food to help the nation achieve net zero, according to a major new report from Cardiff University.
The Wales Centre for Public Policy (WCPP), based at the university's Social Science Research Park, has published its response to the Wales Net Zero 2035 Challenge Group's first question: "How could Wales feed itself by 2035?"
The report examines the evidence and explores challenges facing the agricultural sector, which is set to be Wales' largest source of greenhouse gas emissions in 2035, as other sectors decarbonise more quickly.
By making significant adjustments to farming and land use, the paper argues that Wales could make up for lost time in the race to achieve net zero.
According to the evidence, some agricultural land will need to be used in ways that add to our carbon sinks, such as increasing our woodland, forestry and peat bogs. Reducing agricultural emissions will also require a reduction in livestock numbers.

Agricultural emissions
The report says: "Despite falling by 11% since 1990, agricultural emissions in Wales have increased since 2016 and are dominated by livestock farming, with direct methane emissions from livestock alone making up 61% of agricultural emissions in Wales. Emissions from the management and use of manure contribute an additional 14% of Welsh agricultural emissions; further livestock-related emissions sources include the release of carbon from peatland, land conversion, and the existing land footprint of livestock agriculture, with its associated carbon opportunity cost.
"Agriculture is also a significant source of air, soil and water pollution, with a range of consequences for biodiversity and human health. Agriculture is the second biggest contributor of reported river pollution incidents in Wales, after the water industry); of these, around half come from dairy farming.
"Agriculture is also responsible for 81% of ammonia pollution, which has been rising in the UK since the early 2000s, due to a reversal in the trend of reductions in fertiliser use, increased slurry spreading and an increase in emissions from cattle. Ammonia pollution contributes around half of some kinds of fine particulate matter air pollution, which has particularly serious impacts on respiratory and cardiovascular health, contributing to various chronic conditions such as heart attacks, cerebrovascular disease, chronic obstructive pulmonary disease (COPD), asthma and lung cancer.
"Ammonia pollution also impacts on biodiversity, both via a direct toxic effect on vegetation and through changes in species composition due to nitrogen deposition, which can result in the loss of sensitive and rare species and habitats. Indeed, agriculture as a whole has been the main driver of biodiversity loss in Wales in recent decades, with biodiversity trends in farmland birds declining by 54% since 1970.
"While these trends are concerning, they also point to the potential for identifying measures to tackle agricultural emissions and agricultural pollution in tandem, leading to improvements in biodiversity and human health.
"Reducing agricultural emissions will require a reduction in livestock farming as well as changes in farming practices to mitigate livestock emissions Demand-side approaches emphasising a global shift towards healthier, more sustainable diets and reductions in meat and dairy consumption have major implications for Welsh farming, given that livestock and livestock products currently account for 86% of Wales' agricultural output, and 76% of Wales' utilised agricultural area is grassland for livestock grazing (which also represents the most common type of farm holding in Wales after undifferentiated small farms)
"For this reason, sector representatives tend to advocate for a greater focus on supply-side measures to mitigate livestock emissions without the need to scale back on livestock production.
"However, existing assessments of supply-side mitigation options, which include changes to animal feed and interventions to increase livestock and pasture productivity, indicate that these alone will not be sufficient to achieve significant cuts to agricultural emissions); overall it is what we farm more than how we farm that drives the climate consequences of Welsh agriculture.
"Moreover, while options to increase production efficiency can lead to reduced emissions per unit of product (such as meat or milk), the production of inputs to facilitate this can indirectly drive further absolute emissions along the feed supply chain; productivity improvements can also create economic incentives for livestock farmers to simply increase production and/or expand into marginal land.
"To be effective in driving absolute reductions in emissions, any reductions in the emissions intensity of livestock production must therefore be combined with measures to limit overall demand and/or land use. Reductions in livestock farming are beneficial not only for driving down absolute agricultural emissions – they are also essential to relinquish land required for carbon sequestration. Some 85% of the land used by UK agriculture is taken up by livestock systems, either directly for grazing or indirectly for the production of animal feed. For Wales this figure is likely to be significantly higher given that 86% of our agricultural land is used directly for grazing; the global land footprint of Welsh livestock farming will be higher still when imported feed is taken into account.
"Releasing some of this land for other, more carbon efficient uses, such as afforestation or agroforestry, could enable significant additional mitigation from agricultural landscapes. Thus, reducing demand for livestock not only combines with supply-side options to reduce absolute agricultural emissions, but also creates new opportunities for the use of finite land resources in the context of net zero.
"Every credible model for achieving emissions neutrality requires agricultural land to be relinquished, so that it can be used in ways that enhance our natural carbon sinks – largely woodlands and peat bogs – and compensate for residual emissions elsewhere in the economy
"Freeing up the additional land that will be required – without compromising food security – will only be possible through shifts in demand towards not only less emissions-intensive but also less land-intensive food production systems."
Diet
In terms of changing diet, the report says: "The evidence clearly shows that for the sake of planetary and human health, global diets must converge towards much higher proportions of plant-based foods, such as those based on coarse grains, legumes, fruits and vegetables, and nuts and seeds, with significant reductions in consumption of meat (especially red meat) and little to no consumption of ultra-processed foods.
"Food systems interventions that address diet change and seek to expand access to sustainable, healthy foods therefore have significant potential to combine climate mitigation with a range of broader benefits for nature, human health and societal inequality."
Dr Helen Tilley, WCPP Senior Research Fellow, said: "It is clear from our work on this topic that there are multiple, deeply entrenched and interconnected obstacles to the sustainability of Wales' land use, farming and food systems; but the evidence also helps us identify some important opportunities for change.
"We must grasp these opportunities if we are to tackle what could be our greatest challenge yet for the sake of future generations. Achieving this will require policy makers, agriculture and other sectors to work together to find workable solutions, recognising the need to support Welsh farmers and communities."
Challenge
Former Environment Minister Jane Davidson, who chairs the Wales Net Zero 2035 Challenge Group, said: "We welcome this report from the Wales Centre for Public Policy to help us develop our work.
"Our challenge as a group, which has the wellbeing of future generations at its heart, is to identify pathways to accelerate progress to net zero while ensuring a nature-positive and just transition that safeguards communities.
"This report reveals some concerning trends around Wales' food system and encouragingly, also identifies measures to help tackle emissions and pollution leading to improved biodiversity and human health.
"While interventions can be explored around peatland, forestry and our coast, we must not shy away from the question of Welsh farming.
"Like many sectors, Welsh farmers are in a tough economic situation following Brexit and the conflict in Ukraine. We must work together to address the even greater challenge of climate change."
---
Support our Nation today
For the price of a cup of coffee a month you can help us create an independent, not-for-profit, national news service for the people of Wales, by the people of Wales.