News
Man sentenced to 18 months in prison for sadistic mutilation of hedgehog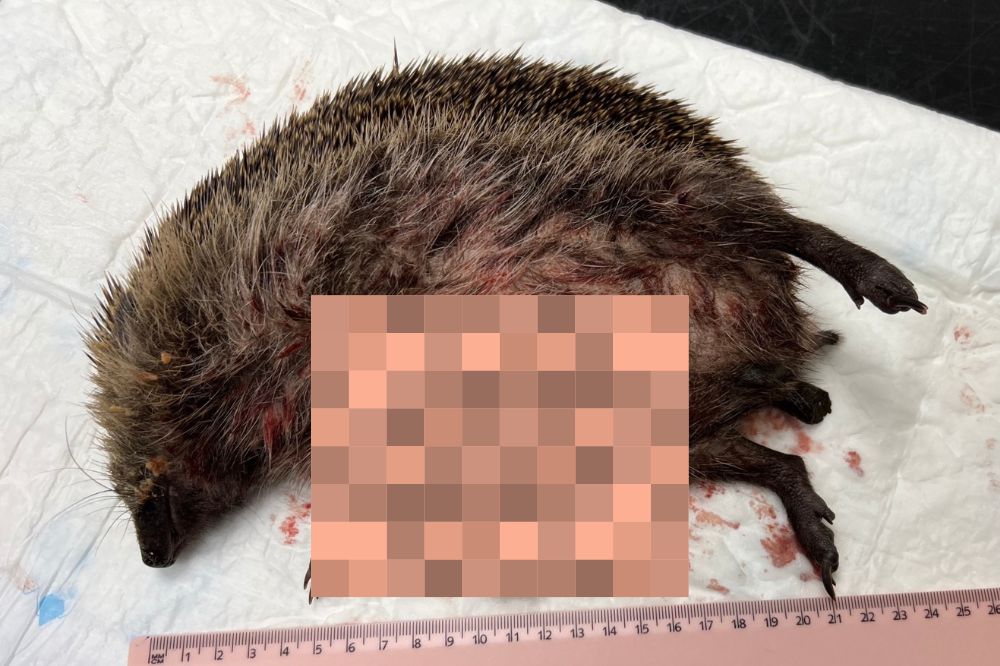 A man has been sentenced to 18 months in prison after he mutilated a hedgehog which was found alive in a bedroom drawer covered in blood.
Richard Coyle (d.o.b 13/07/1966) of no fixed abode appeared at Cardiff Crown Court on Friday 16 June for sentencing after pleading guilty to one offence.
The offence was that on or about 29 September 2022 at Greenmeadow Drive, Crosskeys, he caused unnecessary suffering to a captive hedgehog and knew that deliberately mutilating the animal would have been contrary to the Animal Welfare Act 2006.
As well as the prison sentence he was also banned from keeping any animal for 20 years. In mitigation the court heard that Coyle had mental health issues and drug and alcohol abuse.
The court heard written evidence from RSPCA inspector Simon Evans who attended the address with fellow animal rescue officer (ARO) Sian Burton. They were informed by Gwent Police that Coyle had earlier been found in the property and had been arrested with police discovering an injured hedgehog in the room.
Inspector Evans said he found the hedgehog inside a small drawer which was partially under the bed.
He said: "I could see that the base of the drawer looked to be covered in blood. Inside the drawer was a juvenile hedgehog which was clearly still alive as it moved slightly when I lifted up the drawer.
"I attempted to lift the hedgehog out to examine it but I could feel the animal was wet with blood and I could see that my gloves were also blood soaked."

Blood
Inspector Evans also noted that underneath the bed was a hard, semi-clear sheet of plastic which was covered in blood.
He also found a cardboard box containing various correspondence and also some plastic carrier bags which were also covered in spatterings of blood and this continued over the box, some of the correspondence and the bedroom wall behind.
The hedgehog was handed to ARO Burton who transferred it to a nearby vet for an examination.
At the vets, it was confirmed that the hedgehog had been suffering and sadly due to its injuries was put to sleep on welfare grounds.
In written evidence from the vet – presented to the court – they said there was evidence of injury to three nails and there was a central wound to its abdomen, where was a small hole approximately 1-2 cm in diameter and its intestines were trailing out from it.
The vet said: "The suffering was due to the injuries, particularly the protrusion of the intestines from the abdomen, causing secondary shock, dehydration and blood loss.
"The nature of the injuries would be hard to replicate in the hedgehog's natural environment and are more likely to be intentional injuries."
The Judge in sentencing said "this was the deliberate, sadistic infliction of pain on a defenceless animal…an appalling act at your hands from which you seemed to take pleasure. It wasn't just cruel; it was the torturing of a defenceless animal. This was about as cruel a case as can be imagined".
Following the case, inspector Evans said: "This was certainly a horrific case and will be one that stays with me for some time. Deliberate cruelty on such a helpless animal is just simply unacceptable."
---
Support our Nation today
For the price of a cup of coffee a month you can help us create an independent, not-for-profit, national news service for the people of Wales, by the people of Wales.