News
Man walking UK coastline for charity finally returns home to Wales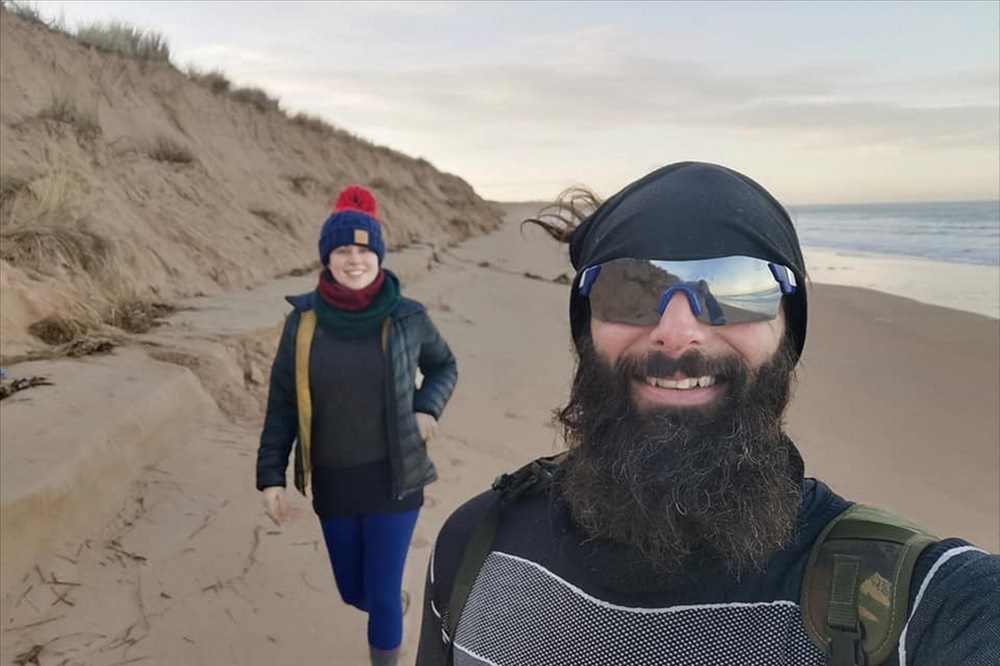 A former British paratrooper who has been walking the UK coastline for the past six years has returned to his home country of Wales for the first time since setting off.
Chris Lewis, 43, has walked 19,000 miles since leaving Llangennith beach on the Gower Peninsula, near his home city of Swansea in August 2017.
He set off from the beach with just £10 in his pocket and a few days of supplies to raise funds for SSAFA, the Armed Forces charity.
Since then, Mr Lewis has raised more than £330,000 for the charity, adopted a dog called Jet, fallen in love and become engaged to Kate Barron, 36, who has joined his walk.
The couple welcomed their first child, a baby boy named Magnus Edward Arden Lewis, in May last year. They are hoping to reach £500,000 in donations by the conclusion of their walk.
Mr Lewis, Ms Barron, Magnus and Jet were cheered on by well-wishers who shouted "welcome home" as they walked over the Severn Bridge between England and Wales on Wednesday afternoon.

Overwhelmed
Mr Lewis said: "I feel a little overwhelmed. It's really surreal so I think it's going to take a bit of time to sink in.
"I've been thinking of coming home for a long time, so to actually be here and hear the Welsh accent and be greeted by so many lovely people – I tell you, there's going to be a pint and a tear or two by the end of the day.
"I left Wales in not a good place, I was lost and I felt so alone and just isolated inside my own mind and now I've come back I see the world as a whole different platform. How amazing it is, how many amazing people there are.
"The world is a much better place to me arriving back to Wales than it was when I first left.
"I don't often say this, but I'm really proud of myself and my family."
Ms Barron added: "I didn't start in Wales but to know what this means for Chris – he left Wales six years ago and it's crazy what's gone on in his life since then.
"Wales is the country this started in, it's where it'll finish and that's a really emotional thing for us."
Bestseller
The adventure along the coast saw Mr Lewis spend the first coronavirus lockdown on an uninhabited Shetland island, reunite a message in a bottle with its sender after 20 years, and write a Sunday Times bestseller.
More than 145,000 people follow his journey on his Facebook page, Chris Walks the UK, with thousands of others tracking his progress on Instagram and Twitter.
His first book, Finding Hildasay, features a foreword by Ben Fogle – who has supported Mr Lewis during his journey.
Mr Lewis, Ms Barron, Magnus and Jet now have just 65 miles left of walking before they reach the beach where it all began six years ago.
They are aiming to hit the finish line at the end of July before planning their next adventure.
Ms Barron said: "I am really proud of him. This has been a life changing journey and I think Chris has come so far.
"I didn't know him when he set off but having seen pictures of him from when he first started he's unrecognisable to me, he's a different person.
"What this journey has done for him is I think an incredible testimony to the power of nature and the outdoors, to the power of just making a drastic change in your life and taking that plunge to put yourself into the unknown and seeing what can happen.
"All of that has led him to be able to reclaim the sense of self he had lost.
"Doing this journey I've realised how many people out there are suffering with their mental health and I think Chris' story can really give hope to those who think there is none."
Mr Lewis struggled to cope after leaving the Parachute Regiment and decided to walk the UK coastline after suffering with anxiety and depression.
He was about to become homeless, with no money and no equipment – wearing an ill-fitting pair of borrowed boots – when he set off on August 1 2017.
Three years into the task, he met Ms Barron in Scotland and she joined his walk a few months later. More than 26,000 people now follow her Facebook page, Kate Walks the Coast.
Mr Lewis's fundraising page is https://www.justgiving.com/fundraising/chriswalks
---
Support our Nation today
For the price of a cup of coffee a month you can help us create an independent, not-for-profit, national news service for the people of Wales, by the people of Wales.