News
Migrant barge not a floating prison, Home Office says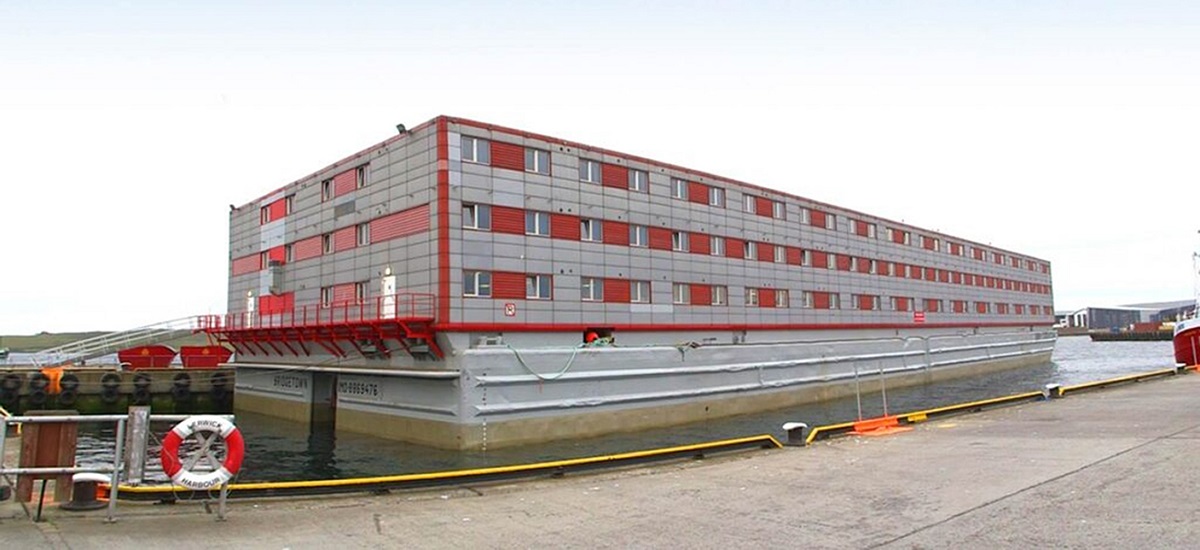 The Home Office has denied its barge housing asylum seekers is a "floating prison" and said the people on board would be "free to come and go as they want".
Gardening in nearby allotments and hiking tours of the area are among the activities which could be offered to some 500 migrants set to board the giant vessel now berthed on the most southerly point of Dorset's Jurassic Coast.
Officials were keen to stress efforts the department had made to allay the concerns of people in Portland – a small island with a population of about 13,600 people – as they led a press tour of the vessel on Friday.
Deputy director for asylum accommodation Leanne Palk disputed claims made by campaigners about the facilities.
She said: "It isn't a floating prison.
"People are free to come and go as they want, but we do have this secure fence line in place just so that people don't wander around the port.
"It is a working port and we need to keep the safety of the asylum seekers on board the vessel at the heart of everything we do."
Ms Palk said it was unlikely asylum seekers would leave the barge and never come back, adding: "They've got a vested interest in having their asylum claim processed."
The Home Office has worked "very closely" with Dorset Council, Portland Port and Dorset Police to "make sure that we minimise any impact on the local community, as well as looking after the safety of those on board the vessel", she said, when asked to address the concerns of local people.

Security
The round-the-clock security presence on the site provided by Isca, consisting of 18 guards trained to military standard taking shifts in groups of six, accompanies CCTV surveillance and back-up from police if needed.
In total, about 60 staff including cooks and cleaners will be on board the barge run by Landry and Kling, a sub-contractor of Corporate Travel Management (CTM) which also managed vessels in Scotland housing Ukrainians.
Spaghetti with meatballs, roast turkey, Irish stew and beef pie are on the sample menu to be served in the canteen by Dubai-headquartered offshore firm Connect Catering Services, alongside breakfast and a selection of snacks available 24 hours a day.
The gym, equipped with treadmills and weights, is still awaiting delivery of rowing machines and exercise bikes. Volleyball, basketball, netball and football can all be played in one of two outside courtyards.
Most of the 222 bedrooms have twin bunk beds, with cupboard space, a desk, en-suite bathroom, heating and windows which open. But there are also 20 larger rooms which would sleep four people, and two rooms housing six people.
The bedrooms all have televisions which the operator was told to disconnect but were too costly to remove so can be used only as monitors.
Instead, residents will be encouraged to socialise or watch programmes and films in one of four communal TV rooms, and can also learn English in a classroom and worship in a dedicated space.
A small number of laptops are also available and there is Wi-Fi throughout the barge.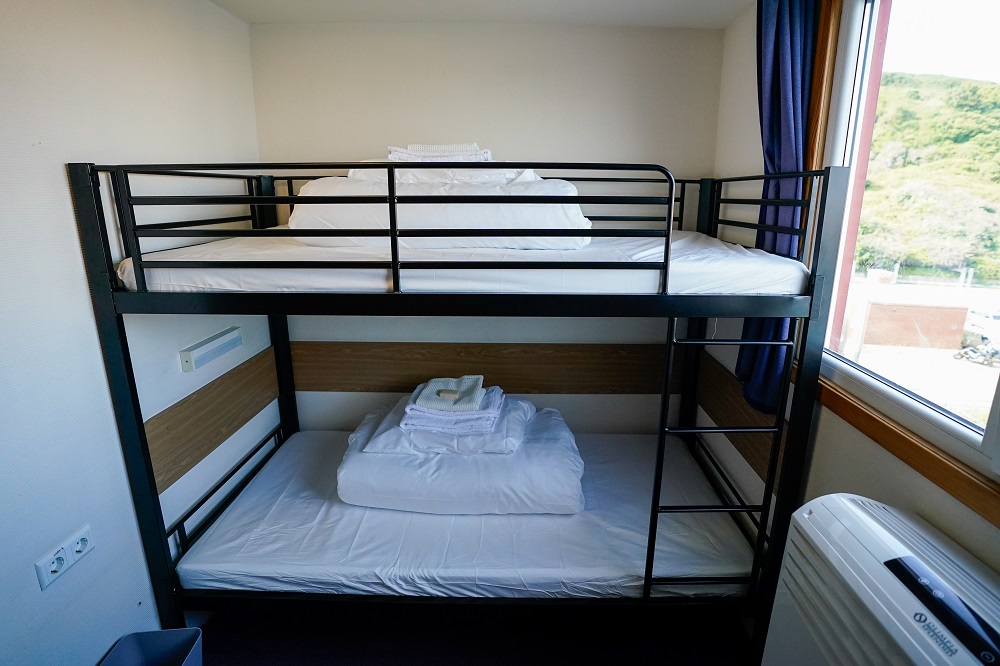 Of suggestions that the accommodation was cramped, Ms Palk said: "It is quite light and spacious and airy in there and there's ample room in each of the bedrooms.
"The bedrooms do meet the size standards that are required. They've got multiple recreational areas and outside areas to be able to have activities.
"We've also got local voluntary services who are looking at what activities can happen outside of the barge.
"So things such as football and other activities like hiking and potentially looking at allotments and things like that.
"That's all been managed through Dorset Council."
Asked whether this was appropriate in light of concerns about poverty in the area, she said: "It's all about managing the impact on the local community and making sure that the community feels safe and secure, as well as giving asylum seekers something meaningful to do with their days.
"So the funding that we've provided to Dorset Council, to the health service and also to the police, will help to allay some of those, those funding impacts."
Asked if the accommodation is a long-term solution, Ms Palk said: "It's a more sustainable solution than hotel accommodation, which as I said before, costs the taxpayer a lot of money."
---
Support our Nation today
For the price of a cup of coffee a month you can help us create an independent, not-for-profit, national news service for the people of Wales, by the people of Wales.