News
Millions paid to organisations outside Wales to plant trees on Welsh farmland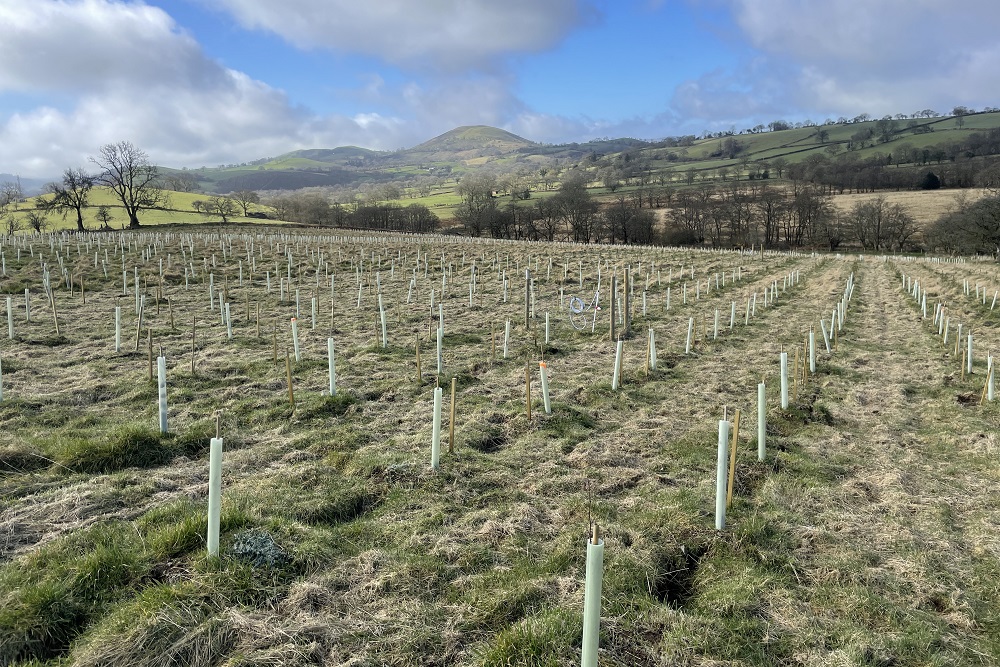 Martin Shipton
More than £4m of taxpayers' money may be paid to organisations with addresses outside Wales as part of a drive to plant trees on Welsh farmland, we can reveal.
The amount was revealed following a Freedom of Information request submitted to the Welsh Government by Nation.Cymru.
Farming unions have expressed concern for years about money being paid out to companies based outside Wales who have bought farms and have been paid grants under the Welsh Government's Glastir Woodland Creation scheme.
Now Secretary of State for Wales David TC Davies has described as "outrageous" the amount of money leaving Wales because of the scheme, which began in 2013 and was originally run by the Forestry Commission, which later merged with two other bodies to become Natural Resources Wales.
Subsequently the scheme was run directly by the Welsh Government.

Grants
Glastir Woodland Creation offers grants to landowners to create new woodlands on their land. Payments are also made to compensate for land taken out of agriculture.
Previously released statistics show that in the scheme's first 10 "windows" a total of £11,275,710 was paid out in grants, including £1,961,794 paid to organisations with addresses outside Wales.
Newly released figures covering Window 11 of the scheme, which remains open until the end of 2023, show that expressions of interest totalling £4,447,001 have been submitted, of which £2,109,708 is from beneficiaries with correspondence addresses outside Wales.
The monetary value of Window 11 contracts signed off so far totals £1,312,332, of which £469,702 is for organisations based outside Wales.
Welsh Secretary David TC Davies said: "It's outrageous that millions of pounds of taxpayers' money is gushing away from Welsh farmers and into the hands of companies based outside of Wales.
"The Labour Welsh Government's disorganisation is directly punishing farmers across Wales because they are missing out on vital funding, designed to help sustain their business.
"Every single penny available from the Glastir project should be going to farmers in my constituency of Monmouth and elsewhere in Wales. Farmers are the custodians of the land and they need greater support from the Labour Welsh Government."
'Urgent action'
In 2021 the Farmers' Union of Wales (FUW) warned that the Welsh Government needed to take "urgent action" to control the market.
It said that rather than reducing their own carbon footprint, businesses were now finding it cheaper to buy up entire tracts of Welsh land instead.
"If someone plants trees on Welsh land and sells the carbon outside Wales then this does nothing to help Wales reduce its carbon footprint," FUW President Glyn Roberts said.
He said that it risked undermining the ability of farms, Welsh agriculture or Wales as a whole to become carbon neutral.
Mr Roberts added: "Our longstanding concerns were confirmed in a recent Welsh Government response to a Senedd question by Plaid Cymru agriculture spokesperson Cefin Campbell, which revealed that between GWC application windows 8 (November 2019) and 10 (November 2020) the number of applicants with addresses outside Wales grew from 3% to 8%."
Shadow Rural Affairs Minister Samuel Kurtz said it could lead to the use of public funding in order to 'greenwash' their emissions through farmland purchases in Wales.
He added that the Welsh Government shouldn't be handing out taxpayers' money to "those not active in our society and economy".
"As the son of a farmer, the last thing I want to see are family-run farms being sold-off to foreign multinational companies to improve their own public-image, whilst they continue to produce an enormous carbon footprint completely guilt-free," he said.
"By stopping Glastir payments to foreign companies, we'd ensure that money reaches the hands of the farmers and land managers here. That way, we can encourage them to use their own land to help tackle climate change."
Benefits
A Welsh Government spokesperson responded: "Every single penny of the Glastir Woodland Creation scheme directly benefits Welsh land including many farmers in Wales."
The spokesperson added: "The sale and purchase of land in Wales is a matter for Welsh landowners.
"The Glastir Woodland Creation scheme is administered in accordance with the European Commission (EC) regulations governing the Wales Rural Development Programme (RDP) 2014 – 2020.
"Applications from organisations whose registered address is outside of Wales are not all large businesses, but include organisations like the Woodland Trust and tend to be for small areas of land."
Farming unions have also expressed concern about the Welsh Government's new scheme to succeed Glastir Woodland Creation which is aimed at planting trees on 10% of farmland.
---
Support our Nation today
For the price of a cup of coffee a month you can help us create an independent, not-for-profit, national news service for the people of Wales, by the people of Wales.