News
Minister backs RSPCA and calls on remaining councils to ban pets as prizes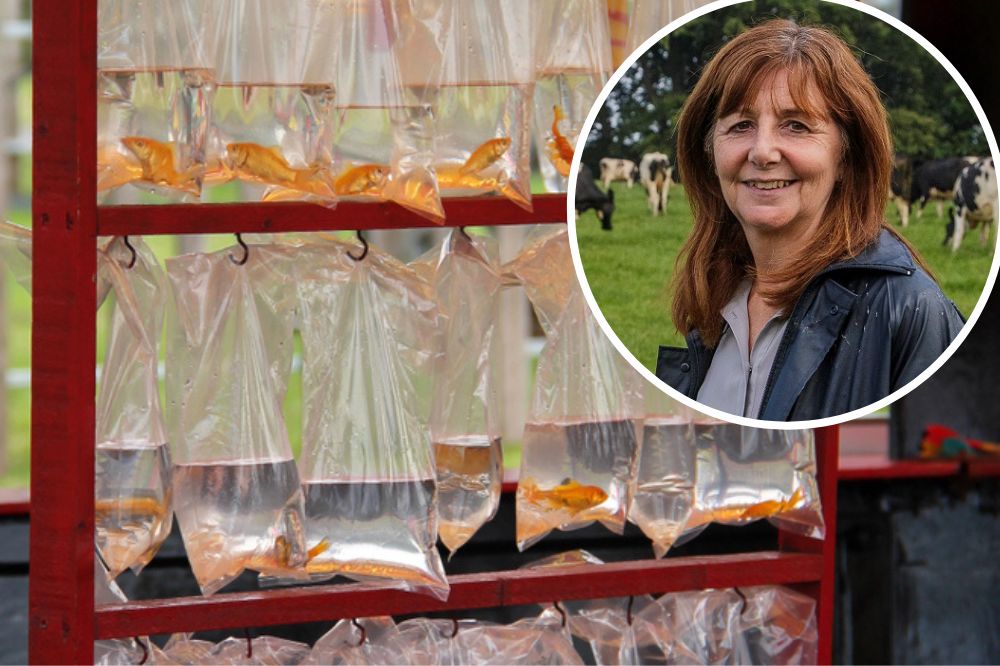 RSPCA Cymru has welcomed support from the Minister for Rural Affairs, North Wales and Trefnydd, Lesley Griffiths MS who has pledged to encourage all local authorities in Wales to ban the giving of pets as prizes on their land.
As part of its #NoFunAtTheFair campaign, the animal welfare charity is calling for the practice to be banned and has been campaigning for all councils in Wales to introduce their own local bans on their land – so far 12 have done so.
During questions in the Senedd from Heledd Fychan MS and Janet Finch-Saunders MS, Lesley Griffiths MS confirmed that officials have met with the animal welfare charity to see what more can be done moving forward without Wales-wide legislation.
The Minister added that she hopes the remaining 10 councils introduce a ban – whilst stating that everything should be done to encourage people to consider alternative prizes.
She also confirmed that she would write to the councils urging them to act, in support of the RSPCA campaign.

Shocked
Sioned Nikolic, RSPCA Cymru's public affairs officer, said: "We are delighted to have the support from the Minister who will now be writing to the remaining councils in Wales to urge them to ban this outdated practice.
"We hope that soon we will be able to say all 22 local authorities have taken action. It is clear that people are shocked to find this is still happening and we also know there is also a high proportion of the public – 84% of people in Wales – who also want local governments to ban it on their own land.
"It really is something that people care about – and of course, we would still like pets being given away as prizes banned outrightly in Wales by the Welsh Government – as despite bans on council land, it can still take place on private land."
Last month, RSPCA Cymru released data that revealed 83% of those asked in Wales were shocked that pets can still legally be given away as prizes.
More than 4 in 5 in Wales agree that local governments in Wales and England should ban the giving of pets as prizes on council-owned land.
44% of people polled  in Wales said they know someone who has won a pet as a prize and 89% of those asked in Wales said that keeping a goldfish in a bag is animal cruelty.
The call comes as the RSPCA publishes its new Animal Kindness Index – which highlighted a behaviour gap between people's love for animals, and the negative impact that some actions potentially have on animal welfare – with playing games that give live goldfish as prizes one such example.
The 12 local authorities who have banned the practice so far are Bridgend, Caerphilly, Cardiff, Conwy, Flintshire, Neath Port Talbot, Newport, Pembrokeshire, Rhondda Cynon Taf, Torfaen, the Vale of Glamorgan and Wrexham.
Some town and community councils have also initiated their own localised action – but the practice is still allowed by ten of Wales' 22 Councils.
In England, there are more than 35 local authorities who have introduced bans.
Since 2020, there have been 42 reports about pets being given as prizes made to the RSPCA; but the charity says many incidents go unreported.
Goldfish are easily stressed and very often fish that are won as prizes suffer from shock, oxygen starvation or die from changes in water temperature, while many may die before their new owners can get them home.
Ban
Sioned added: "They're misunderstood pets as they can make great companions; but can actually be challenging to look after. New owners must do their research before they acquire the fish, not afterwards.
"Before bringing a fish home for the first time, it's important to set the tank up at least two weeks in advance to make sure it's all running smoothly, and this just isn't possible for someone who's won a fish without being prepared for it."
Last year, more than 8,320 RSPCA supporters called upon their local authorities to make a change and stop this practice from happening on their land.
"In 2022, thousands of people supported us in this campaign which we were very thankful for and we're over the moon to see so many local authorities already pass the RSPCA's notice of motion on this issue. But clearly, more needs to be done," added Sioned.
"We hope this summer we can spread the message further and encourage other local authorities across Wales and England to ban the giving of pets as prizes on their land, as well as taking action on other seasonal issues affecting animals."
The RSPCA will continue to make the case to both the UK Government and Welsh Government that pets being given away as prizes should be banned outright, and that national legislation in both countries is much-needed.
---
Support our Nation today
For the price of a cup of coffee a month you can help us create an independent, not-for-profit, national news service for the people of Wales, by the people of Wales.