News
Minister faces Tory backlash in Commons over housing migrants on boats and military bases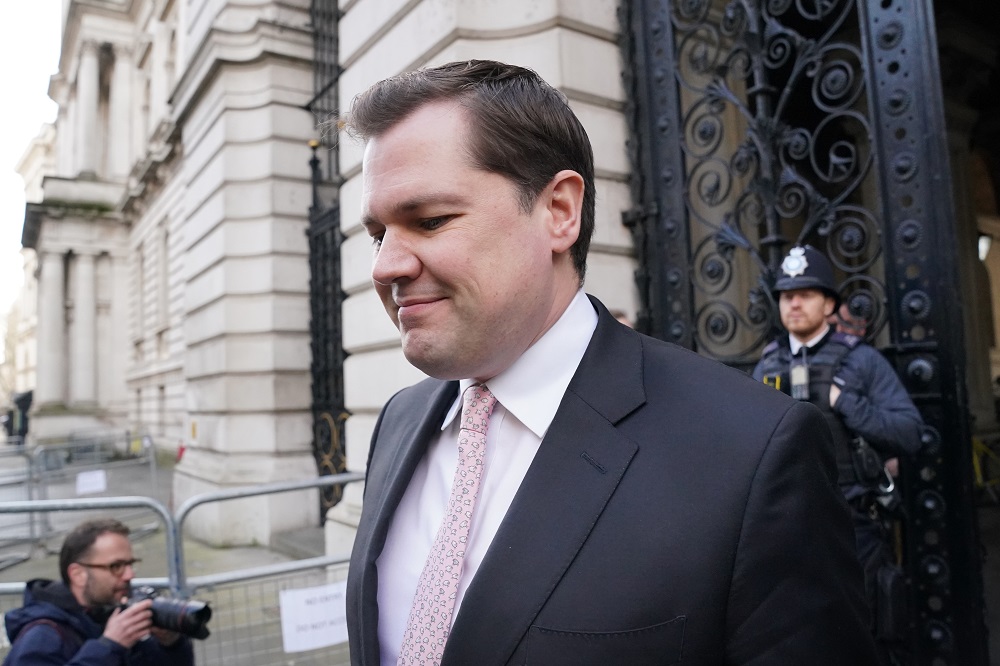 Immigration minister Robert Jenrick has faced resistance in the Commons from senior Tory MPs over plans to use military sites and boats to house asylum seekers.
Former home secretary Priti Patel suggested the disused RAF Wethersfield, near her Witham constituency in Essex, would not be a suitable location due to a lack of infrastructure and amenities.
Jackie Doyle-Price, a former business minister, questioned whether proposals to house migrants on barges could harm port-based businesses.
Ms Patel questioned plans for the former RAF base, based in the Braintree constituency of Foreign Secretary James Cleverly, which neighbours her own.
The Tory former home secretary told the Commons: "Can I ask why it is deemed appropriate for asylum seeker accommodation to be placed in a rural village in Essex with single men where there is no infrastructure, no amenities, but it was not appropriate for somewhere like Linton-on-Ouse?"
Plans for similar accommodation at an RAF base in the North Yorkshire village were abandoned last year after a backlash.
Immigration minister Robert Jenrick paid tribute to Ms Patel for starting "this good work with her new plan for immigration".
He added: "I can say that we don't have a current plan to proceed with Linton-on-Ouse, but the sites that I've announced today are just the first set that we would like to take forward.
"Because we want to remove people from hotels as quickly as possible and to move to this more rudimentary form of accommodation, which will reduce pull factors to the UK and defend the interests of the taxpayer."

Injunction
Tory former minister Sir Edward Leigh, meanwhile, claimed a local council in his Gainsborough constituency would "issue an immediate judicial review and injunction" against plans to house migrants at RAF Scampton, adding: "Lincolnshire will fight and Lincolnshire will be proved right."
Elsewhere in the debate, Mr Jenrick would not be drawn into whether plans to house migrants on barges may interrupt port businesses, but did confirm such accommodation would be "non-detained".
Conservative former minister Jackie Doyle-Price asked: "Specifically, could he just advise whether he expects those vessels to have access to the quay, or moored offshore?
"If they are to have access to the quay, which I would expect, what conversations has he had with port operators about the operational challenges to their business for hosting what is essentially a residential community long-term?"
The immigration minister replied: "I am not going to comment on press speculation. I will obviously make further statements should we proceed with any significant developments in this regard.
"I have pointed to examples in Scotland and in the Netherlands where the use of vessels has been successful. We don't, as she knows, currently have the powers to detain individuals for prolonged periods of time, and so any form of accommodation would be non-detained."
William Wragg, the Conservative MP for Hazel Grove, suggested the Government was pursuing a "something must be seen to be done policy" by suggesting migrants should be housed on boats, and evoked a 1990s children's television programme as he lambasted the "Rosie and Jim idea of barges all over the place".
South Dorset MP Richard Drax said the use of boats or barges is "totally and utterly out of the question", and will exacerbate existing problems "ten-fold".
Penally
Plaid Cymru's Westminster leader Liz Saville Roberts hit out at the UK Government's plans when details were leaked at the weekend.
Ms Saville Roberts highlighted the problems at the Penally military camp in Pembrokeshire which was used as makeshift accommodation for asylum seekers from September 2020 until the following March.
"Inspectors described the Penally barracks in Pembrokeshire as 'impoverished, run-down and unsuitable'. They found the vast majority of people housed there to be feeling depressed and hopeless, Ms Saville Roberts, Plaid Cymru's Home Affairs spokesperson said.
"Penally was thankfully shut down and people were moved to more appropriate accommodation. But this Tory Government learned nothing from their failures.
"Reports of plans to move asylum seekers to army bases within weeks shows yet again that this Tory Government is driven by cruelty not policy outcomes."
A report by the Independent Chief Inspector of Borders and Immigration (ICIBI) published in 2021 highlighted the deteriorating mental health of residents in Penally and described the base as "filthy" and "impoverished".
The former chief inspector, David Bolt, also wrote to Priti Patel, the then home secretary, criticising her department's failure to consult local authorities over the use of the camps and its "wholly inadequate" health assessments, and "extremely poor" communications.
---
Support our Nation today
For the price of a cup of coffee a month you can help us create an independent, not-for-profit, national news service for the people of Wales, by the people of Wales.