News
More than 70 red phone boxes in Wales available for communities to adopt for just £1
BT has revealed 77 phone boxes in Wales are currently available for communities to adopt for just £1, as the iconic design approaches its 100th birthday.
There are around 850 remaining working payphones across Wales, 260 of which are the traditional red kiosks. Since 2008, more than 500 phone boxes have been adopted by communities across Wales
Architect Sir Giles Gilbert Scott designed the first incarnation of the famous red phone box for a competition in 1924.
In recent years, however, with 98% of the adult population now using a mobile phone, and significant improvements to mobile coverage, there has been a huge decline in the use of public telephones.
Across the UK, around 20,000 working payphones remain in operation. The number of phone boxes across the UK peaked in the 1990s at around 100,000.
BT is now urging communities across Wales to continue to take advantage of its kiosk adoption scheme to help transform its underused red phone boxes for other uses.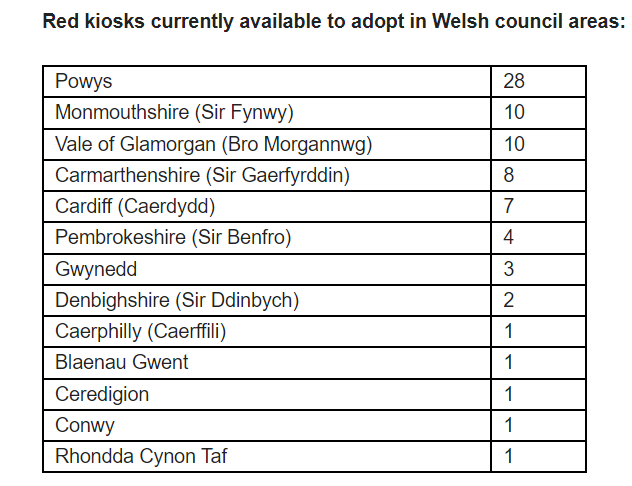 Since BT introduced its Adopt a Kiosk programme in 2008, more than 500 phone boxes have been taken on by communities across Wales for just £1 each.
The kiosks can be adopted by registered charities, community councils and local authorities.
Redundant phone boxes have been adopted and turned into a range of facilities over the years, from defibrillator units and libraries, to mini art galleries and local museums.
BT is continuing to review its remaining estate of payphones, removing those that are no longer being used, in line with rules set out by Ofcom.

Payphone removals
The watchdog revised its guidance last year on payphone removals, reflecting improvements made in mobile coverage and the number of calls made from individual payphones each year.
Michael Smy, Head of Street at BT, said: "With the vast majority of people now using mobile phones, and significant improvements to mobile coverage across the UK, we've continued to see a big drop in the number of calls made from payphones.
"That's why we're continuing to review our payphones estate, making sure we're prioritising the removal of those not being used, in line with Ofcom's latest guidance.
"With the iconic red kiosk about to turn 100, it's a great opportunity to remind communities that would still like to retain their local kiosk to take it on for just £1 through our Adopt a Kiosk scheme. We've already seen some great kiosk conversions across the UK that have become valuable community assets."
Focal point
An adopted kiosk in the rural village or Rowen in Eryri (Snowdonia) National Park has become a focal point for the village.
After the kiosk was adopted by the village's Memorial Hall committee in 2013, volunteers set about turning into a defibrillator site, book exchange and information point for local events and for tourists.
Located next to the Ty Gwyn Hotel in the heart of the village in Conwy county, the kiosk has even been used as a seed swap.
Peter McFadden, trustee of the Rowen Memorial Hall, said: "This red phone box is a much-loved local landmark and a popular meeting place. Some residents have told us that they did their teenage courting there.
"When people stopped using it to make calls, and there was a risk it would disappear, we were determined to keep it and turn it into an important hub for the village. It was an easy process to adopt it from BT and it cost us just £1. Several other villages near here have adopted their phone boxes, having seen ours.
"After a lot of hard work and good ideas from volunteers, it's been put to so many good uses, including a lifesaving one. I'd encourage others to adopt redundant kiosks in their area and turn them into a community asset."
While the first exterior phone box, produced in concrete and known as the K1, was introduced in small numbers in 1921, the red phone box we know today was designed by architect Sir Giles Gilbert Scott for a competition in 1924.
This design, the K2, was introduced in 1926, predominately in London. In 1936, Scott refined his design for the famous K6 introduced across the UK to mark George V's Silver Jubilee.
---
Support our Nation today
For the price of a cup of coffee a month you can help us create an independent, not-for-profit, national news service for the people of Wales, by the people of Wales.