News
Natasha Asghar under fire from fellow Welsh Tories over London mayor bid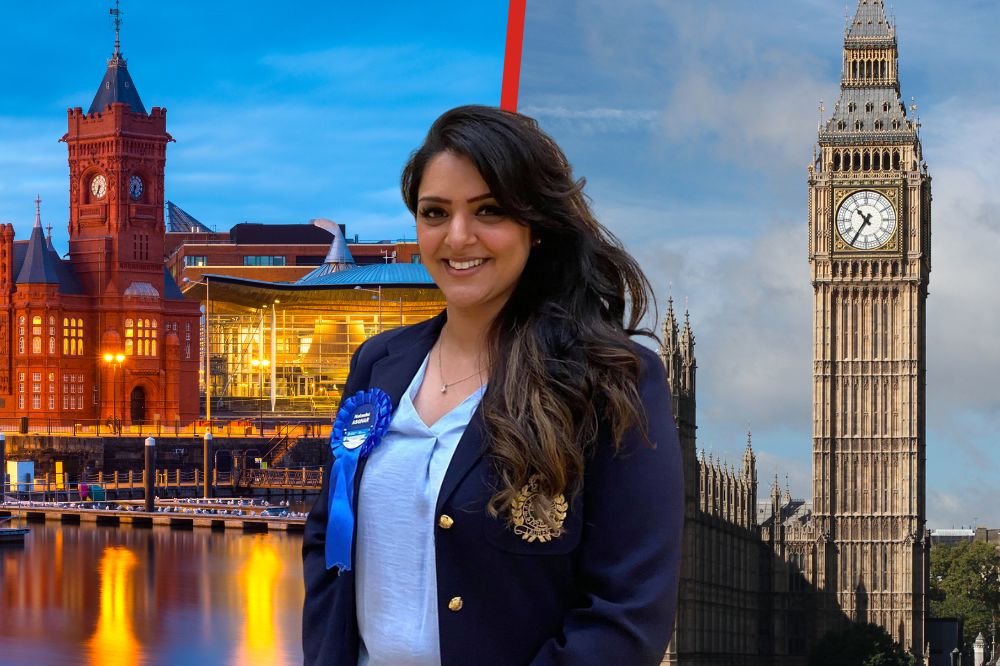 Emily Price
Natasha Asghar has come under fire from members of her own party following her announcement that she has applied to be the Conservative candidate for mayor of London.
The South Wales East MS launched her bid to replace Sadiq Khan as Mayor of London on Monday (May 22) in a social media post that read: "For two years I have been fighting against Labour's policies in Wales – and now it's time to take the fight to London.
"It's time for a change and I can be the breath of fresh air Londoners need."
The post was accompanied by a video in which the South Wales East MS can be seen walking down a London Street saying she has lived in London just as many years as she has lived in Wales.
Less than two weeks ago, Ms Asghar who is her party's shadow transport minister, described herself in the Senedd as a "resident" of Newport during a debate about the introduction of 3 weekly bin collections.
The Conservative MS for South Wales East was elected to the Senedd in 2021 following a stint as a Plaid Cymru candidate.
A Welsh Conservative source in South Wales East who doesn't wish to be named told Nation.Cymru that "quite a few" Tory members are "disappointed" with Ms Asghar's decision to run as a candidate for mayor of London.
The source said: "It was only 11 days ago she stood up in the Senedd to declare she was a 'resident' of Newport, now she lives in London and has done for 20 years? Is it Newport or London?
"Dozens of Conservative Party members placed their trust in her and selected her as a candidate on the regional list.
"She came second on the list and was subsequently elected in 2021. She's only two years into her term as a Member of Senedd and there's a feeling she is 'abandoning ship'.
"There's a real sense of bewilderment and disappointment. It feels like a slap in the face for party members in South East Wales. Everyone is in a state of shock – and not in good way.
"Maybe Natasha should even consider standing down now, to allow someone to represent South East Wales that actually wants the job over the long term. I believe Cllr Matthew Evans MBE is third on the list."

Criteria
The criteria for candidates standing for London mayor requires them to meet a number of legal qualifications.
Mayor of London and London Assembly election rules state that candidates must be a citizen of the UK, Republic of Ireland, European Union or Commonwealth and are registered to vote in London, or have lived, worked, rented or owned property in London for the past 12 months.
Fellow Conservative MS, Laura Anne Jones was asked about Ms Asghar's London ambitions during a Sharp End interview on Monday evening.
The shadow education minister said: "Look I just found out about it on the way here. It's a completely personal decision that Natasha has made. What is imperative now is the largest opposition party in the Senedd – the Welsh Conservatives – focus on the people of Wales."
Sharp End journalist, Rob Osborne replied: "Was the group aware, and the leader aware that she wanted to be the mayor of London?"
Ms Jones said: "Absolutely no idea, I found out about it on the way here, it's Natasha's personal decision."
Rob Osbourne said: "If her priority is now London, does she need to step down from the Senedd?"
Ms Jones replied: "That's a conversation for the future I would have thought, I've literally just found out about it. So I cant really answer that."
When asked whether Laura Anne Jones would back Natasha Asghar's London mayor campaign she said: "I don't live in London."
"April Fool's"
Political opponents have also condemned the Tory MS for entering the London mayor race.
Minister for Economy, Vaughan Gething re-tweeted Ms Asghar's London mayor announcement alongside the caption: "To be fair to him Andrew RT did a much better April Fool's clip – and he got the date right."
Natasha Asghar hit back: "Awww Vaughan I know you'd miss me, but there is no need to be bitter on Twitter."
A Welsh Liberal Democrat Spokesperson said: "This is just yet more evidence that the Conservatives see London as a bigger priority than Wales.
"The people of South East Wales will rightly be confused about this move. Representing a community is a full-time job that requires commitment, Natasha Ashgar will need to have a serious think about where that commitment lies, in Wales or London?"
Sadiq Khan has been the Labour mayor for London since 2016 and plans to secure a third term in the 2024 mayoral election.
If the South Wales East MS were to become successful in her London mayor bid, she plans to scrap expansion of London's ULEZ projects, tackle the housing crisis and restore trust in the Met police.
A Welsh Conservative Senedd Spokesperson said: "Over the last two years Natasha has proven herself to be a great communicator and a fantastic champion of the causes close to her heart.
"We wish her all the best as she enters the start of the process for her candidature."
This is not the first time a video published by the Conservative MS has been the centre of controversy.
In 2021, the Natasha Asghar removed a showreel from YouTube in which she pretended to interview cricketer Sachin Tendulkar and footballer David Beckham.
Nation.Cymru contacted both Natasha Asghar and Welsh Conservative leader, Andrew RT Davies for comment.
---
Support our Nation today
For the price of a cup of coffee a month you can help us create an independent, not-for-profit, national news service for the people of Wales, by the people of Wales.