News
National Theatre Wales accused of hardly staging any theatrical productions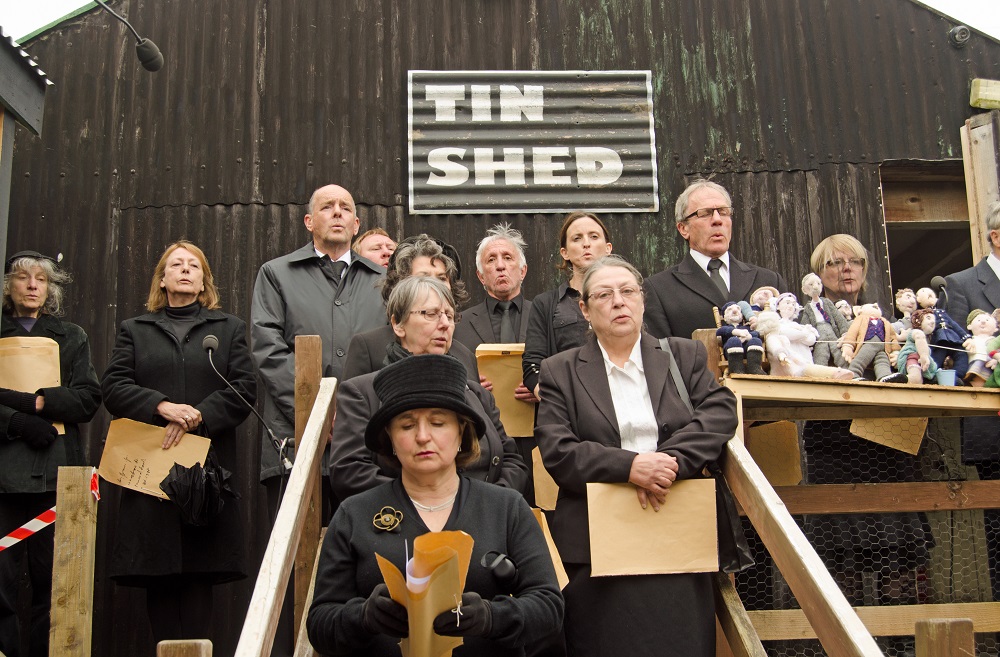 Martin Shipton
National Theatre Wales (NTW), which is fighting for survival after the Arts Council of Wales proposed ending its funding, has been accused by a theatre critic of hardly staging any theatrical productions.
The claim is rejected by NTW, which says it has put on a variety of performances.
Adam Somerset, who edits the Theatre Wales website, wrote: "On September 27 the Investment Review issued by the Arts Council of Wales determined that the national theatre had lost the confidence of its nation. The reason is simple. It has been the only national theatre in the world to have expended effort on a wide scale, and its public subsidy, to not perform theatre for the benefit of its nation.
"This was not easily done. It required the directors to break with the articles of association that govern their actions. It required the directors to not abide by the conditions under which the company benefits from charitable status."
Mr Somerset went on to list a series of "non-conforming" activities he said NTW had spent public money on: "stand-up comedy; an audio-poem; a mural; songwriting; photography; radio; a landscape art installation; a boat ride; a cooking event; gallery exhibitions; and documentary film-making".
He added: "On production quality the company has performed for one week in the last 10 months," and said shows had attracted poor reviews.
One said: "The soupy headache of the play's irregular narrative…heavy without enough levity … themes beaten into you repeatedly while at the same time, not explored with enough depth to uncover new ground."

Superficial
Another review stated: "…the script is underwritten and superficial … so many aspects of intersectional identities and experiences of oppression that it leaves all of them unexamined in favour of a series of strident vignettes…lack of subtlety to the protagonists' experience…hollow and cliched."
A further review stated: "…the script's ham-fisted insistence on rehashing already well-trodden avenues … crowds out any opportunity for the characters to become more than generic stand-ins for a series of topical issues … cannot make up for poor writing".
In a review of 2022, singling out the best productions, Mr Somerset wrote: "Many of the names were familiar, some were new. The National Theatre of Wales was mentioned not once.
"Nor did the National Theatre make the end-of-year lists of 2021. The records for 2019, 2018, 2017 are the same, the National Theatre not making the top 10 lists.
"Not a production of the National Theatre has been strong enough to be included in a best-of-year retrospective since 2016. The entry that year was a Gagglebaggle production with only a co-production credit for the company."
Mr Somerset wrote: "The company has presented one week of public performance so far in 2023. In the period April 2023 to January 2024 there will be 13 days of public theatre. In 2022 the company did not perform on 340 days of the year.
"In 2021, 15 companies of Wales preceded it in performance after the pandemic. By the time it managed a first performance – a production which received scathing reviews across the board – Theatr Genedlaethol had already completed two tours."
"The last international activity dates back to the first period 2008-2015."
Mr Somerset concluded: "The decision made by the Arts Council of Wales has been thoroughly vindicated. The public of Wales should be grateful to its new management."
Activity
A spokeswoman for NtW responded: As a charity, all of NRW's annual reports outlining our activity and reach can be found on the Charity Commission website. Due to the nature of some of our projects, for example in Pupil Referral Units, we do not share all activity publicly on our website, but they are reported on in our annual report. During our first 12 years, we have connected with 331,000 live audience members; last year, we reached 2.5 million people digitally and 54% of our 34,000 audiences were children and young people."
The spokeswoman went on to list some of NTW's projects since 2020:
* 14 Network commissions with the BBC and Theatr Genedlaethol Cymru, which you can explore in our archive, including six play readings in digital spaces and eight digital commissions;
* Dat's Love with Rakie Ayola – reviewed well;
* Possible – which had 4 stars in The Guardian;
* FRANK – Received a very strong critical and public response;
* Go Tell the Bees – which involved 4,300 people as participants and audiences attending sold-out live showings of the film (created due to lockdown restricting live performances) – and over 90,000 people engaging digitally;
* Petula – nominated for UK Theatre Award;
* Circle of Fifths – sold out performances and a strong critical response;
* GALWAD – Five million+ reach globally; finalist in the SXSW Innovation Awards 2023 for immersive storytelling;
* A Proper Ordinary Miracle – sold out, strong critical response. A project conceived, developed and delivered by over 250 artists in and around Wrexham. The culminating show involved 150 theatre makers and 550 audience members across nine fully booked shows over six days;
* The Cost of Living, engaging 60 freelancers and 800 audience members;
* Kidstown, reaching 2,600+ children and grown-ups over 16 days with positive feedback across press and audiences;
* Remount of Circle of Fifths and tour to eight venues across Wales and London, with three dates already sold out;
The spokeswoman added: "Alongside these projects and productions, we have year-round activity including:
* Through TEAM and other collaboration activities, we deliver outreach and engagement work across Wales: from young people and children in schools and with those outside mainstream education, to projects for all ages with a range of partners, from Foster Care Wales to Pembrokeshire Pride to Refugee Week.
* Holding Creative Chats and Freelance Fridays every week for theatre makers alongside creative talent development opportunities like an Industry Day for 100 theatre makers in March exploring better models for supporting and empowering freelance networks to create and deliver projects in partnership with larger organisations.
"We are constantly developing new theatre projects, from seed commissions to research and development weeks from Caernarfon to Grangetown, such as with Krystal S. Lowe and Jeremy Linnell.
"We offer sector upskilling opportunities across many areas such as sustainability and our series of talks for theatre makers across Wales on the climate crisis.
"Regarding our international work, GALWAD in 2022 had an international reach of over five million people. Looking forward, we have plans to tour a show to Australia and Canada; we are in advance conversations with other European national theatres for new co-productions; and we are developing a high profile co-commission with a producing partner in New York. Over the summer, we ran a two-week workshop of a new large scale musical theatre show with commercial touring potential and invited international promoters."
Flatter
Responding to NTW's claim to have connected with more than 331,000 live audience members in its first 12 years, Mr Somerset said: "The numbers that are cited are done so with the intention to flatter the current management. The board and management seeks an association with former management teams at the company that is spurious. The attitude to the founding artistic director and producer is evident in the removal of all reference to them on the company website.
"The period under scrutiny is the stewardship of the current management that dates from March 2020.
"The number of 331,328 audience members … leans heavily on the early period of the company. From that total City of the Unexpected [performances to celebrate Roald Dahl's centenary in 2016] quite likely accounts for as much as 10% of the total. The Passion [which featured Michael Sheen playing Jesus in Port Talbot] will make up another significant percentage. Many of the early productions will add numbers in the thousands to the total.
"The strategy of the company in its last period has been to minimise the number of productions and, within that, to minimise audience numbers."
Mr Somerset also took issue with NTW's assertion that defunding it would reduce the amount of employment available for theatre workers in Wales. He said: "This is false. It muddles loss of grant to the company with loss of income to the arts. The reallocation of capital to higher productivity organisations raises employment."
NTW has appealed against the Arts Council's decision to strip it of funding.
---
Support our Nation today
For the price of a cup of coffee a month you can help us create an independent, not-for-profit, national news service for the people of Wales, by the people of Wales.