News
New group launches outspoken attack on energy company over pylon plans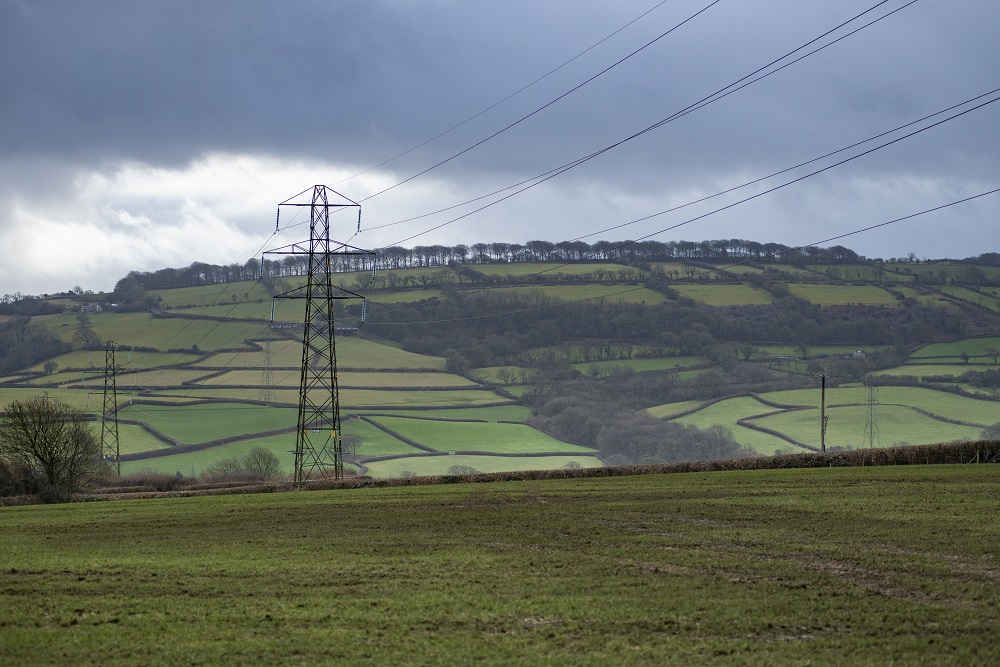 Martin Shipton
A newly formed campaign group has accused a renewable energy company of not being candid about its plans to build a network of pylons across Wales.
RE-think: Don't Break the Heart of Wales was launched this week and has already clashed with Bute Energy and its sister firm Green GEN Cymru.
RE-think's chair, former BBC investigative journalist Jenny Chryss, said: "We are campaigning for future large-scale wind energy developments to be built offshore, rather than covering Mid Wales and beyond with pylons and infrastructure, as is being proposed at present. We also support research into a variety of other renewable energy technologies, and the construction of small scale onshore projects, built close to the communities which require them.
"We understand that the electricity distribution network in Mid Wales requires upgrading, but we don't believe that the current proposal for a 60 mile line through Mid Wales connecting to the grid in Carmarthenshire will benefit local communities at all. We are an entirely voluntary organisation and accept that we have a huge task on hand to change Welsh Government and commercial mindsets, but we are going to exert as much influence as possible on the relevant decision makers and developers."
Ms Chryss went on to make a series of trenchant criticisms of Bute Energy, which has subsequently denied the factual accuracy of one of her central allegations.
She said: "We seem to have a bizarre situation whereby Bute Energy and Green GEN Cymru are saying one thing to some people and another thing to others. They've clearly briefed the CLA [Country Land and Business Association] about a proposed Phase Two [power] line running between Radnor Forest and Lower Frankton in Shropshire, because the CLA has written several articles about it. Yet when I raised it during the public consultations, they repeatedly denied it.
"Can't they see how this confusion just adds to the distress and worry felt by people living down here along Phase 1 of the route? The fear is growing locally that the current proposal is just a 'stalking horse' for a much bigger power line plan. It's now looking as if the sub-station that's part of the Radnor Forest proposal could be intended to do a lot more than just connecting the wind turbines there up to the line.
"The notion of Radnor Forest becoming the hub of some sort of major power network linking England and Wales is beyond ridiculous."

False trails
Ms Chryss added: "People need from the companies a clear statement about what is really being planned. They seem to be laying false trails for their own commercial benefit which gives one no confidence at all that they are interested in supporting local communities in Wales.
"Bute Energy says it will be 'powering Wales'. I'd like them to explain their reasoning. As I understand it, these lines will take the output from their energy parks straight to England, via either Carmarthenshire or Shropshire. Unless they have other plans that we don't know about, there is nothing in this for Wales at all.
"In their current proposals there's no sign along the route of any sub- stations or connection apparatus that would be required to distribute off to local communities. This plan is for a transmission line in everything but name.
"The Bute Energy group has behaved disgracefully and treated members of the public who would be affected by these dreadful plans with complete contempt. I'm afraid that they simply don't have the 'community buy-in' sought by the Welsh Government for developments like this. I hope that fact will be recognised by the Planning Inspectorate if it ever gets to that stage."
Misunderstanding
Charles de Winton, rural surveyor for CLA Cymru, said: "Where the complete picture isn't available there's scope for misunderstanding and speculation.This is understandable. The proposed Bute Energy / Green GEN Cymru power line is still under development, and there are still questions to answer about further steps.
"Landowners continue to express concern about the impact of the project on the landscape, their business, privacy and property rights. Some have been contacted with a request for surveying by agents for the developers. Many potentially impacted have taken part in Bute's statutory public consultation events and/or other public meetings.
"I'm hearing a variety of concerns from members and continue to inform and advise according to their individual needs or concerns. At the same time we're also engaged with Bute representatives – keeping us updated and also enabling us to make inquiries. I'm prepared to challenge the proposals where relevant."
A spokesperson for Green GEN Cymru said: "Green GEN Towy Usk is a renewable energy network which will link Bute Energy's Nant Mithil Energy Park in the Radnor Forest area and a number of other energy parks in the early assessment and feasibility stage, to the National Grid at a point near Carmarthen. And it will reduce pressure on the existing electricity grid, supporting green businesses and enabling green heating and the roll out of electric vehicles across rural Wales.
"For the avoidance of doubt, we are not proposing to connect the Nant Mithil Energy Park, or Green GEN Towy Usk, to the National Grid in Shropshire.
"In our recent consultation and engagement activity we spoke to more than 2500 people, listening to their views on our proposals. Over the next few months we will be reviewing feedback from local people, along with reports from environmental and technical surveys and use it to evolve the design and routing of the project, considering the issues that have been raised.
"We anticipate that our next round of consultation will be in early 2024, ahead of submitting an application for a Development of National Significance to the Welsh Government in 2025.
"Accurate information on our proposals to connect clean, green energy to the National Grid can be viewed at www.greengentowyusk.com. If anyone has any questions on our plans they can contact us on 0800 3777 339 or by email at info@greengentowyusk.com."
---
Support our Nation today
For the price of a cup of coffee a month you can help us create an independent, not-for-profit, national news service for the people of Wales, by the people of Wales.