News
New projects launched to help children with speech and language difficulties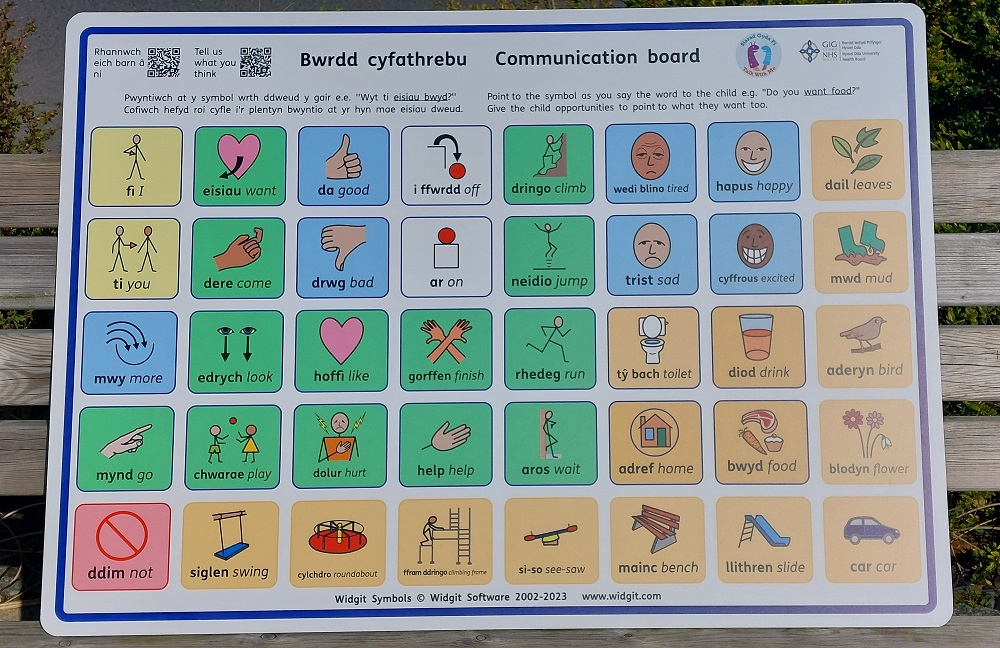 Children across Wales who have difficulties with their speech and language will soon benefit from two initiatives, thanks to almost £300,000 of funding from the Welsh Government.
The first will see the rollout of hundreds of symbol-based communication boards across Wales.
These boards are designed to support interactions, play and fun between children of all ages and abilities, their peers and their families during their time at play parks.
The boards, which have been designed by a group of specialist Speech and Language Therapists, contain a range of universal symbols and useful words in both Welsh and English and are designed to be pointed at by children and their families or carers to convey what they want to say.
It is also hoped that the symbols will support the learning of new words in both languages.

Exciting
Libby Jeffries, Speech and Language Therapist at Hywel Dda University Health Board and National Lead for the communication board rollout, said: "Having the opportunity to provide an extremely valuable tool for children and their families across the whole of Wales is really exciting.
"Following the success of our pilot project in Ceredigion, we've worked hard to ensure that children across the country could benefit from this initiative. We have learnt from feedback that not only do the boards provide an alternative way of communicating, but they can be used as a tool for Welsh and English language learning, and also importantly help to raise awareness of different ways of communicating and communication difficulties."
Carol Schuurman from Ceredigion, whose son is autistic and is non-speaking, has recently come across a communication board installed in their local park. Carol said: "When we were in the park my son had come off the slide and he then walked towards the communication board independently, and I followed.
"It was the first time we'd seen it, and he was able to point to the drink symbol to indicate he was thirsty. I realised I had left his water bottle in the car, so I went to get it and he then gulped it down.
"This was the first time he has communicated to me in this way that he needed a drink, and I wouldn't have known he was thirsty unless the board had been there.
"The easy communication between us made me feel warm and fuzzy. Just because he can't verbalise it doesn't mean that he doesn't have a lot to say. We need to find the tools to help him thrive in this world, just like this one. It was empowering."
The rollout of the boards has been made possible through £26,000 of funding from the Welsh Government's Talk With Me programme, which shares speech, language, and communication skills advice with parents and caregivers for children aged between 0-5.
High-tech
The second project is aimed at helping to provide a voice for children who are non-verbal or who have limited speech through the use of a specialist high-tech device.
Voice output communication aids are already available for certain children who have difficulties with speech, but currently Welsh children using the devices are limited to either English accented children's voices or Welsh language adult voices.
Funding of £271,000 provided by the Welsh Government is set to change this, with a series of children's voices now being recorded in both the English and Welsh language.
The aid have been developed in partnership by Cardiff and Vale University Health Board, speech synthesis company, CereProc and Bangor University, which is responsible for the Welsh language side of the project.
In total, 16 new voices will be available, reflective of the regions and dialects across Wales.
Welsh voices
Dr Jeffrey Morris, Head of the Electronic Assistive Technology Service for Wales and leading the delivery of the new Welsh voices, said: "Due to the cost of development, companies operating in this field have unfortunately previously been unable to prioritise dialects and language models, and so we are thankful to the Welsh Government for stepping in and funding this important work which will have an immense impact on the children who rely on these devices.
"We anticipate that these new voices will further reduce barriers to children using high-tech communication devices in Wales, allowing them to speak with an accent and language representative of their family and peers."
It is expected that the new voices will be available to children through NHS Wales later this year.
To find out more about the Talk With Me programme and to download a free Parent and Carer Pack, visit: https://www.gov.wales/talk-with-me.
---
Support our Nation today
For the price of a cup of coffee a month you can help us create an independent, not-for-profit, national news service for the people of Wales, by the people of Wales.