News
New report recommends buses should be exempt from 20mph default speed limit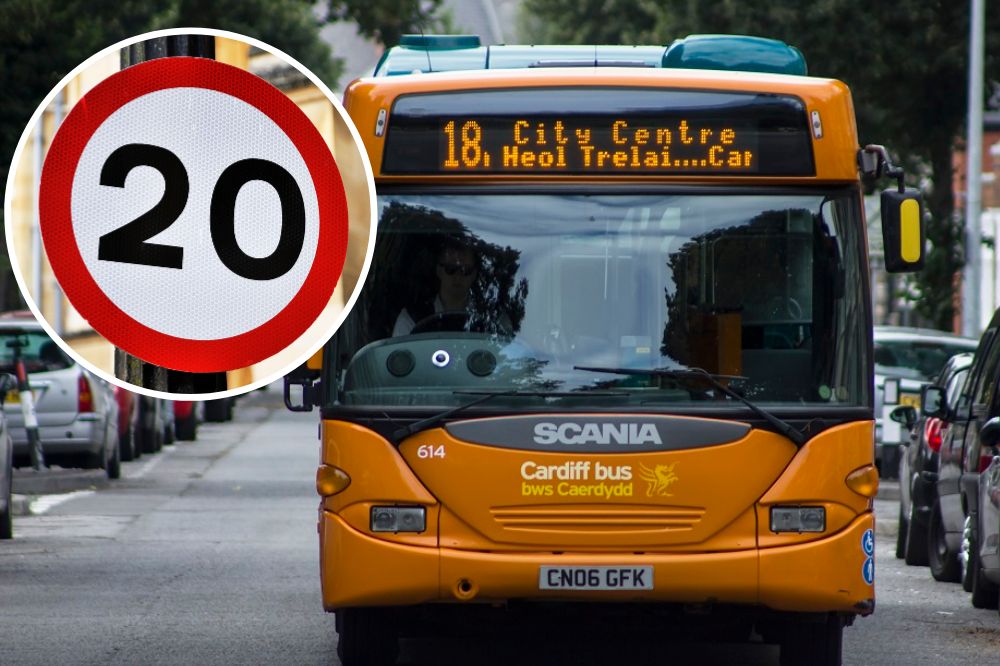 Emily Price
A new report has recommended that buses in Wales' cities should be exempt from the 20mph default speed limit in order to make public transport more competitive compared to driving a car.
The 'Fare outcomes – Understanding Transport in Wales's Cities' report form the Centre for Cities looked at the Welsh Government's goal 45% of journeys being made by public transport, walking and cycling by 2040.
Centre for Cities is a charity and a research and policy institute which looks at how to improve the economic success of UK cities and large towns.
The report looked at the roles different parts of Wales will play in increasing public transport usage and the policies required to help make this happen.
It explored the challenges facing public transport in four Welsh cities – Cardiff, Swansea, Newport and Wrexham and asked why the car continues to dominate.
One of the recommendations detailed in the report suggested that buses in city bus lanes are made exempt from the Wales' controversial new 20mph default speed limit.
It recommended: "The local authorities should exempt bus lanes from the new 20mph speed limit when they find it safe and appropriate.
"This could make public transport more competitive against the car and increase the benefits of building new bus lanes.
"By restricting these speed exemptions only to bus lanes, this should not create a safety issue with other modes of transport."
Since 2008, rail ridership has been increasing in Wales but this has been dwarfed by the decline in bus use.
Rail passengers rose by 4.3 million a year between 2008 and 2019, while the local bus passengers fell by 34.3 million a year in the same period.
The report, which was commissioned by TUC, found that bus fares rose above inflation at the same time as ridership declined and Wales was noted as the nation where bus supply declined the most in the UK in the last 15 years.
Researchers found that despite some local authorities having their own bus operators, bus regulation is likely to have "affected Wales negatively" as metrics around fares and the supply of services show the "overall weakening" of public transport in Wales.
The report also recommended assessing how bus franchising – proposed in a last year's white paper – could improve on the current deregulated system in parts of Wales, and how it might be funded.
Research suggested the biggest potential for increasing public transport lies in Wales' capital thanks to its size and its high share of jobs located in the city centre.
It suggested evaluating different revenue options currently under consideration by Cardiff City Council with the recommendation of implementing a £3 congestion charge in a small area of the city centre.
The report stated: "The number of hours lost to congestion makes the city poorer, leaves workers with less time for housework and leisure, and makes air quality worse.
"Public transport improvements may not be enough to reduce congestion alone. Research on this topic is mixed.  As a result, the congestion charge being discussed is a step in the right direction."
The report also recommended that the Welsh Government ask the UK Government for powers to raise fuel duty and use revenue to support public transport services.

Feasible
It stated: "According to the ONS, a fuel duty freeze will cost the UK Exchequer £15.1 billion between 2023/24 and 2027/2028, more than the funds the UK Government has allocated to the City Region Sustainable Transport Settlements until 2031.
"The Welsh Government would receive around £500 million from that total if it accounts for the same amount of fuel duty revenue as it does in terms of GVA (3.4 per cent).
The report also suggested the Welsh Government introduce a workplace parking levy in cities to "directly disincentivising driving" and channel the revenue towards public transport improvements.
Paul Swinney, Director of Policy and Research at Centre for Cities, said: "The Welsh Government has set an ambitious target of increasing public transport ridership and active travel to the point where they make up 45 per cent of all journeys.
"Some parts of Wales are better placed to help the nation achieve this than others. It's hard to get people out of their cars in rural areas where there are few alternatives. But it should be much more feasible in its urban areas, especially in and around Cardiff.
"And it will require a range of interventions that are all geared towards making public transport the most convenient option. This will require investment in building new stations and stops for example, and considering whether, where safe to do so, exempting buses from the 20mph limit."
"Unacceptable"
Commenting on the report, Welsh Conservative Shadow Transport Minister, Natasha Asghar MS said: "It is undeniable that the Labour Government is waging a war on Welsh motorists and this report gives Labour all the excuses they need to enact their attacks.
"Road charging, workplace parking charges and raising fuel duty for Welsh motorists is completely unacceptable.
"People should not be punished for driving their car. The Labour Government is all stick and no carrot, with workers being let down by unreliable and expensive public transport. If Labour act on the recommendations it will paint a worryingly dystopian future for Wales."
A Welsh Government spokesperson said: "We have been clear from the outset that we would monitor any impacts of the 20mph on bus services. We are working closely with bus operators, local authorities and TfW to tackle the challenges the industry is facing.
"Dedicated bus lanes and simple measures at traffic lights and at junctions help to unblock congestion and give buses an extra boost in traffic black spots, making journeys more viable and reliable. We have also made £6m available this year, and £5m available next year for bus priority measures.
"There are no plans to introduce congestion charges on trunk roads in Wales."
---
Support our Nation today
For the price of a cup of coffee a month you can help us create an independent, not-for-profit, national news service for the people of Wales, by the people of Wales.