News
New water quality monitoring programme gets underway at Barry beaches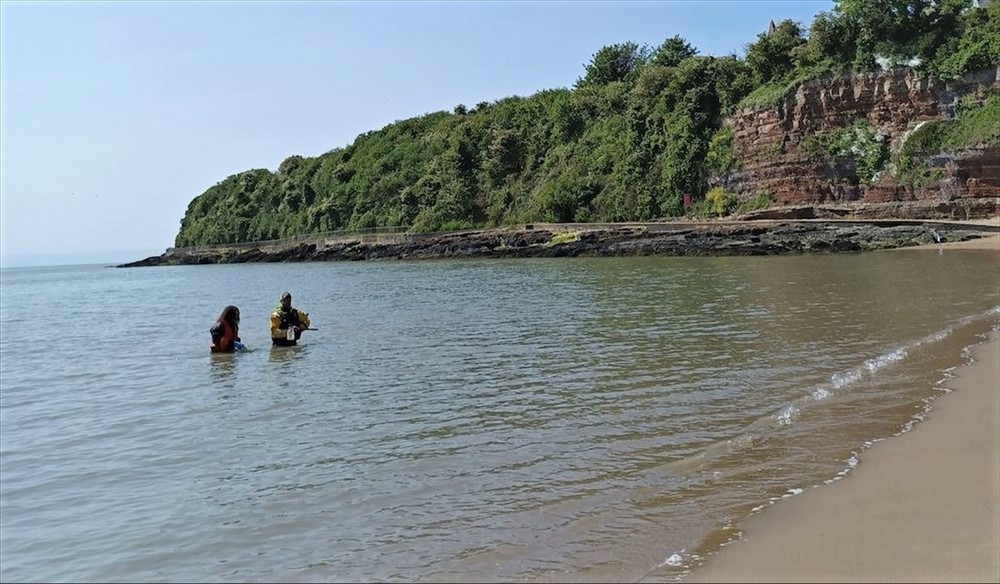 A new project is underway to provide real-time information to bathers on predicted water quality at beaches in Barry.
The partnership project between Natural Resources Wales (NRW) and the Vale of Glamorgan Council is running a water sampling programme at Whitmore Bay and Jackson's Bay this summer.
The results of the samples taken will be used to develop a pollution risk forecast model.
The waters at the beaches on Barry Island are popular with bathers, but water quality at the beaches can vary as they are in urban catchments.
Whitmore Bay's water quality is currently classed as 'Good', but prior to 2020 it was regularly 'Excellent'.
Jackson's Bay's water quality is currently classed as 'Sufficient', but is at risk of dropping to 'Poor'.
Prior to 2020 it was regularly classed as 'Good'.
The project will use the sampling data, along with meteorological data, including as rainfall, UV radiance and river level data to develop statistical models to better understand what is affecting the water quality at the beaches.

Predicted water quality
The aim is for these models to be used to provide information to bathers on the predicted water quality  over the course of a day during the bathing season, which runs from 15 May until 30 September.
Cllr Mark Wilson, Cabinet Member for Neighbourhood Services, said: "Barry's beaches regularly welcome hundreds of thousands of visitors each summer. We know the significance of our beautiful beaches to our residents' and visitors' health and well-being.
"We are proud of our beaches in Vale and recognise the importance of public health to our communities. We hope that this project, with the ability to predict water quality, will help us in our commitment to improving public health.
"It is hoped that the partnership project will eventually improve the water quality classifications of Barry's favourite beaches."
Fiona Hourahine, Operations Manager for NRW, added: "Keeping Wales' bathing waters clean and safe for people and wildlife is a huge part of the work we do.
"We've been working with Vale of Glamorgan Council for years to monitor the bathing water quality around Barry.
"Introducing pollution risk forecasting in Barry will inform beach management decisions and provide timely water quality advice to the public to enable them to make an informed decision whether to swim.
"It will also offer resilience to the overall bathing water classifications through discounting of a sample in certain conditions when a warning of predicted poor water quality is given to people, under strict guidelines set in the legislation."
Classification system
The Bathing Water Regulations 2013 introduced a classification system with stringent water quality standards and puts an emphasis on providing information to the public.
During the bathing water season, NRW takes samples from each of the 109 designated bathing waters around Wales.
Annual water quality classifications are determined from a statistical analysis of the preceding four years' results.
The sampling programme at Whitmore Bay and Jackson's Bay this summer will be carried out by the Centre for Research into Environment and Health, which has also been contracted to develop the models.
The new project is funded by the Welsh Government under NRW's Nature and Climate Emergency Programme.
General information about the bathing waters can be found in the bathing water profiles on NRW's bathing water explorer hosted on the NRW website.
---
Support our Nation today
For the price of a cup of coffee a month you can help us create an independent, not-for-profit, national news service for the people of Wales, by the people of Wales.