News
NHS accused of ignoring fraud regulations in Velindre Hospital row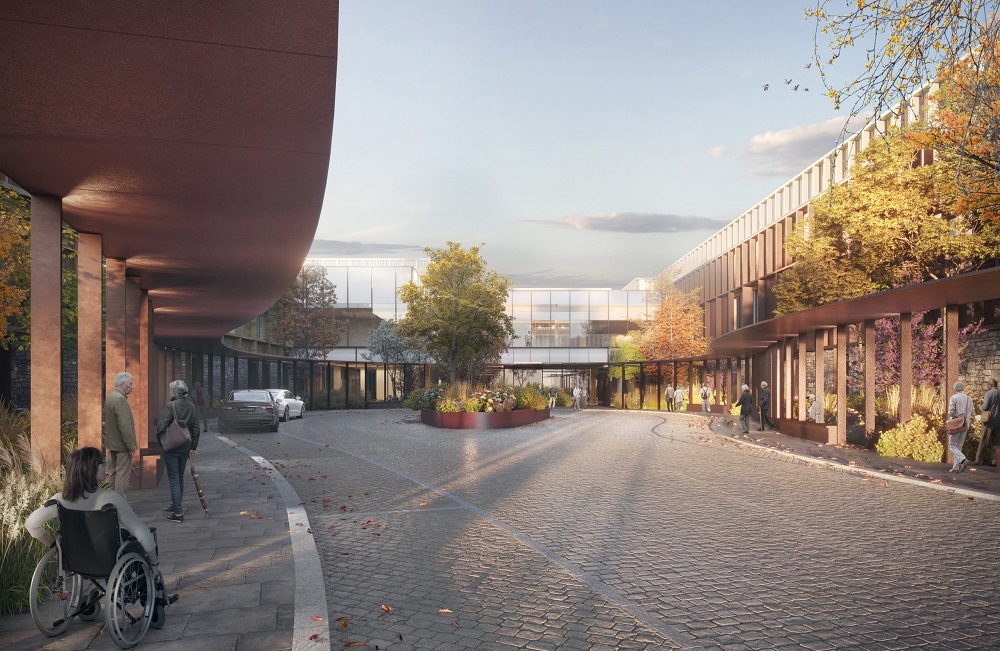 Hospital campaigners have accused an NHS Trust of ignoring a crucial piece of anti-fraud legislation by allowing two companies convicted of bid-rigging to form part of a consortium that has been earmarked to build a new cancer centre for south Wales.
The Acorn Consortium is the preferred bidder for constructing the new Velindre Hospital in Cardiff – a project that has faced strong opposition on environmental and medical grounds.
Nation.Cymru has published how two of Acorn's members – the Kajima group and Sacyr – have been found guilty of fraud offences in Japan and Spain respectively.
Kajima was sentenced for bid-rigging in March 2021, with one of its executives receiving a suspended prison sentence and the company itself being fined 250 million yen (around £1.53m) for its role in the scandal, which involved a number of firms colluding with each other on the construction of a railway line to maximise their profits.
Sacyr received a penalty of €16.7m in July 2022 for its part in creating a cartel aimed at aligning bids for government contracts.
Now the campaign group Colocate Velindre – which argues that the new cancer centre should be built adjacent to a district general hospital rather than as a stand-alone facility – says the two firms should be barred from participation in the Welsh project because of a crucial part of the UK's Public Contracts Regulations 2015.
Regulation 57 states that companies will be excluded from the procurement of public contracts if they have been convicted of fraud offences.

Scandal
A spokesperson for Colocate Velindre said: "No-one's denying that the lead firms have received this criminal conviction. Yet the Health Minister and New Velindre appear comfortable with what others see as a scandal. Surely such an NHS project compromises the Welsh Government's acclaimed 'zero-tolerance' towards fraud. Both it and new Velindre seem to be swerving a major UK-wide policy and strict regulations for fraud prevention.
"Comments from both these parties still insist that Velindre has followed the advice of officers showing 'due diligence'. This may seem to bat away awkward questions, especially when it's further claimed that the legal status of the two companies was considered. However, for medical campaigners, the Welsh Government's claim of 'due diligence' only pours fuel on a many-flamed scandal.
"To be fair, no-one disagrees that the compulsory exclusion of a firm for fraud prominently features as part of Regulation 57. This measure repeats through every incarnation of UK-wide fraud prevention measures.
"The landmarks include the updated bill going through the UK Parliament right now. Plainly all governments are serious about maintaining this particular shield against fraud, regardless of whether the enforcement seems weak. The Auditor General for Wales, evaluating the countering of fraud in Wales, underlines those same standards.
"Medical campaigners therefore insist that it's the solemn duty of the Welsh Government and NHS bodies to comply with, and enforce, such measures without wavering, whatever inertia and complacency is going around. To be sloppy or loose here for whatever reason is in itself a scandal."
Wrecking ball
The Colocate spokesperson added: "Velindre hosts the Counter Fraud Service (Wales) Team and employs its officers. It would be a red-hot scandal if counter-fraud officers this close to Velindre had not censured what looks like a blatant infringement of Regulation 57. But it would be a white-hot scandal if New Velindre had ignored vetoes or conspired to hide the issue. Either way, a wrecking ball has been taken to a pillar of national and international fraud prevention protocols. More offending companies and sloppy authorities will surely feel safer now. How is this not a scandal when led by the government itself?"
A Velindre University NHS Trust spokesperson responded: "The robust procurement process has been undertaken in line with procurement law, UK and Welsh government policy and all required due diligence has been undertaken."
The spokesperson was asked to explain why it was thought that Regulation 57 did not exclude Kajima and Sacyr from the New Velindre project, but did not offer an explanation.
Meanwhile, in response to Colocate Velindre's concern that the total cost of the project was heading towards £1bn, the Velindre spokesperson said: "The capital cost of the new Velindre Cancer Centre is being finalised in discussions with the Acorn Consortium ahead of financial close of the project agreement.
"Furthermore, and as previously stated, it is also important to remember that the cost includes not only the capital value of construction, but also the cost of funding, maintenance and lifecycle investment over the contract life of 25 years from opening.
"As outlined previously, our current cancer centre does not have the facilities or space to meet the future needs of patients. The new cancer centre is vital for us to keep pace with increasing demand for non-surgical cancer services as the number of people referred to us with cancer grows every year. Over the coming decades, the state-of-the-art cancer centre will support the region in significantly improving the quality of care, patient experience and outcomes.
A spokesman for the Welsh Government said: "Velindre will lead on responding to this."
---
Support our Nation today
For the price of a cup of coffee a month you can help us create an independent, not-for-profit, national news service for the people of Wales, by the people of Wales.