News
NHS Wales data reveals ambulance wait times are second worst on record ever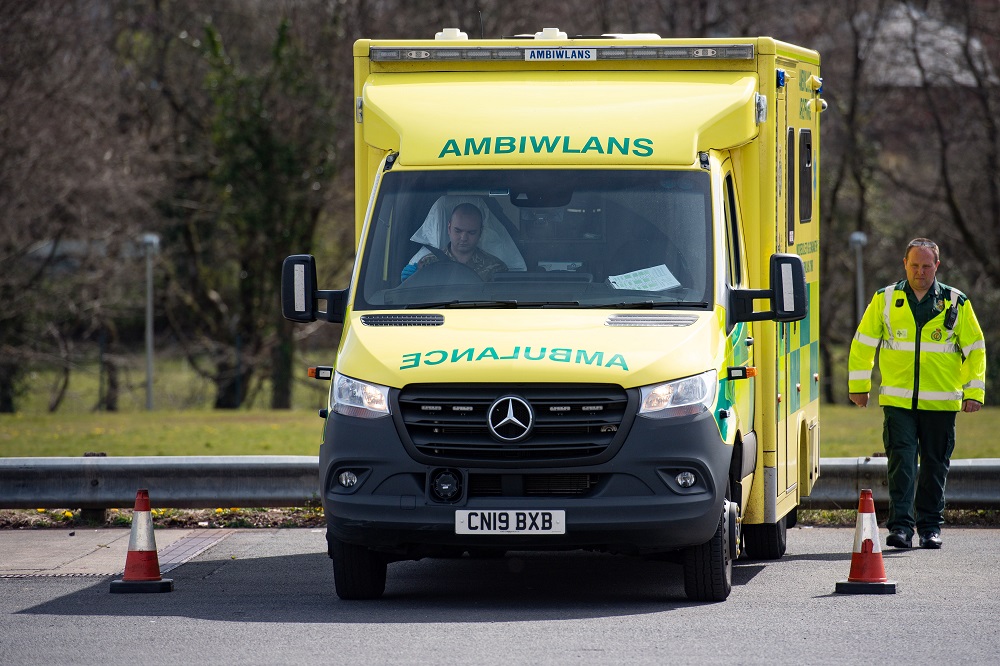 The latest NHS Wales performance data has revealed that ambulance response times are the second worst on record ever.
The data released by the Welsh Government on Thursday showed that waiting lists for therapeutics and diagnostics have increased, and ambulance response times are worse compared to the previous month.
Only 47.5% of immediately life-threatening 999 calls were attended to within the eight minute target in March – this is a failure to meet the 65% target for the 32nd month in a row.
The average response time to the most serious emergency calls was eight minutes 24 seconds which is 30 seconds slower than the previous month and 34 seconds slower than the same month in 2022.
The number of patients well enough to be discharged but left waiting in hospital for an appropriate package of care dropped below 1000 to 865.
The figures also showed that waiting times for hospital treatment had made some "headway" with the number of patient pathways waiting to start treatment falling from around 734,000 to 731,000 – a fifth consecutive decrease.
The number of patients waiting longer than one year for a first outpatient appointment decreased to around 63,000, a reduction of 39% from its peak last August.

Patient flow
The number of patient pathways waiting longer than 36 weeks fell to just over 237,600 which is the lowest since June 2021.
In March, the Welsh Government set a target that no one would be waiting for more than 2 years for treatment.
About 37,500 pathways were waiting more than two years which is 47% lower than the peak in March 2022.
The Minister for Health and Social Services, Eluned Morgan said: "I expect to see these positive trends continue, as actions including our investment in extra community beds to improve patient flow through hospitals bear fruit."
Waiting times in emergency departments have worsened with he average waiting time a patient spends in A&E at two hours and 41 minutes – four minutes slower than the month previous.
69.5% of people arriving in A&E were admitted, transferred and discharged within the four hour target time frame.
But 10,045 people spent more than 12 hours A&E departments before being seen.
Eluned Morgan said: "Emergency care services have borne the brunt of the recent pressures, with an increase in ambulance call volumes and presentations at emergency departments.
"Performance at major emergency departments in Wales has bettered English performance for the last seven months and has remained stable in contrast to all other parts of the UK."
52.5% of cancer patients began treatment within 62 days compared to 50.1% the previous month – falling short of the Welsh Government's 75% target.
"Mis-management"
Plaid Cymru have criticised the figures and have claimed the missed waiting time targets are a "symptom" of general Labour mis-management of health in Wales
Plaid is now raising questions over Labour's "credibility" in terms of running the health service, in light of new waiting times figures.
Plaid Cymru spokesperson for health and care, Rhun ap Iorwerth MS said: "The continued inability to get on top of unacceptable waiting times is another symptom of Labour Welsh Government's general mismanagement of health in Wales.
"We've seen that most recently with Betsi Cadwaladr health board being put back into special measures, just two years after it came out. We see that with staff shortages, attitudes towards those taking industrial action and with the mess that is the dental service. Most starkly, we can see that today with waiting times that are simply too long and affect far too many people.
"Government's inability to improve waiting times sufficiently for patients – missing their own targets in the process – raises serious questions about Labour's credibility in terms of running the health service.
"Plaid Cymru has already published a five point plan which gets to the heart of some of the key issues within our NHS, and it focuses on the things we believe will make a real and positive difference to everyone across the health service – front line workers, patients and those that administer it.
"I don't think it's impossible for us to put together a vision and to deliver on that vision in a way that delivers better healthcare than we currently see being delivered here in Wales today. But when Labour can't manage to their own targets, it makes it really hard to have the confidence we need in their ability to fix these issues."
Welsh Liberal Democrat Leader Jane Dodds MS said: "We cannot wait years for Labour and Plaid Cymru's long-promised social care reforms. It has been almost 2 years since they agreed to tackle the issue together and yet we have seen no results or even concrete suggestions at this stage.
"People are dying now while waiting for an ambulance or in A&E because hospitals aren't able to discharge patients into social care.
"We need to see the Welsh Government urgently set out an emergency plan to deal with the crisis in social care, it is only then will we see any real improvement in our A&E departments."
Welcome
Macmillan Cancer Support welcomed the improvement in cancer treatment waiting times but has warned that far too many people still facing anxious delays in Wales.
Responding to data released today, the charity said the fact remains that almost 1 in 2 people with cancer are not being treated on time, with February alone seeing 747 people with cancer being left to face anxious delays.
The charity has also raised significant concern over a widening variation in treatment times for different types of cancer.
In February almost three quarters of people with head and neck cancer faced delays in receiving vital treatments, with only 27.7% being treated within the target timeframe of 62 days – a 10% reduction from the previous month.
Concerns also exist for lower gastrointestinal and gynaecological cancers, where only around a third of patients received their treatment on time.
Richard Pugh, Head of Partnerships for Macmillan Cancer Support in Wales said: "Only last month we warned that people with cancer faced a 50-50 chance of receiving their treatment on time, and any signs that Wales is beginning to reverse that decline must be welcomed.
"However, national targets have never been met in Wales and there has been a consistent downward trend in recent years. While performance does fluctuate, the hope now is that this can become the start of a sustained period of improvement.
"The aim must be that everyone with cancer receives life-saving treatment on time and that people with cancer are spared the huge emotional turmoil of treatment delays, and the anxiety that their condition will worsen while they are forced to wait.
"Wales has a new cancer services improvement plan, and we now need to see leadership from the Welsh Government and sustained, urgent action against that new plan to meet the ambitious target of treating 80% of people with cancer within 62 days.
"While we are still very far away from this target, today's figures at least represent a welcome step in the right direction.
"Macmillan continues to do everything we can to help, and we are here for anyone with cancer and their loved ones. For advice, information or a chat, you can call us free on 0808 808 0000 or visit macmillan.org.uk."
---
Support our Nation today
For the price of a cup of coffee a month you can help us create an independent, not-for-profit, national news service for the people of Wales, by the people of Wales.