News
Nicola Sturgeon says the time is 'right' to go as she announces resignation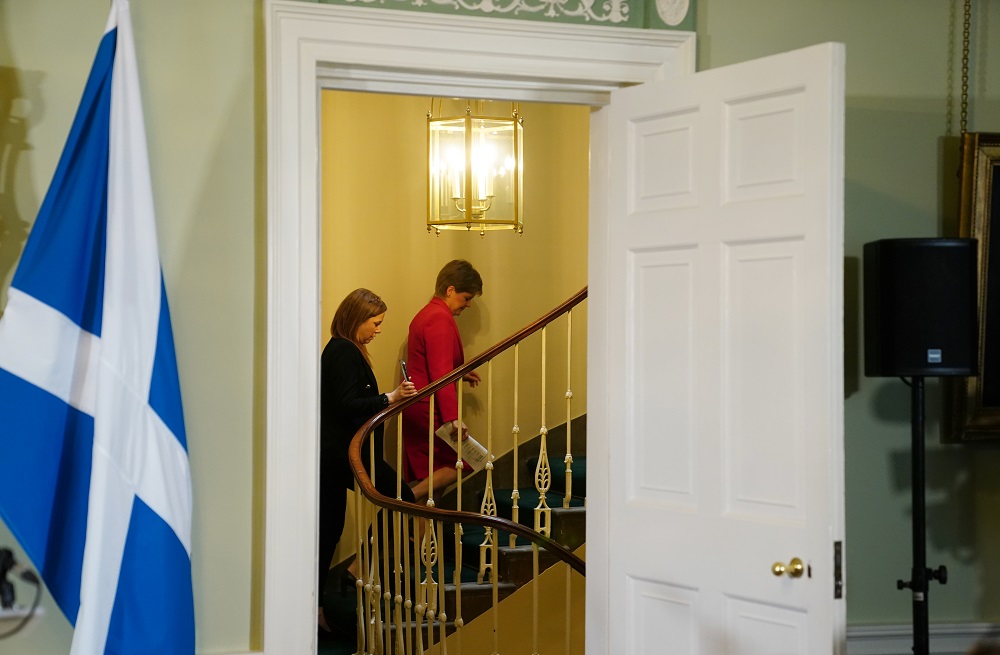 Nicola Sturgeon has announced she will stand down after eight years as First Minister, arguing that resigning is the best step for herself, her party and for Scotland.
In a shock announcement, the SNP leader told a press conference on Wednesday that she believes it is the "time is now" to stand aside but denied she is reacting to "short-term pressures" after a series of political setbacks.
The longest serving – and first female – First Minister said from her residence at Bute House in Edinburgh that she will remain in office while the SNP select her successor.
"Since my very first moments in the job I have believed a part of serving well would be to know almost instinctively when the time is right to make way for someone else," she said.
"In my head and in my heart I know that time is now. That it's right for me, for my party and my country."

Mental impact
Ms Sturgeon, who guided the nation through the coronavirus pandemic and led the SNP to repeated election victories at UK, Scottish and local level, acknowledged the "physical and mental impact" of the role.
"If the question is can I battle on for another few months then the answer is yes, of course I can," the 52-year-old said.
"But if the question is can I give this job everything it demands and deserves for another year. let alone for the remainder of this parliamentary term, give it every ounce of energy that it needs in the way that I have strived to do every day for the last eight years, the answer honestly is different."
The First Minister has suffered a series of political setbacks in recent months as her Government sought to push through gender reforms, only for them to be blocked by Westminster.
She insisted the row surrounding a transgender double rapist being sent to a women's jail "wasn't the final straw" but said it is "time for someone else" to lead the party.
Ms Sturgeon acknowledged the "choppy waters" but insisted her resignation was not in response to the "latest period of pressure".
"This decision comes from a deeper and longer term assessment," she said.
Ms Sturgeon rose to power unopposed after the ill-fated independence referendum in 2014, taking over from Alex Salmond, the mentor with whom she would come into conflict in the years to come over the handling of sexual harassment allegations made against him.
Surprise exit
Her surprise exit led political commentators to draw parallels with the sudden resignation last month of Jacinda Ardern as New Zealand's prime minister.
Ms Sturgeon had planned to fight the next general election as a de facto referendum on Scottish independence, but her exit now raises questions about the immediate future of the cause itself.
But she vowed to continue in politics and said her life-long cause of independence is "being won".
Plaid Cymru Leader Adam Price called Ms Sturgeon a "once in a generation politician, driven by a deep and unwavering passion for her country and duty to public service".
Mr Price thanked the SNP Leader for the "Scottish hand of friendship" that was always extended to Wales and noted Plaid Cymru and the SNP's joint desire to "create a better future free from Westminster rule".
Thanking her for her "exemplary service to Scotland", the Plaid Cymru Leader said that Ms Sturgeon's legacy would be Scottish independence and that her tenure would always be "historic".
Plaid Cymru's Westminster Leader Liz Saville Roberts said Nicola Sturgeon has led Scotland "with indefatigable strength, compassion and intellect".
"Scotland is a better place thanks to Nicola Sturgeon – a generation of Scots feeling more engaged with their democracy thanks to her leadership I want to thank her personally for the kindness she showed me on the occasions we met, and for having inspired so many women in Wales," she added.
Formidable
Alister Jack, the Scottish Secretary in the UK Government, said Ms Sturgeon had been a "formidable politician".
But he added: "Her resignation presents a welcome opportunity for the Scottish Government to change course, and to drop its divisive obsession with independence.
"I want to see a Scottish Government that works hand in hand with the UK Government to realise our full potential as a country."
Sir Keir Starmer will also be closely following the next steps as the rise of the SNP to the detriment of Labour has played a role in keeping the party out of power in Westminster.
Ms Sturgeon indicated she will continue on the backbenches as an MSP "until, certainly, the next election" for Holyrood, which is due in 2026.
---
Support our Nation today
For the price of a cup of coffee a month you can help us create an independent, not-for-profit, national news service for the people of Wales, by the people of Wales.