News
North Wales Police officers given choice on whether to carry life saving spray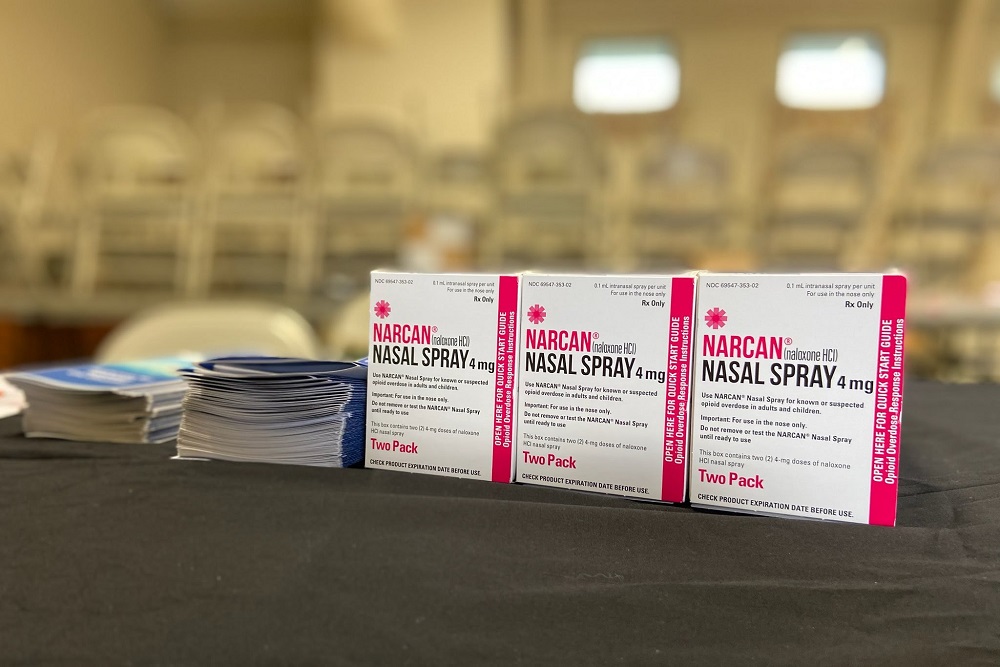 Siân Williams
North Wales Police has confirmed that all of its officers and special constables will have the option of carrying a nasal spray to treat drug overdoses when they are on duty.
In July 2020, North Wales Police officers took part in a six-month pilot programme where they carried nasal Naloxone.
Naloxone can reverse the effects of overdoses of drugs including heroin, fentanyl and prescription painkillers. It works by reversing the breathing difficulties that can be brought on by an overdose of these substances, buying time for an ambulance to arrive.
The 2020 Naloxone pilot was the brainchild of then North Wales Police and Crime Commissioner (PCC) Arfon Jones.
A former Police Inspector himself, Mr Jones is a long-time campaigner for a change in UK drugs laws.
When he launched the trial of the life-saving drug, police officers in Flintshire became the first in Wales to be equipped with Naloxone.
He told Nation.Cymru that up to and on his retirement in May 2021 he was given reassurances that the pilot programme would be fully rolled out.
Arfon Jones said: "Despite reassurances from the Deputy Chief Constable Richard Debicki to me as PCC, that Naloxone would be rolled out to front line officers nearly 2 years ago, it is disappointing that it has not happened until now."
Voluntary
Superintendent Nick Evans on behalf of North Wales Police confirmed that the force-wide Naloxone roll out happened on April 3.
Mr Evans said: "It is not, however, compulsory for officers to carry it, but for those who volunteer to do so it will be part of their First Aid kit. They will also receive the appropriate training to use it."
In response, Arfon Jones said: "If the Police are going to take their role as an emergency service of last resort seriously, then Naloxone training needs to be rolled out as mandatory to all officers as part of their First Aid training.
"We can't have some lifesaving procedures like using a defibrillator as mandatory and the administering of naloxone as voluntary, that would be perverse and irrational."
Quoting figures from the Office of National Statistics (ONS), Mr Jones said there were 149 drug related death in Wales in 2020.
The following year, 2021, that figure had risen to 210 which is "an all-time high" he said.
"That's quite an increase in my opinion and perhaps some of those lives could have been saved if all police officers in Wales had been trained (to administer Naloxone)."
Wrexham resident Arfon Jones said he carries Naloxone in the boot of his car.
"I've been trained to administer Naloxone – the training took about three hours, that's all, and was provided by the Betsi Cadwaladr Health Board.
"I find myself in situations where I mix with people – some of them friends – who do take drugs."
Delays
The current North Wales Police and Crime Commissioner Andrew Dunbobbin said he welcomes and supports the rollout of Naloxone.
Mr Dunbobbin said he understood that the rollout program has been met with delays and that he is, "Fully sighted on the reasons for the delays, and fully appreciate that this has required a significant amount of work in the background."
South Wales Police
Naloxone has been "a huge success" for South Wales Police according to Chief Inspector Stuart Johnson, who said: "We began the trial of nasal Naloxone in 2021 and since then it has proven to be a huge success (and) we have saved a number of lives.
"I am keen to ensure as many of our officers are carrying it on themselves.
"There have been 19 successful usages of nasal naloxone to 19 individuals (which) has assisted in keeping (those people) alive until further medical intervention could be provided.
"As of 2 April 2023, 348 South Wales Police officers have shown an interest in being a volunteer, with 267 naloxone kits having been handed out.
"We have specifically targeted front line officers to carry the equipment and we hope that the previously successful deployments show just how important the kit is."
Gwent
Detective Inspector Em Coopey of Gwent Police said: "We started using a nyxoid nasal spray in 2021 and it is voluntary for officers to decide whether they wish to carry it. "Frontline officers who decide that they want to carry the spray will be given appropriate training on safe use."
Dyfed Powys
A spokesperson for Dyfed Powys Police said the force provides access to Naloxone in their custody suites.
Naloxone use in Wales
The Welsh Government continues to fund Naloxone which was piloted in 2009 and has since been implemented fully across the seven health boards in Wales. A spokesperson said: "The distribution of Naloxone continues to be a key part of our harm reduction approach in Wales. However, this must also be used in conjunction with other harm reduction initiatives and should not be viewed as the panacea.
To date, 35,000 Naloxone kits have been distributed in Wales.
Heath Wales figures show that 3,226 individuals were supplied (or re-supplied) with naloxone in 2021-22, an increase of 31% from the previous year.
1,584 new individuals were supplied with naloxone in 2021-22, an increase of 70% from the previous year.
6,003 kits were supplied in 2021-22, an increase of 47% from the previous year.
There have been 3,371 reported instances where naloxone was used during a suspected opioid poisoning event in 2021-22.
---
Support our Nation today
For the price of a cup of coffee a month you can help us create an independent, not-for-profit, national news service for the people of Wales, by the people of Wales.