News
Novice nails £28k profit with property makeover in Welsh TV challenge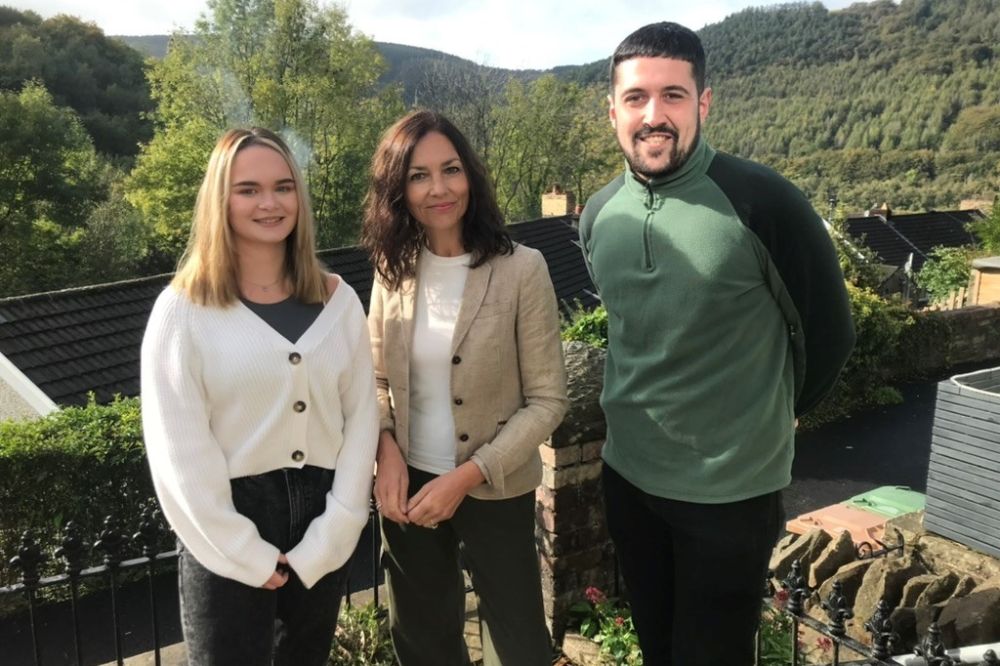 A young woman sacrificed her glamorous nails on a TV property renovation project to get on the housing ladder – but it was worth it after turning a profit of more than £28,000.
Alixe Everson, 24, from Ystrad Mynach, near Caerphilly, joined forces with apprentice joiner Alex Loy, from Oakdale, Blackwood, on hit S4C show, Tŷ am Ddim (House for Nothing).
The series, which is shown at 9pm on Wednesdays, sees two young people take on the task of doing up a house on a budget and sharing any profit from its sale.
Alixe and Alex, who had never met before, were given £9,000 and six months to restore a two-bedroom semi in Abercarn, 10 miles north of Newport, bought by property expert Carys Davies at an online auction for £88,000.
All the pair had to provide was their time and effort – and for Alixe, her long fingernails.
Getting down to work, Alixe helped Alex rip out the old kitchen, hack off the rendering on the outside wall and strip the old wallpaper before doing some painting.
She said: "I'm quite organised and good with a budget but I have no technical skills. I had no idea what rendering was before I started this project.
"I learned a lot and learned very quickly was that my fingernails were too long and I had to cut them back."
The resource consultant with a Newport-based education provider added: "I live with my mum and dad, two dogs and a cat but at 24-years-old I think it's time I moved out and found my own place.
"I helped my twin sister Chloe when she set up her home but I had done nothing like this before."
"The work itself was not bad but balancing it between work and everything was quite challenging. We were both lucky in that we had lots of family and friends who were able to help us out.
"Alex and I worked well together, we didn't always agree but then I'm something of a perfectionist and there were problems during the project but these were few and we were able to sort them out without too much time lost," she said.

Renovation
Despite his carpentry skills Alex didn't make too much use of them in the renovation.
"There wasn't a lot of carpentry involved really. I put in the new kitchen because I've done quite a lot of that on my course as an apprentice. We had to re-render the outside and there was some work on the roof and the windows which I was able to help.
"Alixe and I were lucky in that our families were able to do a lot of the work with us. And I know a lot of people who knew others who were able to come along and do some jobs for us. My brother did all the plumbing for instance and that saved us both time and money.
"There were a couple of hiccups. We had to re-do some work but we overcame the problems pretty easily," he added.
In the event they made a profit of £28,400 – even after going over budget by £1,800.
Alex said: "I've banked the money and am hoping interest rates fall and house prices cool before looking for somewhere. I'd like to be able to say I've moved into my own place by the time I get to my 30th birthday.
"While this project was quite challenging it was a win-win situation for me. I've learned a lot which will be really useful when I get round to doing my own house and getting a decent profit was a big bonus."
According to Sioned Wyn, the managing director of Chwarel and producer of the BAFTA awarding winning programme, filming this series for S4C was the most challenging yet with the vagaries of the housing market highlighted in sharp focus.
She said: "Tŷ am Ddim discusses one of the great social issues of our time, helping young people pursue their dreams to step onto the property ladder.
"It is the only programme on TV in the world that gives young people the opportunity to earn some money to add to their savings for a deposit on a house."
Presenter Carys Davies added: "It's a great concept – you take two people who have never met before and they are given a property and become business partners for six months to prepare their property for sale.
"The only criteria to being involved is that they can't own a house, they have to be in rented accommodation or live with parents and so on.
"The housing market is very buoyant at the moment and it's very hard to get on the property ladder, so the series is a great way to do it."
Tŷ am Ddim is broadcast on S4C on Wednesdays at 9pm. English subtitles are available and the programme can also be watched on demand on S4C Clic, BBC iPlayer and other streaming platforms.
---
Support our Nation today
For the price of a cup of coffee a month you can help us create an independent, not-for-profit, national news service for the people of Wales, by the people of Wales.